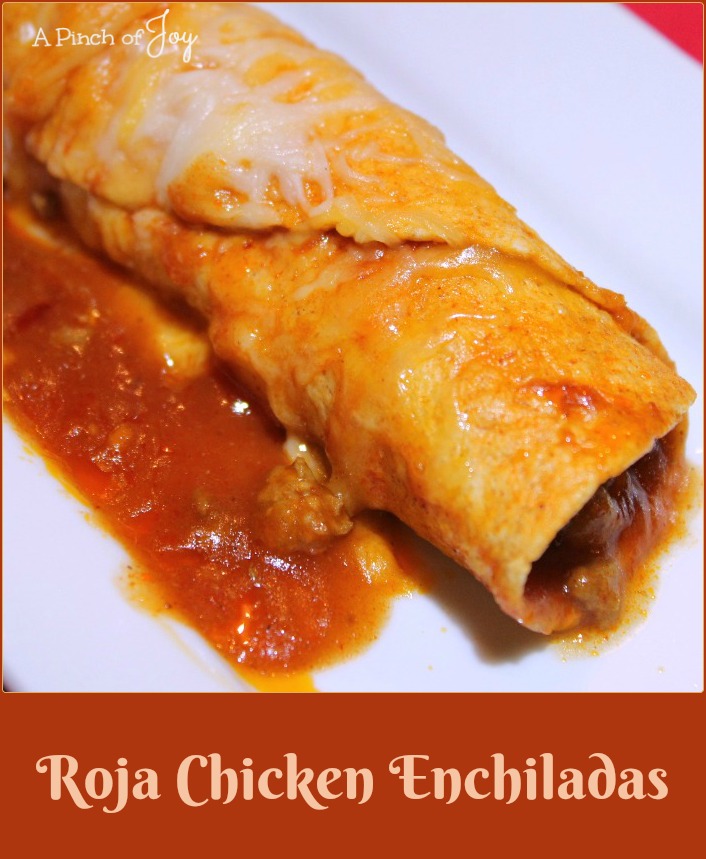 Roja Chicken Enchiladas take their name from the red enchilada sauce used over top the filled tortillas.  If it were green enchilada sauce, they would be verde enchiladas.  Everybody else probably knows that — but me.  🙂  Yes, I knew the names meant red and green in Spanish — but never got close enough to realize they were attached to different kinds of enchilada sauce.  Verde gets its green color from tomatillos.  Red sauce is — of course — tomato based.  You probably knew that too.   In this case, choose the type of red  sauce you like — mild, medium or hot.  You know I'm wimpy about things that just might include heat so I went for the mild.  I am making a conscious effort to broaden my cooking/eating experiences.  Not sure "hot" is ever going to happen though.   🙂
Shred the chicken, if you prefer.  I think it is easier to chop the cooked meat with a sharp knife.  The filling mix goes together quickly — don't worry about the long list of ingredients!  There are 35 grams of carbohydrates in  each serving but it is offset by 31 grams of protein.  That's a good thing.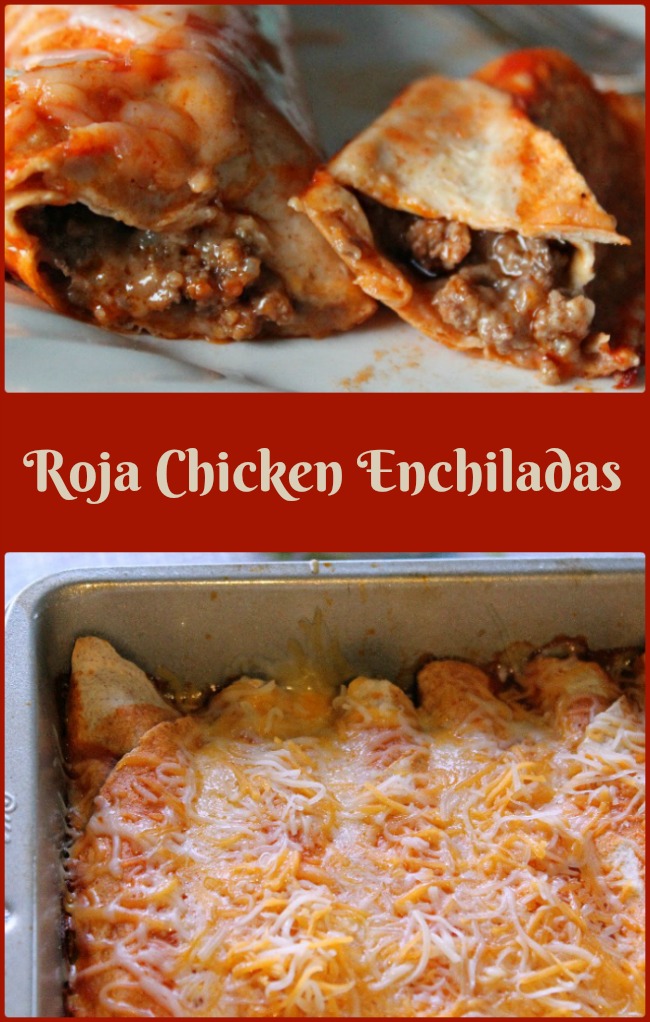 Roja Chicken Enchiladas
Quick to assemble, bake right away or freeze for future use.
Author:
A Pinch of Joy by Charlene Vance
Ingredients
Filling
2 cups chopped cooked chicken breast
1 teaspoon minced garlic
⅛ teaspoon ground cumin
⅛ teaspoon ground coriander
1 cup sour cream
1 cup Baja roasted corn blend frozen
1 14 ounce can diced mild green chilies, drained
1 ½ cup finely shredded Mexican blend cheese
¼ teaspoon ground black pepper
Wrap and topping
16 ounce jar mild enchilada sauce
8 flour tortillas, 8 inch size
½ cup cheddar cheese
¼ cup chopped green onions
Instructions
Preheat oven to 350. Spray 9 by 11 pan with cooking spray.
Fill each tortilla with ⅓ cup chicken mixture placed near one end. Roll and place seam side down in 9 x 11 pan.
Top with enchilada sauce and cheese.
Bake at 350 degrees for 30 to 40 minutes. Garnish with chopped green onions.
Make Ahead Freezer Directions
Fill tortillas and place in pan. Place cheese in zipper bag and lay on top of enchiladas in pan. Wrap pan with aluminum foil and freeze. Mark jar of enchilada sauce and set aside in pantry. Place in refrigerator night before to thaw for approximately 24 hours before baking. Remove foil, top with enchilada sauce and cheese and bake as above.
Welcome to A Pinch of Joy!  I'm so glad you stopped by today!   Follow A Pinch of Joy using the icons on the teal bar at the top of the page so you don't miss a thing!   I'd love to have your company on this venture!!  Share: if you found this helpful or inspiring please click one of the buttons below!  Your support of A Pinch of Joy is appreciated!
Shared with these awesome link parties here