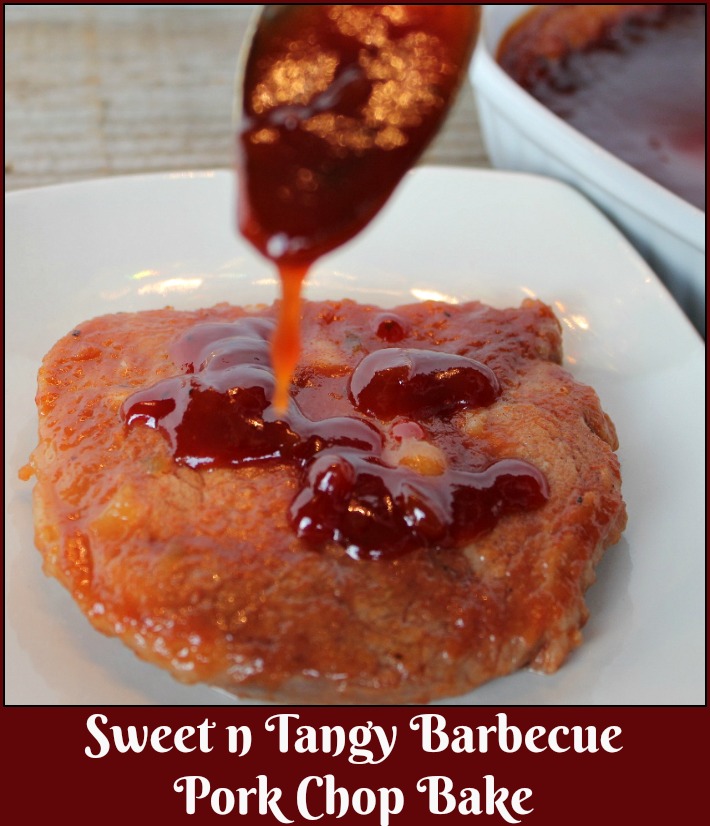 Sweet n tangy barbecue pork chops are quick, easy and sooo good!  The first time I made them both Wheels and Bytes spoke after the first couple of bites.   "You can make these any time" was Wheels opinion.  Bytes said, "These are really good.  I'd eat them again.  And again."  Nice to know the dish was appreciated and enjoyed.  However, the recipe is easy – they can make these barbecue pork chops for themselves!    🙂   'Course both of them are really good about painting  and executing some of my wilder ideas, so maybe it's a fair trade, after all.
Use your favorite or a plain store bought barbecue sauce as the base.  There is only a hint of tang from the onions and mustard.  If you have some handy, add just a single tablespoon of sweet pickle relish for a bit more tang!  No one would ever guess it's there but the taste buds appreciate it.  The cinnamon, too, is known only by its contribution to the depth of flavor.   Chop the onions a bit on the large side – think quarter inch squares – so they add to the texture.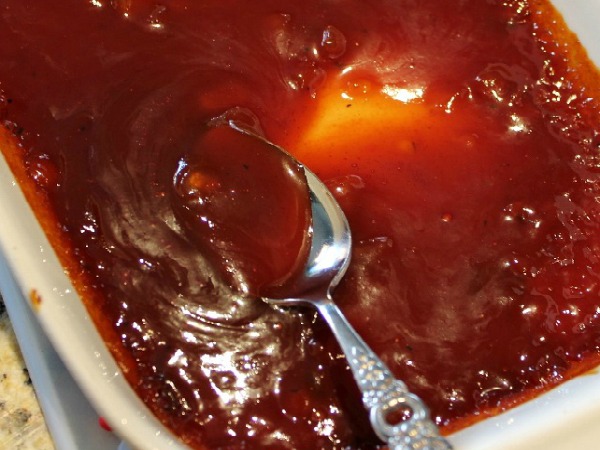 You know me – always looking for the easiest way.  I didn't want to spend time heating and stirring the serving sauce on the stove.  So I put it in a shallow small oven proof bowl and slipped it in the oven when I put the meat in to cook.  Worked perfectly!  No muss, fuss or stirring.  If your pork chops are thick and require  twenty minutes or more of bake time, check the sauce in about 15 minutes.  It should be just thick enough to drop at a moderate rate of speed from a spoon.  The thicker the sauce, the slower it drips and the more difficult it is to serve and eat!

Sweet n Tangy Barbecue Pork Chop Bake
Sweet n tangy marinade and sauce make these pork chops an outstanding dinner dish. Make the sauce the night before, marinate until after work the next day and you can have dinner on the table in 30 minutes.
Author:
A Pinch of Joy by Charlene Vance
Ingredients
6 boneless pork chops
1 cup barbecue sauce
½ cup honey
½ cup apple jelly
¼ cup ketchup
¼ cup water
¼ cup chopped onion
1 tablespoon brown sugar
2 teaspoons yellow mustard
½ teaspoon cinnamon
Instructions
Whisk together all ingredients except pork chops. Divide sauce mixture in half. Place half in small oven ready container, cover and set aside in refrigerator.
Place the other half of the barbecue sauce mixture in a gallon zipper freezer bag. Add pork chops and seal.
Marinate pork chops for 2-3 hours in refrigerator.
Preheat oven to 400 degrees.
Remove pork chops from marinade and place in 9x13 pan. Discard remainder of marinade.
Bake chops for 15-20 minutes (depending on thickness) and internal temperature should reach 145 degrees.
At the same time, uncover container of barbecue sauce and place in oven for 15 minutes or until thick. Drizzle over pork chops before serving.
ALTERNATE METHOD FOR SAUCE: In small saucepan, cook sauce until just bubbly, but not a boil. Reduce heat to low and simmer for 10-15 minutes until sauce thickens, stirring often.
Make ahead directions
Divide barbecue sauce mixture in half. Place one half in quart zipper bag. Place the other half in gallon zipper bag, add pork chops and seal. Squeeze bag to make sure each chop is thoroughly coated with sauce. Put both bags in a second gallon zipper bag. Label, date and freeze.
Remove from freezer and thaw in refrigerator for 24 -48 hours. Follow baking directions above.
Welcome to A Pinch of Joy!  I'm so glad you stopped by today!   Follow A Pinch of Joy using the icons on the teal bar at the top of the page so you don't miss a thing!   I'd love to have your company on this venture!!  Share: if you found this helpful or inspiring please click one of the buttons below!  Your support of A Pinch of Joy is appreciated!
Shared with these awesome link parties here  
Save
Save
Save