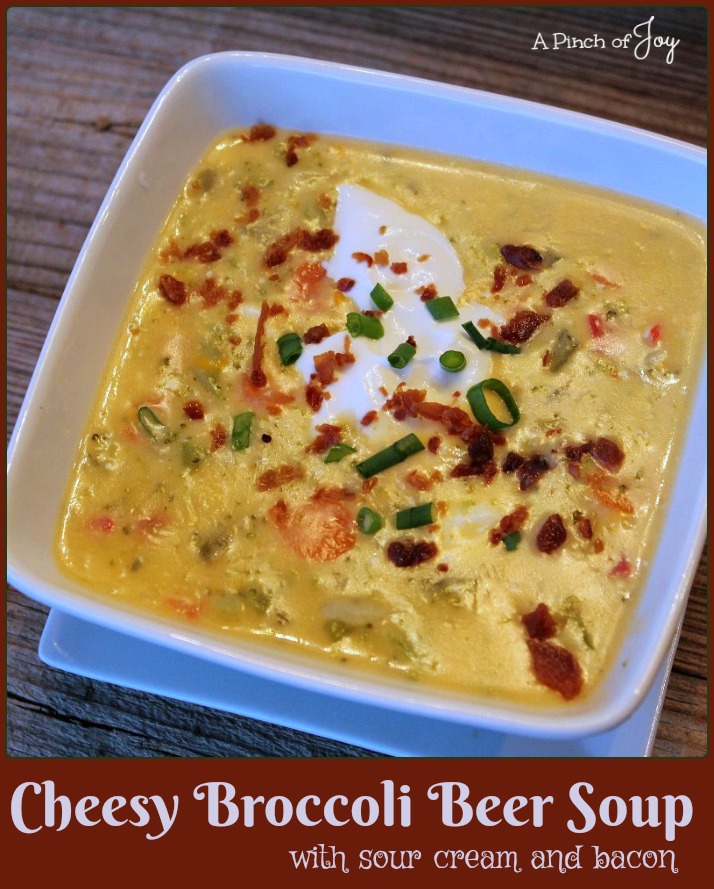 Even without the beer, this is a delicious broccoli cheese soup.  However, we had a bottle of beer left from New Year's Eve so in it went.  Those who know me IRL are all atwitter.   Yeah, well if you know me at all, you also know I hate to waste anything.  Even more than I dislike the taste of beer. (I didn't realize how picky my taste buds are until I started this blog!!)   So the frugal side won again.  I just couldn't look at that lonely bottle in the back of the fridge anymore.  And when all was cooked, the taste of that particular ingredient just lent a hearty depth of  flavor — no beer taste.  The really good Broccoli Cheese soup tasted more interesting.  Win, win, win!!
You can use any beer, including non-alcholic, or none.  Without it, the soup is thicker.  You can eat it that way or add up to a cup of broth or milk after the cheese is melted to thin it to your desired consistency.  Do not boil after the cheese is added or the soup could (and probably will)  curdle.  Just lightly whisk the liquid in while the soup gently simmers and you'll be fine.
Shortcuts worth noting — any recipe that requires chopping and dicing takes a bit of time.  If you are short on that commodity,  you might want to look through the freezer section next time you are in the grocery store to see what is available.  Healthy food is  a priority in life, but if you don't have time to dice and chop you don't have to sacrifice.  You can always substitute frozen broccoli for fresh broccoli when it's going to be cooked anyway!  Chopped frozen onion and green or red pepper are readily available so if you keep a package of each on hand you can measure out what you need when you are in a hurry.  I found a frozen package of onion, red and green pepper and celery with chopped parsley in the freezer section recently.  I just happened to be in Walmart where the brand is Pictsweet Farms and it is called "Seasoning Blend".  Other stores may have something similar with different brand names.  I used a 10 ounce package when I made this soup so all I had to chop was the carrots.
You can freeze cooled soup in freezer containers for up to three months.  Use individual sized containers for grab and go lunch, heated in the microwave.  Or freeze in portions that will feed your family, either in zipper freezer bags or sealed containers.  To use, thaw in refrigerator overnight.  Heat in saucepan over medium heat, stirring occasionally.  Do not boil.
Cheesy Broccoli Beer Soup with sour cream and bacon
A creamy rich, full flavored cheese and broccoli soup
Author:
A Pinch of Joy by Charlene Vance
Ingredients
3 Tablespoons butter
5 celery ribs, finely chopped
3 medium carrots, finely chopped
4 cup broccoli florets, chopped (12 ounces frozen)
¼ cup chopped sweet red pepper
4 cans (14.5 ounces) chicken broth
¼ teaspoon pepper
½ cup flour
½ cup water
3 cups cheddar cheese, shredded
1 8 ounce package cream cheese, cubed
1 12 ounce bottle of beer
Instructions
In soup pot or dutch oven, melt butter over medium heat.
Add celery, carrots and onion. Saute until crisp tender.
Add broccoli and red pepper. Stir in broth and pepper.
Measure ½ cup water into small bowl. Gradually whisk in flour one or two tablespoons at a time, until smooth.
Whisk flour mixture into broth in pan.
Bring soup to boil, reduce heat and simmer uncovered for25-30 minutes. Broth will thickened and the vegetables should be tender.
Stir in cream cheese and half the beer, stir over medium heat until cheese melts. Do not boil. Add the remaining beer and the cheddar cheese, stirring until cheese melts.
Before serving, top with sour cream, more shredded cheddar, bacon, green onions or croutons.
Nutrition Information
Calories:
316
Carbohydrates:
13 grams
Protein:
12 grams
I'm so glad you stopped by today!
   B
e sure to follow A Pinch of Joy so you don't miss a thing!    If you found this helpful or inspiring, please share!  Your support of A Pinch of Joy is appreciated!
Save
Save