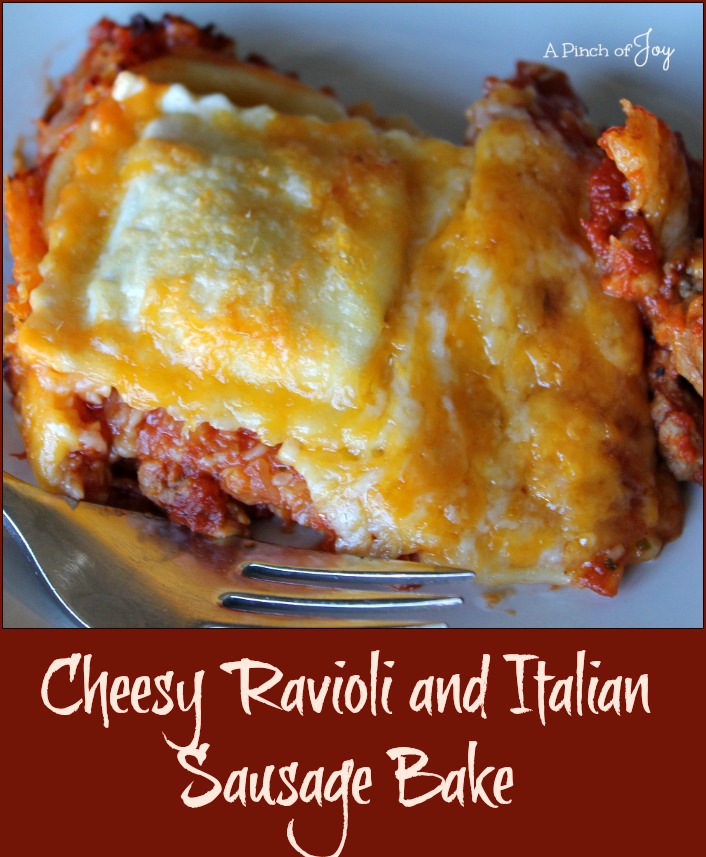 Please Pin!  Thanks!!
Hearty and family friendly, Ravioli and Italian Sausage Bake, goes together in about 20 minutes. Slide it in the oven and do whatever else you need to do until  it's ready for the table an hour later.  Add a vegetable salad, and a simple dessert – apple slices with peanut butter or sliced peaches and yogurt.  Healthy and filling dinner that pleases kids and grownups alike.
I always like to have a back up plan.  Fresh garlic is not often in my pantry.  Actually, come to think of it, I've never bought fresh garlic.  I have a hard enough time keeping up with a small bag of fresh onions and a medium bag of potatoes before they start winding sprouts around the basket handle and then around the ankles of all who enter.  I keep a jar of minced garlic in the fridge – already minced and a far longer expiration date than fresh.  The jar will usually have an equivalent measure for a clove or garlic – between a half teaspoon and a teaspoon.  I usually eyeball about a teaspoon, thinking large clove.   But I ran out of jarred minced garlic and haven't replenished the supply yet.  So I turned to google for one clove of garlic equivalents –
Frozen chopped or minced garlic – will say on the bag, about ½ to 1 teaspoon
1/8 teaspoon garlic powder
¼ teaspoon granulated garlic
½ teaspoon garlic flakes
I also found out that California garlic has a white skin and is the most common type of garlic used. It is also the most strongly flavored.   Garlic has health benefits, such as lowering blood pressure, lowering cholesterol and preventing heart disease. It has been used throughout history in many parts of the world for medicinal purposes.   The Egytians fed garlic to the pyramid builders to increase their strength. People on blood thinners should avoid large quantities of garlic.  Rub crushed garlic on a cold sore to get rid of it. Catch more fish with garlic mixed in the bait.  Garlic is toxic to cats and dogs.  Make a necklace from garlic cloves and wear it every day to keep vampires out of your life. Another name for garlic is the stinking rose.
There ya go – a pretty darn good recipe and a handful of factoids to amaze your friends and family.  🙂  Who else would go to such lengths just for you?
Cheesy Ravioli and Italian Sausage Bake
Hearty and family friendly, Ravioli and Italian Sausage Bake, goes together in about 20 minutes. Slide it in the oven and do whatever else you need to do until it's ready for the table an hour later.
Author:
A Pinch of Joy by Charlene Vance
Ingredients
1 pound bulk Italian sausage
½ cup chopped onion
2 cloves garlic, minced
1 jar 24 ounces marinara sauce
2 teaspoons Italian seasoning
1 25 ounce bag frozen cheese filled ravioli
2½ cup shredded 5 cheese Italian blend
Instructions
Preheat oven to 350.
In 10-inch skillet brown sausage, onion and garlic on medium heat, stirring occasionally. Cook until sausage is no longer pink, about 5 to 8 minutes. Drain excess fat. Stir in jar of marinara sauce.
In ungreased 9x13 pan, spread about 1 and half cups of the sausage marinara mixture across the bottom. Arrange half of the ravioli across the top of the sausage mix. Sprinkle evenly with one cup of Italian cheese.
Top the layers with the remainder of the ravioli, the rest of the sausage mixture and the remaining one and a half cups of cheese.
Cover with foil bake 45 minutes or until thoroughly heated. remove foil bake an additional 10 minutes or until cheese is melted.
Make Ahead Freezer Meal
Brown sausage, onion and garlic, as above, and mix in marinara sauce. Place in gallon zip bag and seal.
Add sauce bag to second bag with cheese in orginal package and ravioli. Zip and label. Freeze for up to three months. Thaw overnight and prepare in 9x13 pan as above.
To freeze baked casserole
Follow instructions above, cover baked casserole with foil, then double wrap with cling wrap. Freeze up to 3 months. To bake, thaw in refrigerator overnight. Remove plastic wrap, leave foil cover on. Bake 50 - 60 minutes at 350.
I'm so glad you stopped by today!   Follow A Pinch of Joy using the icons on the teal bar at the top of the page so you don't miss a thing!   I'd love to have your company on this venture!!  Share: if you found this helpful or inspiring please click one of the buttons below!  Your support of A Pinch of Joy is appreciated!
Shared with these awesome link parties here  
Save
Save