Meet the birthday Giant Chocolate Chip Cookie Cake with Chocolate Ganache!
'Tis birthday season at our house.  Bytes has a birthday at the end of March and Bytes Big Brother (the short one) has his birthday in the first half of April.   They had the same due date, too – neither one was on time!   Birthday celebrations are a little more challenging since they outgrew the pirate and Star Wars themes – although new Star Wars movies are still a big priority!  Celebrations are an important part of life.  But birthday cakes or themes   don't have to be the star of the day.  The Loaded Chocolate Chip Cookie Cake with Chocolate Ganache is a perfect celebration in a pan.
This recipe goes together just like a chocolate chip cookie.  It has wonderful flavor – not too sweet – and a nice smooth cookie texture.   I used a 9 inch casserole pan to bake the cookie.  You could remove the cookie to a platter for decorating and serving, but I left mine in the pan.  Spray the pan before adding the cookie dough. Spray your hands to pat the dough evenly into the pan.  Really helps!  You can be creative with the add-ins – substitute white chocolate chips, peanut butter chips or chopped nuts instead of all chocolate.  Or reserve a  tablespoon of M&Ms to sprinkle on the top of the patted out cookie, for a bit more color.  Cool to room temperature before adding frosting.
The creamy fudginess of the chocolate ganache is a wonderful texture contrast to the cookie.   The ganache was super easy to make.  Heat the cream to just before boiling.  (Technically called "scalding" the cream.)    Pour over the chocolate chips and stir until they are melted and smooth.  Set aside to cool while you are baking the cookie and waiting for it to cool.  Stir ganache occasionally to keep it smooth.  You can make ahead and put it in the refrigerator and let it set out for 15 minutes before using, if needed.  Put it in a pastry bag with a large star tip, just like you would buttercream frosting.  There is exactly enough ganache to make large stars all around the cookie.  IF you make them uniformly.  Be too generous in one place and there won't be enough — like that spot over by the handle of the pan with three really big stars.  That's why there wasn't enough ganache left to put two rosettes in that empty space by the other handle.   🙂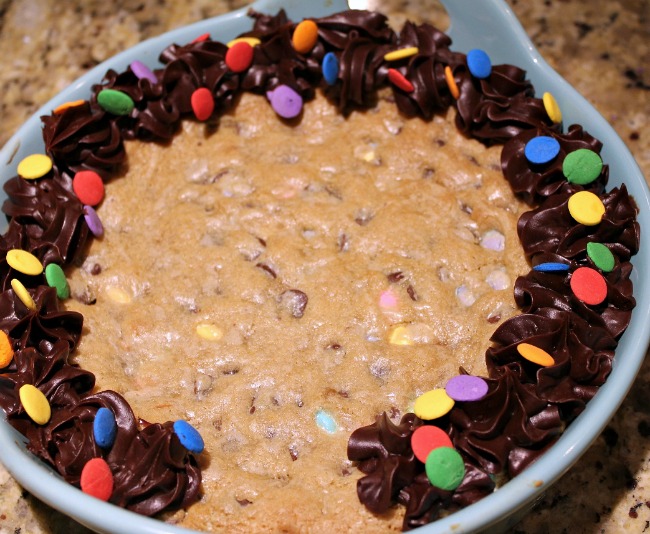 You can whip the ganache before using it as frosting so it is light and fluffier.  But I like the silky fudginess of it unwhipped.  So you choose.  By whipping it you would probably have enough to make big stars and still fill the empty spot.  But I'll never know because I'm going to keep on using non-whipped ganache and making uniform just slightly smaller stars.  'Cause I'm a rebel like that 🙂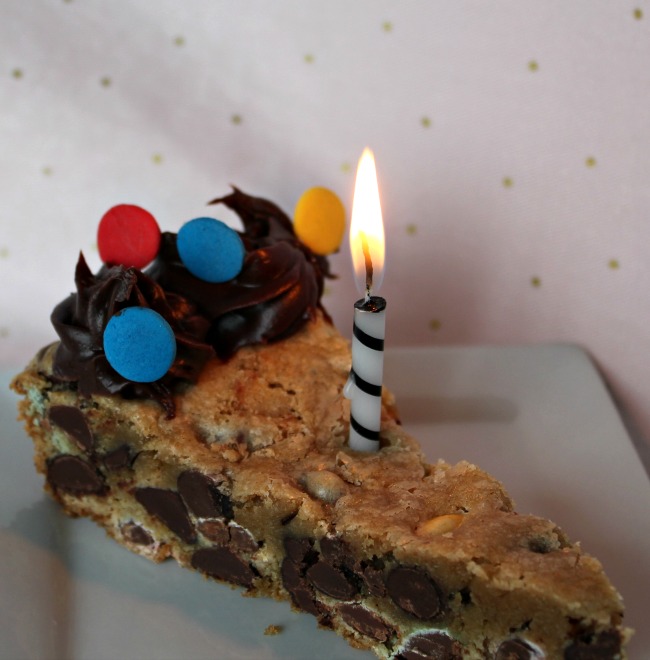 Slice the giant cookie into small wedges to serve.  It is fabulously rich.  Happy birthday, Bytes!
Loaded Giant Chocolate Chip Cookie Cake with Chocolate Ganache
Loaded Chocolate Chip Cookie Cake with Chocolate Ganache is a perfect celebration in a pan. A just right sweet cookie loaded with chocolate chips is topped with silky chocolate ganache.
Author:
A Pinch of Joy by Charlene Vance
Ingredients
Cookie
⅔ cup butter (10 Tablespoons)
⅔ cup brown sugar
⅓ cup white sugar
2 eggs
1 teaspoon vanilla
1 ¾ cup flour
¾ teaspoon baking soda
¾ teaspoon salt
1 cup semi sweet chocolate chips
½ cup M & M s
½ cup dark chocolate chips
Chocolate Ganache
½ cup heavy cream
1 cup semi sweet chocolate chips
Instructions
Prepare ganache first so that it will be cool when needed. Place chocolate chips in small mixing bow. In a small saucepan, heat cream until just beginning to bubble around the edges. Pour over chocolate chips, let set briefly to warm the chips. Gently stir until chips are melted and mixture is smooth. Set aside.
Preheat oven to 350 degrees. Grease or spray a 9 inch pie plate, cake pan or casserole dish.
In large mixer bowl, cream butter and sugars together until light and fluffy, about 2 minutes. Add eggs and vanilla and mix well.
Add dry ingredients all at once and mix until combined, scraping down sides of the bowl as needed.
Lightly mix in chocolate chips and M&Ms. Reserve a tablespoon of M&Ms to scatter over top of cookie, if desired.
Scrape cookie dough into preparing baking pan. Spray hands and then press cookie dough evenly into the pan. Sprinkle reserved M&Ms over top, if desired, and press down slightly.
Bake for 22-25 minutes. Cookie should be lightly golden around the edges. Use a toothpick to check center for doneness. If toothpick comes out clean, cookie is done.
Let cookie cool completely on wire rack, before removing from pan. Run sharp knife around the edges of the baking pan and gently loosen bottom with spatula. Then turn quickly onto first one plate (upside down) and then a second plate (right side up) for serving. OR leave in the pan.
Add ganache stars.
I'm so glad you stopped by today!
   B
e sure to follow A Pinch of Joy so you don't miss a thing!    If you found this helpful or inspiring, please share!  Your support of A Pinch of Joy is appreciated!
Save