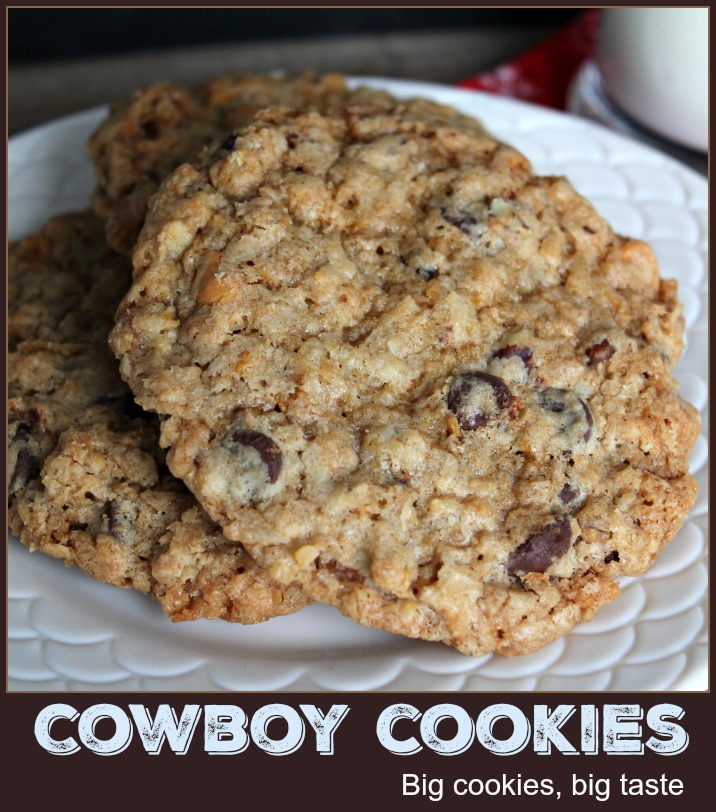 Bytes and some of his cousins met for a workday last week.  Big guys and big jobs deserved big cookies.  Cowboy cookies  are big in size – four inches across on average.  And they are big in flavor with three kinds of chips, pecans, coconut, butter, oatmeal and corn flakes.  It's like the cook used all the good stuff in the chuck wagon.
Toasting the pecans is optional, but they do have a deeper flavor if you take the time to put them in a small skillet over medium heat until they become fragrant.  Takes about 3-5 minutes and you can gather ingredients at the same time as long as you remember to give the skillet a shake or three.  They'll cool while you make the cookies.   I thought I had peanut butter chips in the pantry, but when I was ready to bake, it turned out  they were butterscotch chips.  I used them anyway, with dark and semisweet chips.  I've also used white chocolate chips as a substitute for one of the others. Or use 2 ½ cups of any one kind.  Pick your favorites and run with it.  It's all good.
It really helps to chill the dough before handling.  I made these in the morning and baked them after lunch and that worked well.  If you are in a hurry, slip them in the freezer for an hour.  Use a quarter cup measure to scoop the cookie dough onto the baking sheet.  I have a collapsible set of silicon measuring cups.  The ¼ cup measure worked perfectly because I could fill it, turn it over and push the bottom to collapse it.  The cookie dough popped out onto the sheet and produced uniform four inch cookies.   Line the sheet with parchment paper for no stick baking.  The parchment paper also makes it possible to slide the very tender cookies onto the cooling rack in one piece.  Line up the leading edge of the hot cookie pan and the parchment paper with the cooling rack and gently pull the parchment onto the cooling rack while  tipping the cookie sheet.   No spatula and no wrecked hot cookies.
Then there is the soft cookie vs crisp cookie debate.  If you like soft cookies bake 12 – 14 minutes and they are still slightly shiny in the middle. We like ours crisper so I bake 15-17 minutes.  Cookies should be golden on the edges and on the bottom.

Cowboy Cookies
Cowboy cookies are big in size – four inches across on average. And they are big in flavor. It's like the cook used all the good stuff in the chuck wagon.
Author:
A Pinch of Joy by Charlene Vance
Ingredients
1 cup butter, softened
¾ cup sugar
1 cup brown sugar
2 large eggs (OR 3 medium)
1 teaspoon vanilla
2 cups flour
½ teaspoon salt
1 teaspoon baking powder
1 teaspoon baking soda
1 cup old-fashioned oats
1 cup corn flakes
1 cup pecans, roughly chopped and toasted
½ cup coconut flakes
1 cup semi-sweet chocolate chips
¾ cup dark chocolate chips
¾ cup peanut butter chips
Instructions
Chop and toast pecans.
In large bowl, beat butter, brown and white sugar until fluffy.
Add eggs and vanilla and beat well.
Add one cup of flour to mixture. Do not stir. Add salt, baking powder and baking soda to pile of flour. Then add remaining cup of flour. This helps more evenly incorporate the dry ingredients. Mix until dry ingredients are just barely incorporated.
Add remaining ingredients and mix gently.
Chill the cookie dough so that it becomes firm enough to handle easily.
Preheat oven to 350 degrees. Line baking sheets with silicon or parchment paper.
Use a ¼ cup measure to scoop cookies onto pan, leaving two inches between cookies. Flatten cookies just slightly so they will bake evenly.
Bake for 12-14 minutes for soft cookies, up to 17 minutes for crisper cookies. Finished cookies should be golden brown around the edges and on the bottom
I'm so glad you stopped by today!
   B
e sure to follow A Pinch of Joy so you don't miss a thing!    If you found this helpful or inspiring, please share!  Your support of A Pinch of Joy is appreciated!