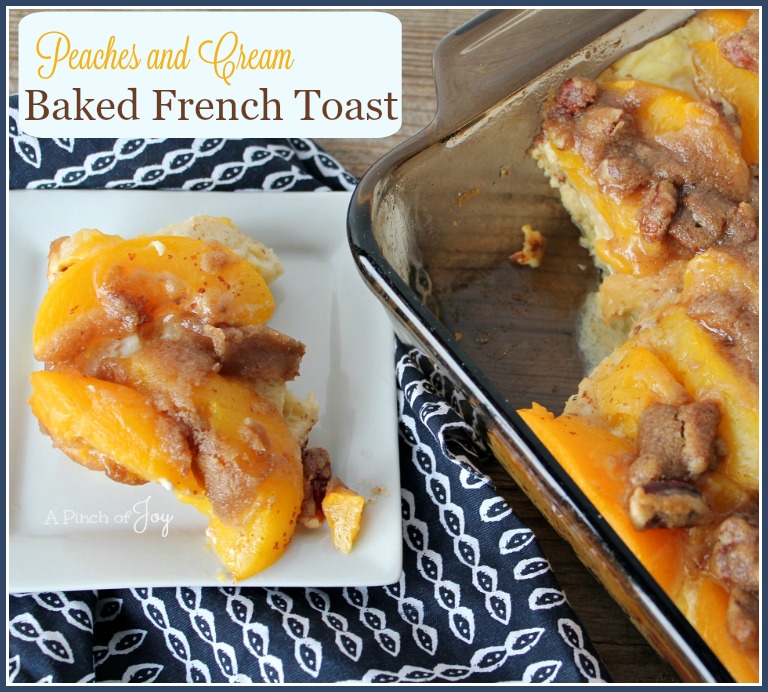 Peaches and Cream topped with struesel on top of a puffy custard French Toast — a winning combination of sweet, crunchy, creamy and downright delicious.  This  can be made ahead for a deliciously spectacular holiday breakfast.
Begin with a dense bread, such as French, Italian, sourdough or other artisan bread.  Cut bread slices in quarters and fit them snugly in an 8×8 inch pan.  Add pats of cream cheese to each piece and stack another layer of bread quarters on top.  Stir together the custard ingredients and pour evenly over the bread.  I used no sugar added sliced peaches and placed them tightly over the bread and custard.  Cover with plastic wrap, pop in the fridge.  Quickly mix butter, pecans, flour and brown sugar together and put the mixture into a zipper sandwich bag so it will be ready sprinkle over the french toast before baking.   Next morning pop the French Toast in the oven and bake about 40 minutes, until a table knife inserted in the middle comes out clean with no bits of custard clinging to it.  I like to change things up once in a while on weekends and this makes a wonderful (and rare!) lazy lunch.   Mix it up and let it set for a couple of hours, long enough before baking that the custard mixture is absorbed by the bread.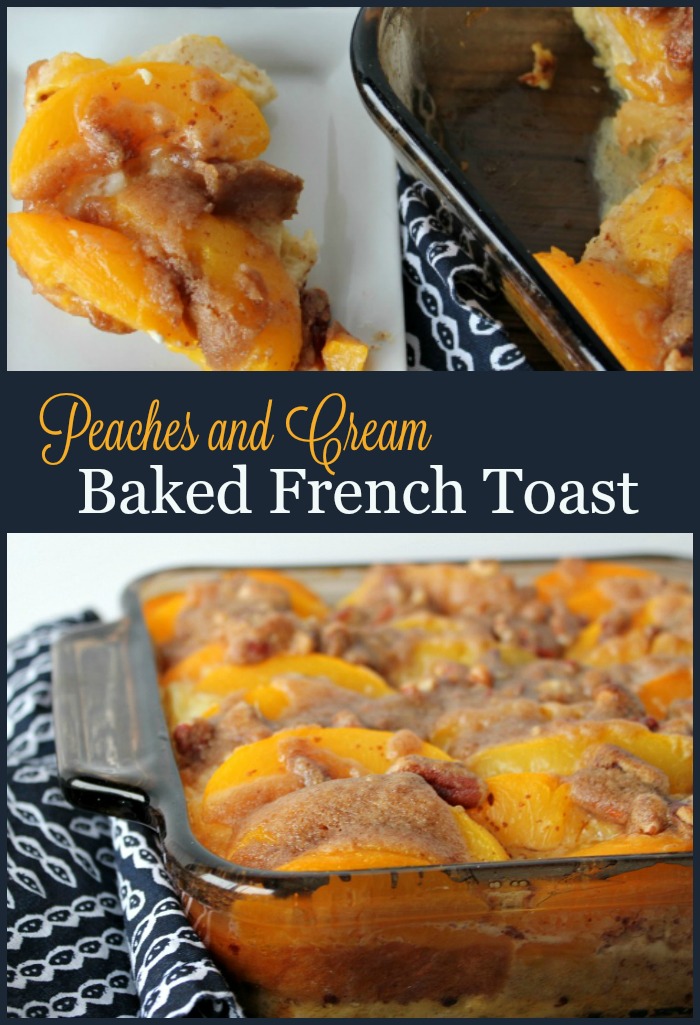 Peaches and Cream Baked French Toast
Struesel topped peaches grace a creamy light french toast.
Author:
A Pinch of Joy by Charlene Vance
Ingredients
6 slices bread
3 oz cream cheese
4 eggs
¾ cup milk
½ cup half-and-half
2 tbsp sugar
½ teaspoon vanilla
½ teaspoon cinnamon
⅛ teaspoon nutmeg
topping
¼ cup brown sugar
⅓ cup chopped pecans
⅓ cup flour
¼ teaspoon cinnamon
¼ cup butter melted
Instructions
Spray 8x8 inch baking pan with cooking spray.
Cut slices of bread into quarters. Fit one layer of bread over bottom of pan.
Slice pats of cream cheese and space them over the pieces of bread. Top with another layer of bread quarters.
In medium bowl, whisk together milk, half and half, eggs, sugar, vanilla and spices.
Pour evenly over the bread and cream cheese. Drain peach slices and arrange so that peaches touch but do not overlap across the top of the french toast. Cover with plastic wrap and place in refrigerator. Let set overnight or at least two hours so the custard mixture is absorbed by the bread.
For topping: Mix all ingredients in small bowl and sprinkle over top of peaches.
Bake at 350 for 35-40 minutes or until knife inserted into middle comes out clean.

Welcome to A Pinch of Joy!  I'm so glad you stopped by today!   Follow A Pinch of Joy using the icons on the teal bar at the top of the page so you don't miss a thing!   I'd love to have your company on this venture!!  Share: if you found this helpful or inspiring please click one of the buttons below!  Your support of A Pinch of Joy is appreciated!
Shared with these awesome link parties here