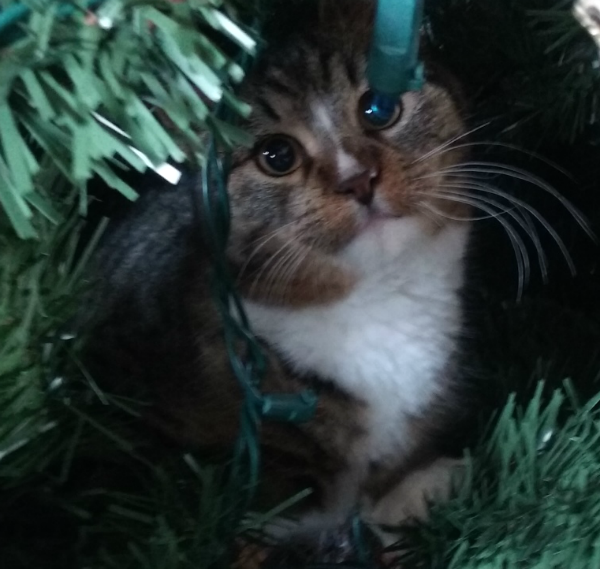 I joined the Vance household at the beginning of the New Year when I was just a handful.  The last humans I knew left me behind when they moved.  A nice man rescued me and found the Vances via facebook.  I was so hungry I ate and ate and ate for days.  And hid a lot. Then training began.  The Vances are learning, but they are so slow.
They called me Missy.  Then I  went to a Doctor for a Checkup.  Rocky is a manly name that suits me better.  That tall Vance is  named Sure Shot because he has a squirt bottle full of water and there's sure a lot of things he doesn't like.  No sneaking up the back of chairs,no surprise attacks at the knee, no jumping on keyboards – his list of rules is long.   I'm coaching him – he needs to chill.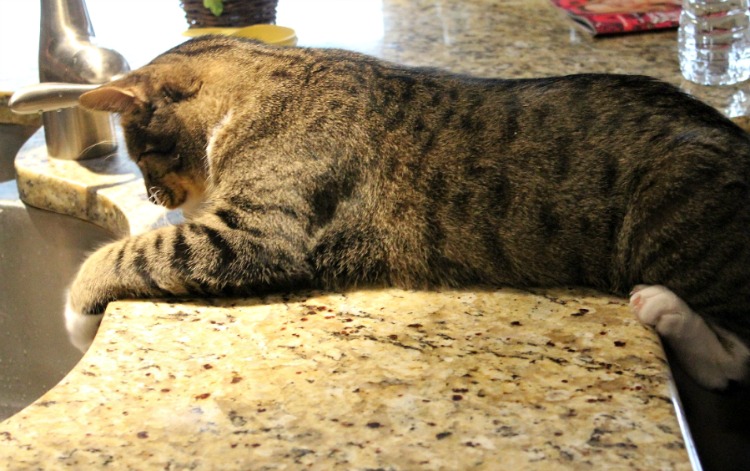 Food Girl was easy to train.  I just stare at her and smack my lips.  Food appears in my bowl – eventually.    Other times she is really dense so I have to get hold of her pant leg and lead her.   She has a squirt bottle too and is a fanatic about tabletops.  No granite under my feet. Hey, one foot is still on the bar chair.  One's in the sink and the other one is on the edge so technically I'm okay.  I can tell you agree with Food Girl, though.  She needs to chill.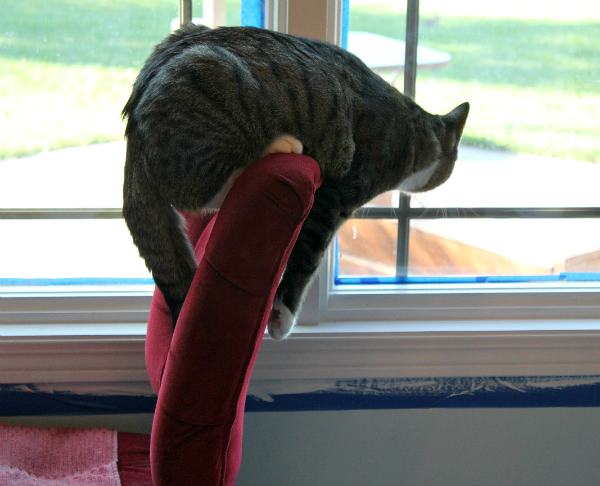 Boss Man opens window curtains for me.  From there I can supervise birds and butterflies and other things in the back yard.    I'm allowed on just one chair by the window.  I guard it fiercely so Boss doesn't set in it.   Boss treats me like a dog, playing the way he does.  I think  its weird, but I wag my tail for him.  Then he lets me set beside him on his people chair.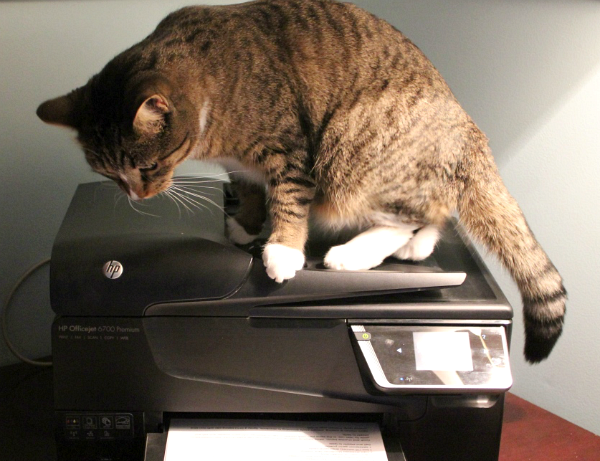 I'm working on others to let me in their people chair too.  I'm earning their trust by supervising any running water in the house.  I lick Sure Shot's bare toes.     And the printer – that thing turns on by itself and spits out paper like a demon but I'm right there watching it every second until it gives its last whirr.  I run at top speed from wherever I am in the house when I hear its beginning click.  I also run to help people answer their phones.  Or when the microwave beeps.  Or when the drier buzzes.  Or the garage door opens.  I am very helpful.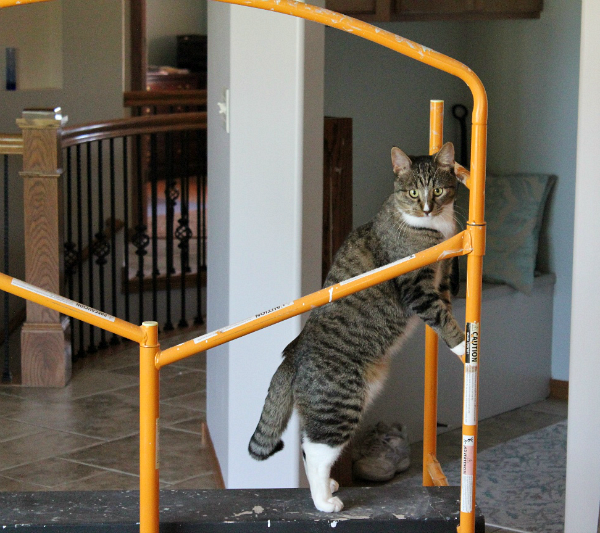 In the meantime, there are other things to explore.  Like this yellow thing.  Food Girl had a spell when she had to turn all the brown wood in the house white, except that stair rail. It took a long time.  They finally put the yellow climber away when she succeeded.  She said for the first time in five years they were living in a house that wasn't under construction somewhere.  No bets it will stay that way.  She needs to chill.
I like it when Short People come to visit.  One comes to visit regularly.  I like him a lot and he likes it when I rub his leg.  He knows all the words to all the Disney songs.  I watch tv with him sometimes.  A bunch of his cousins came for Thanksgiving.  And WHOLE BIG bunch of people came for a family reunion this summer.  All the Short People made this food dish.  I though there were lots of  good round things to bat across the floor but they wouldn't share.  They made me take a nap in the bedroom, instead.  This big family sure can talk and laugh – and eat!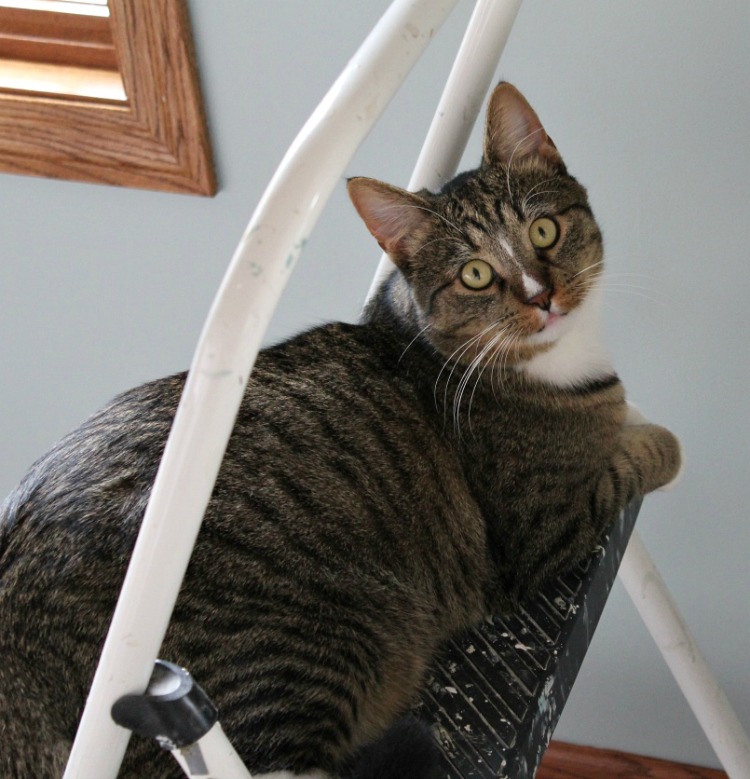 Sometimes I get the whole place to myself, like when Vances went for the entire weekend to a wedding.  They left me with an automatic feeder.  The lid pops open when it's time to eat.  They know I am serious about food!    It doesn't matter if someone is gone for an hour or if they are all gone for the weekend,  I'm always at the door when they get home.  Then I turn and do a full stretch in the pathway while they stand there with hands full of stuff.  Just to let them know who is really in charge.  They need to chill.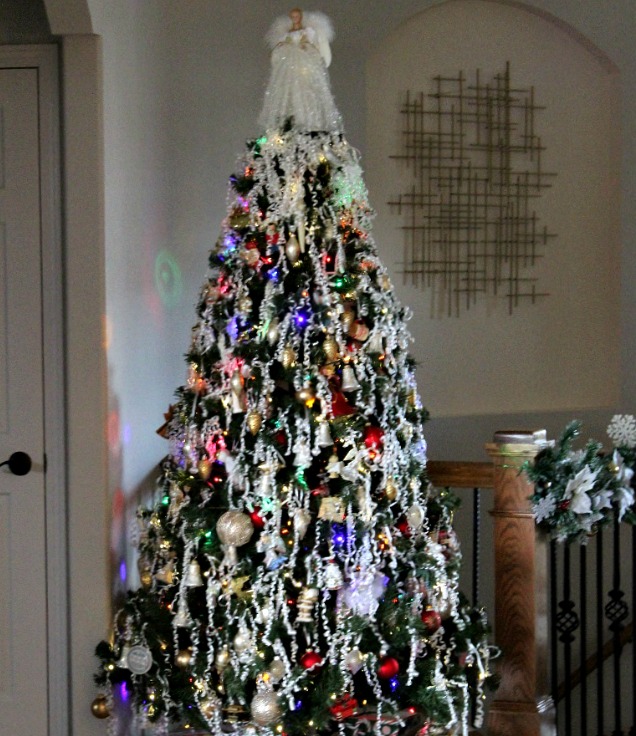 I didn't climb the Christmas tree this year.  At 15 pounds, even a box of rocks knows better than to do that!  Anyway I saw Food Girl tie it to the railing – no fun there.   It's been an amazing year.    May your toes be warm and your food bowl full for 2018!
I'm so glad you stopped by today!   Follow A Pinch of Joy using the icons on the blue bar at the top of the page so you don't miss a thing!   I'd love to have your company on this venture!!  Share: if you found this helpful or inspiring please click one of the buttons below!  Your support of A Pinch of Joy is appreciated!