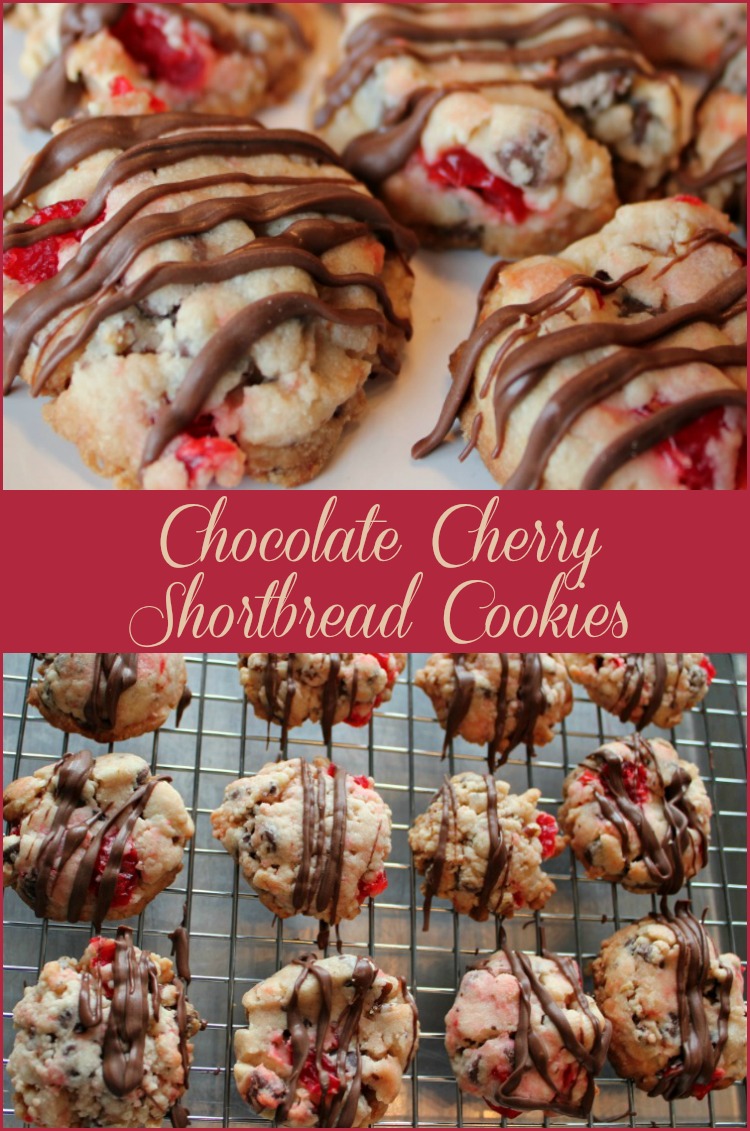 Chocolate Cherry Shortbread Cookies are ready to bake in about twenty minutes.  About 15 minutes in the oven and they are done.  Remove to a cooling rack and go to bed.  Seriously, the cookies will taste much better the next day if you let them set overnight after baking.  It's worth the wait, I promise!!!
The first time I baked these cookies, the guys inhaled them and said they were good.  I wasn't so sure.  But when I tasted them for breakfast the next morning, I was sure.  It's a classic good news, bad news situation.  Good news – I was impressed at how quickly I could turn out several dozen cookies.   Bad news – you'll need to wait a few hours for the amazing taste to come to full bloom.  I'm usually all about quick and easy, so this  Make and Wait is a new discipline for me!   For a bonus reward for the wait, you can  drizzle melted chocolate across the top of the cooled cookies – mmmm!
Shortbread cookies are very dense.  No leavening – so that's not a mistake in my typing – not even eggs.   That also means the cookies will bake in whatever shape they have going into the oven.  The dough is very buttery and tends to crumble, so getting them to look beautifully round and perfect is a challenge.  However, the buttery dough lets the chocolate chips and the chopped cherries shine so nobody will mind the more rustic appearance.
I can't imagine making these without a sturdy mixer – preferably a stand mixer.  The dough is quite thick and heavy.  It is also stays crumbly.  The chocolate chips and nuts can be added using the mixer, but I prefer to add the chopped cherries literally by hand so they stay in colorful chunks.  Also note the directions for the chocolate drizzle.  For the first time ever, I found a method that worked!!!  Be sure to use almond bark or chocolate wafers as they melt easier and are easier to work with for a longer time than chocolate chips.

Chocolate Cherry Shortbread Cookies
Dense buttery cookies chockful of chocolate chips, pecans and maraschino cherries, drizzled with more chocolate -- delightful!!
Author:
A Pinch of Joy by Charlene Vance
Ingredients
2 cups butter
2 cups powdered sugar
3 teaspoons vanilla extract
1 teaspoon almond flavoring
½ teaspoon salt
4⅓ cups flour
1 12 ounce package chocolate chips
⅔ cup maraschino cherries, drained and chopped
½ cup chopped pecans
Instructions
Preheat oven to 350 degrees.
In large bowl, cream butter until fluffy.
Gradually add powdered sugar, while continuing to beat butter.
Add vanilla, almond flavoring and salt.
Add flour, slowing while mixer is running a low speed, until all flour is blended in. Dough will be stiff and slightly crumbly.
Mix in chocolate chips and pecans.
Add chopped maraschino cherries and use hands to lightly mix cherries through out the dough.
Use a cookie scoop or tablespoon to make rounded balls about the size of a walnut. Place on parchment covered baking sheet and flatten somewhat by pressing with the bottom of a glass or the palm of your hand. Place about an inch in between cookie balls. Cookies will spread very little as they bake.
Bake for 15-17 minutes until lightly golden on the bottom. Remove from cookie sheet to rack for cooling.
Chocolate drizzle
Place 2 squares chocolate almond bark in corner of quart zipper bag.
Microwave for 30 seconds, rotate and microwave for additional 30 seconds. Chocolate will begin to melt, squeeze bag to help soften and microwave for another 30 seconds.
Snip corner of bag to make SMALL hole. Squeeze melted chocolate through the opening while moving quickly across all the cookie on the cooling rack. Let set till firm.
I'm so glad you stopped by today!
Follow A Pinch of Joy using the icons on the blue bar at the top of the page so you don't miss a thing!   I'd love to have your company on this venture!!  Share: if you found this helpful or inspiring please click one of the buttons below!  Your support of A Pinch of Joy is appreciated!