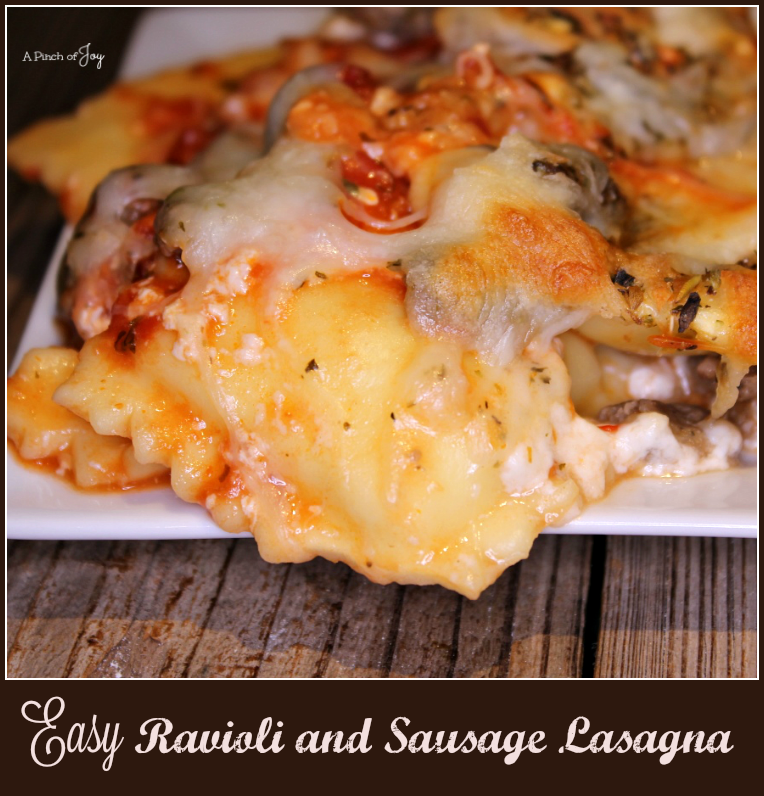 Cheesy, flavorful Baked Ravioli and Sausage Lasagna is busy day casserole that is deliciously filling.  It tastes like you spent hours, layering and cooking – but you don't. In fact, this recipe is almost stress free!   It doesn't come out in beautiful layers and is not particularly photogenic (as you can tell!).  But that doesn't matter because the littles and the bigs at your house will love it!!!   It tastes great and hugs with full tummies are a winner every time.
Use frozen ingredients and this will go together in a flash, ready to bake in about 5 minutes.  Even the onions are chopped and frozen ahead of time.  You can do this yourself, but I keep a package of frozen onions in the freezer for quick meals.  The sausage crumbles were a first for me – great addition!  They were already browned so it was literally open the bag and spread them across the pan.  Sizes of the package may vary according to the brand.  You can pick the flavor that fits your family.  I used turkey sausage for less fat.  You can also brown your own sausage – or substitute ground beef if you prefer.
If you have the time, Baked Ravioli Lasagna is a good kid friendly recipe.  Kids can complete almost every step with supervision depending on their age.  Even the youngest can do a layer of ravioli.  Depending on how precise they are.   I had one who would have them all perfectly spaced and respaced and starting over just for the joy of it — leaving me babbling in the corner. 😉   Older children could even make the entire recipe.
This is perfect for taking to a new mom or someone dealing with illness.  You can deliver it hot or prepared and frozen. It does take a while to thaw, but a hot, nourishing dish will be there when they need it.

Easy Ravioli and Sausage Lasagna
Cheesy, flavorful Baked Ravioli and Sausage Lasagna is busy day casserole that is deliciously filling.
Author:
A Pinch of Joy by Charlene Vance
Ingredients
24 ounce jar tomato based pasta sauce
25 ounce (approx.) package frozen ravioli
½ cup chopped onion
11 ounce (approx.) package sausage crumbles
1 cup cottage cheese
2 cups shredded mozzarella cheese
½ cup shredded Parmesan cheese
1 Tablespoon Italian seasoning
Instructions
Preheat oven to 375. In the meantime assemble the Ravioli Lasagna.
Spray a 9x13 pan lightly with cooking spray. Spread a thin layer of pasta sauce on the bottom of the pan, about 3-4 tablespoons.
Place about half of the ravioli in the bottom of the pan, laying them so the ravioli makes a single layer.
Top evenly across the ravioli with ¼ cup chopped onion, half the package of sausage crumbles, ½ cup cottage cheese and half the bag of mozzarella cheese. Pour half of the remaining pasta sauce evenly over the top.
Repeat beginning with a second layer of ravioli and adding the remaining half of the other ingredients.
Top with the Parmesan cheese and the Italian seasoning, sprinkling both evenly over the pan.
Cover with foil.
Bake covered for 45 minutes until hot through. Remove foil and bake about 15 minutes more until edges are golden and bubbly.
To Make Ahead – Follow directions as above to make Ravioli Lasagna. Cover with foil as ready for baking. Then wrap with additional foil layer to freeze. To thaw, place in refrigerator 24-48 hours before baking according to directions above to serve.
Nutrition Information
Carbohydrates:
48 carbs
Protein:
34 grams
I'm so glad you stopped by today!
Follow A Pinch of Joy using the icons on the blue bar at the top of the page so you don't miss a thing!   I'd love to have your company on this venture!!  Share: if you found this helpful or inspiring please click one of the buttons below!  Your support of A Pinch of Joy is appreciated!