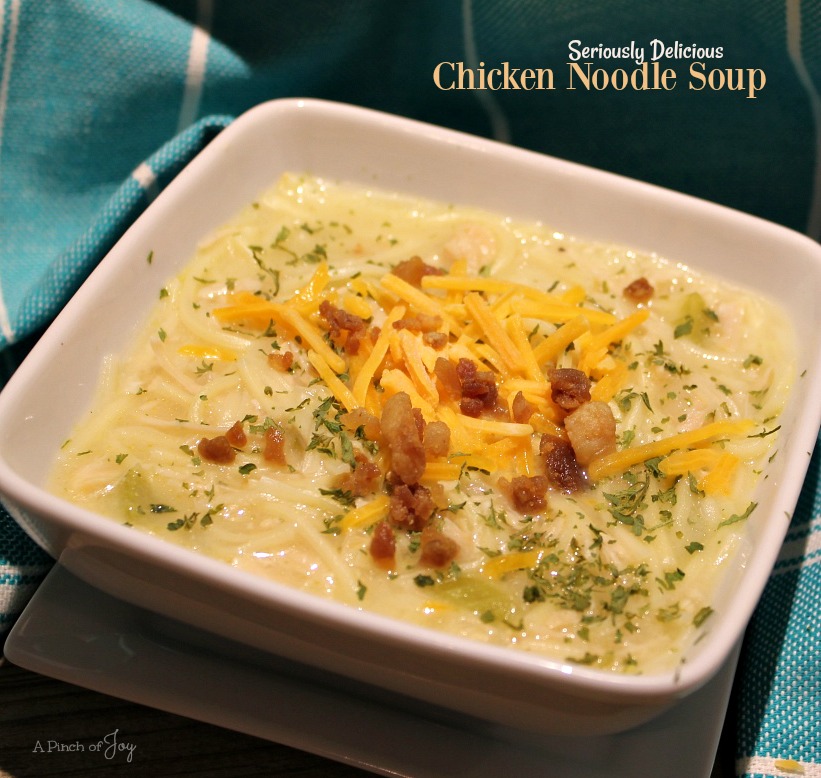 The best ever chicken noodle soup – and so quick to make.  You can have a hot and filling complete meal on the table in just about thirty minutes.  Add a small salad or a cup of fruit, maybe a crusty roll.  Done!  Game on.  Or whatever else claims your time in a busy day.
A quick recipe often uses packaged ingredients and this is no exception.  Use broth – canned or in a carton – to save time.  The canned soup helps thicken the soup without spending time you don't have making a roux.  The ranch dressing helps thicken, and also provides flavor, without measuring a bunch of ingredients. But first time I made this particular soup – way back when — it was so salty I ended up throwing it away.  And that is NOT an economical choice – not in terms of health, finance, time or any other way you want to measure.    You get the new and improved version with water and milk and vegetables – more flavor and healthier!
In a perfect world we wouldn't have to make choices about whether to spend time cooking healthy or saving time so we actually can have a life.  How do we balance those demands?
Balance starts in the grocery aisle.  Now I always, always look for the low sodium option in everything.  It's astonishing how much salt is in every kind of food.  Once your taste buds adjust, you just don't miss it and eating low sodium is so much healthier for you and for your family.  Even the little ones benefit.  You can make this as much of a passion as you want or need to do.  However, it is one simple adjustment that requires no time besides scanning the label for "low sodium",  "no salt" or "lower sodium".  It pays huge dividends over a life time in better over all health.  And if your taste buds suffer with "no salt", you can  add some at home.  I can almost guarantee it won't be as much as would be in the salted version from the store!
You can use the real bacon bits instead of crisping the 8 slices of bacon to give yourself more time.  Real bacon bits do come in low sodium, but not every store carries them.  Almost every store now carries low sodium bacon, however.  We can borrow a hint from one of my sisters, THE Bacon Queen.  She snips bacon slices into one inch pieces and crispy browns them in a big skillet on the stove top.  Do that as needed OR brown a bunch, freeze on a cookie sheet and sweep into a gallon zipper freezer bag.  (She would leave out the onion – you are welcome to do that, too.  But I think it adds a lot!)
I'm collecting recipes to make your own sauces and dressings.  If I ever finish sewing and whipping this new house into livability, I'll come back and leave a link for a make your own ranch dressing without salt.  Or maybe you have one to leave in the comments.  But in the meantime, have some great chicken noodle soup!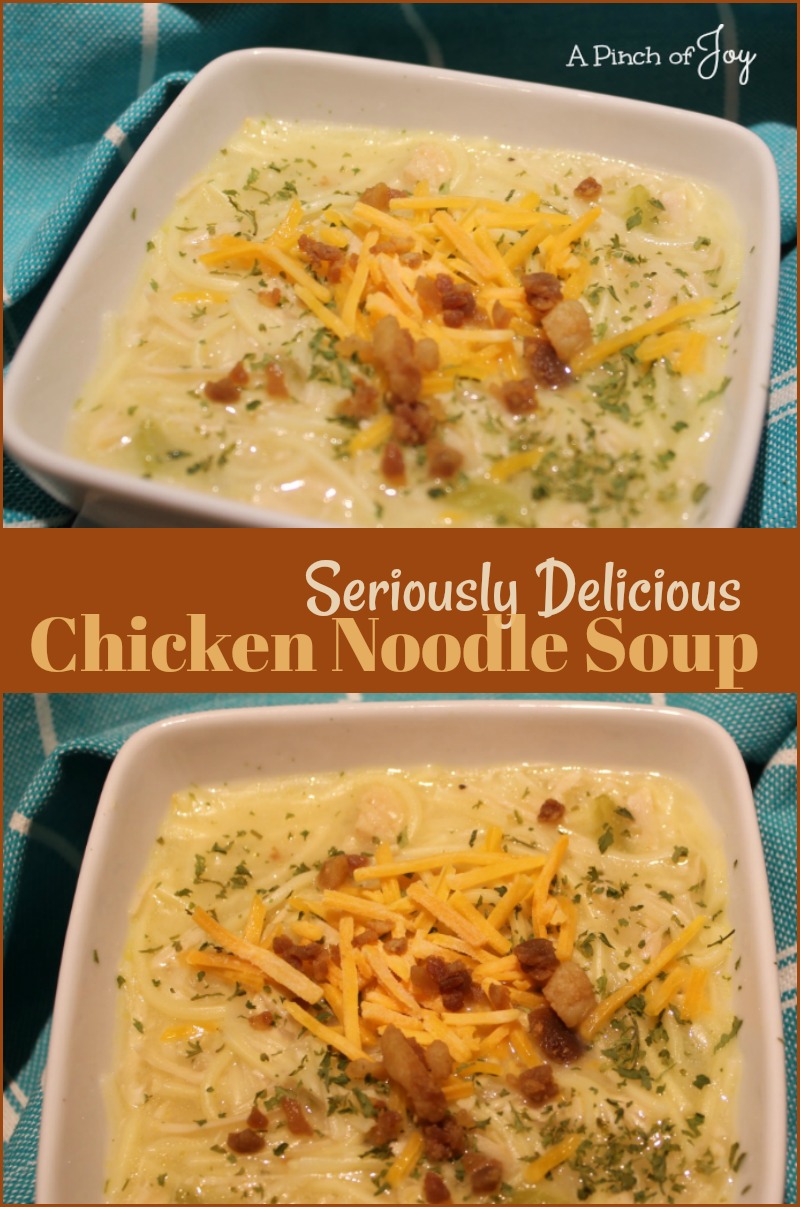 Seriously Delicious Chicken Noodle Soup
The best ever chicken noodle soup – and so quick to make. You can have a hot and filling complete meal on the table in just about thirty minutes.
Author:
A Pinch of Joy by Charlene Vance
Ingredients
2 stalks celery, thinly sliced
2 carrots, thinly sliced (for color, optional)
½ medium onion, diced
2 tablespoons olive oil
1 10 ounce can condensed cream of chicken soup, lower sodium or heart healthy
5 cups chicken broth, low sodium
1 cup milk
1 cup water
1 package Ranch salad dressing mix
3 cups diced cooked chicken
8 ounces fine egg noodles, dried and uncooked
8 pieces low sodium bacon, chopped and crisp fried
1 cup shredded cheese
2 tablespoons parsley flakes or chopped fresh parsley
Instructions
Pour oil into large stock pot or Dutch oven. Add vegetables and saute until vegetables begin to soften, about 5 minutes.
Add condensed cream of chicken soup, chicken broth, milk and water.
Whisk in Ranch salad dressing mix, until well mixed.
Add chicken. Cover and bring to boil over medium heat. Reduce to simmer and cook for 20 minutes.
Stir in noodles. Cook uncovered for about 5 minutes, until noodles are soft.
Ladle into bowls and garnish with a large pinch of shredded cheese (about two tablespoons full). Add real bacon pieces, about a teaspoon full atop each bowl. Finish with parsley flakes or chopped fresh parsley, lightly sprinkled over all.
I'm so glad you stopped by today!
Follow A Pinch of Joy using the icons on the blue bar at the top of the page so you don't miss a thing!   I'd love to have your company on this venture!!    Share:   Pin so you have inspiration at your fingertips — share on facebook so others will, too!   If you found this helpful or inspiring please click one of the other buttons below!  Your support of A Pinch of Joy is appreciated!