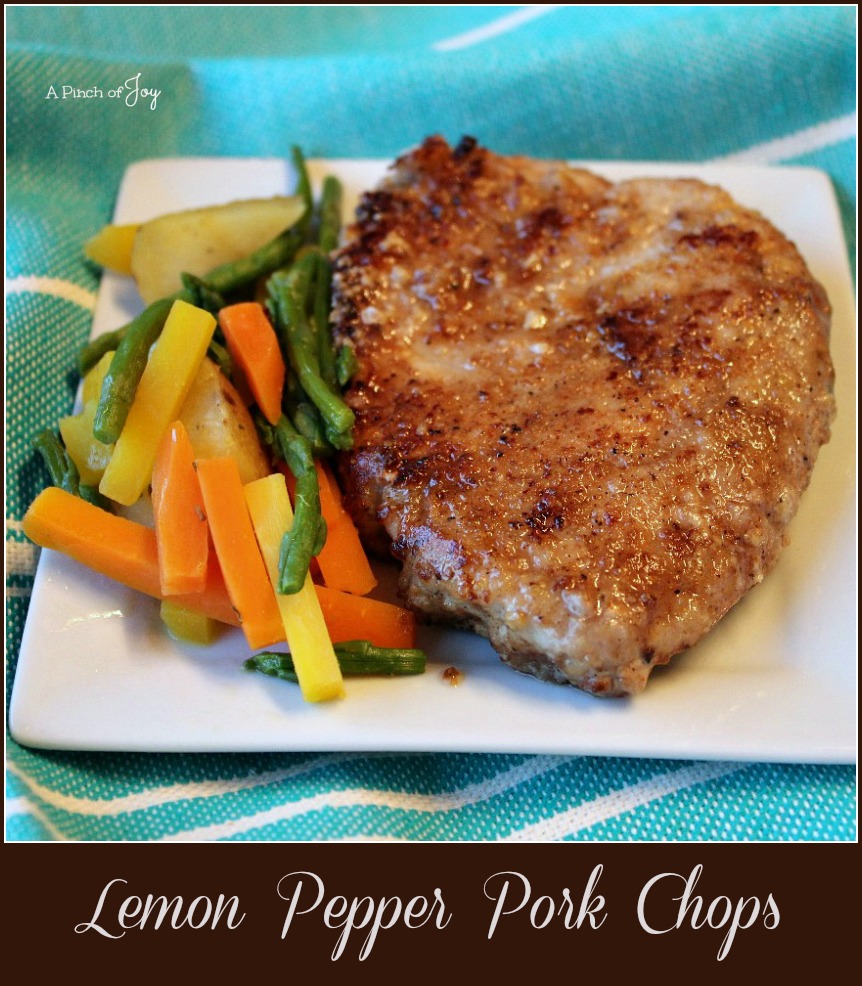 Lemon Pepper Pork Chops are tender, delightfully flavored and a great company dish.   They are so quick and easy to make you'll add them to the family menu, too. I am always surprised at how quickly this meal comes together.  Serve with colorful vegetables or brown rice and a crunchy salad.    Yummy delicious!!  Even when you don't put the sauce on because you're in a hurry to catch the last bit of light for photos before dinner and nightfall.
Mix the dry ingredients together while the butter melts.  If you are wondering what it means to dredge the pork chops,  it is simply coating the meat evenly with flour and/ or crumbs.  Usually  the mixture includes seasonings like the brown sugar, lemon peel and salt and pepper above.  Paprika, garlic powder, or herbs are also used.  Besides adding flavor, dredging makes the meat turn a more attractive brown color as it is cooked.  The meat should be on the dry side; pat it with paper towels if necessary.  This stops the flour from clumping on the meat and helps it brown more evenly.
You can put the flour into a shallow bowl or plate and press first one side of the meat into the flour and then the other side.    OR you can put the flour into a plastic or paper bag, then toss in the meat and shake the bag to cover it with the flour.  Either way shake off any excess flour so that it will not burn in the pan.  And, of course, discard the flour when you are finished as it will be contaminated from the raw meat.  The dilemma of not having enough flour and having to add more with gunky hands:  Scoop out a quarter cup of flour and set it nearby so you can add more if needed without messing up the whole container of flour.
Another cooking basic in this recipe is the scant teaspoon.  You know I'm a heat/spice wimp.  So I don't fill the teaspoon full when I measure the pepper.  If you like pepper, go right ahead and make it a full teaspoon, leveled and added to the flour dredge.  If you really like pepper – go for pepper above the edge of the spoon!  It's  "to taste" but more specific.
Lemon Pepper Pork Chops
Lemon Pepper Pork Chops are tender, delightfully flavored and a great company dish -- but so quick and easy you'll make them for the family, too.
Author:
A Pinch of Joy by Charlene Vance
Ingredients
5 4 ounce boneless pork chops
2 Tablespoons Butter
1 Tablespoon dried Lemon Peel
2 teaspoons brown sugar, packed
¼ teaspoon salt
1 scant teaspoon black pepper
¼ cup flour
½ cup heavy cream
1 Tablespoon lemon juice
Instructions
If frozen, let pork chops thaw in refrigerator.
Mix together lemon peel, brown sugar, salt, pepper and flour in shallow bowl.
Melt butter in large nonstick skillet over medium heat.
Dredge pork chops in the flour mixture, making sure each chop is evenly covered on both sides.
Brown chops quickly, about 2-3 minutes on each side or until cooked through. Remove from skillet, cover and set aside.
Pour any drippings from skillet and discard. Wipe skillet with paper towel and place over medium heat. Pour cream and lemon juice into skillet. Heat stirring occasionally until cream is reduced by half.
Pour cream sauce over cutlets and serve.
Nutrition Information
Serving size:
1 chop
Calories:
301
Carbohydrates:
9 grams
Protein:
21 grams
Welcome to A Pinch of Joy!  I'm so glad you stopped by today!   Follow A Pinch of Joy using the icons on the teal bar at the top of the page so you don't miss a thing!   I'd love to have your company on this venture!!  Share: if you found this helpful or inspiring please click one of the buttons below!  Your support of A Pinch of Joy is appreciated!
Shared with these awesome link parties here