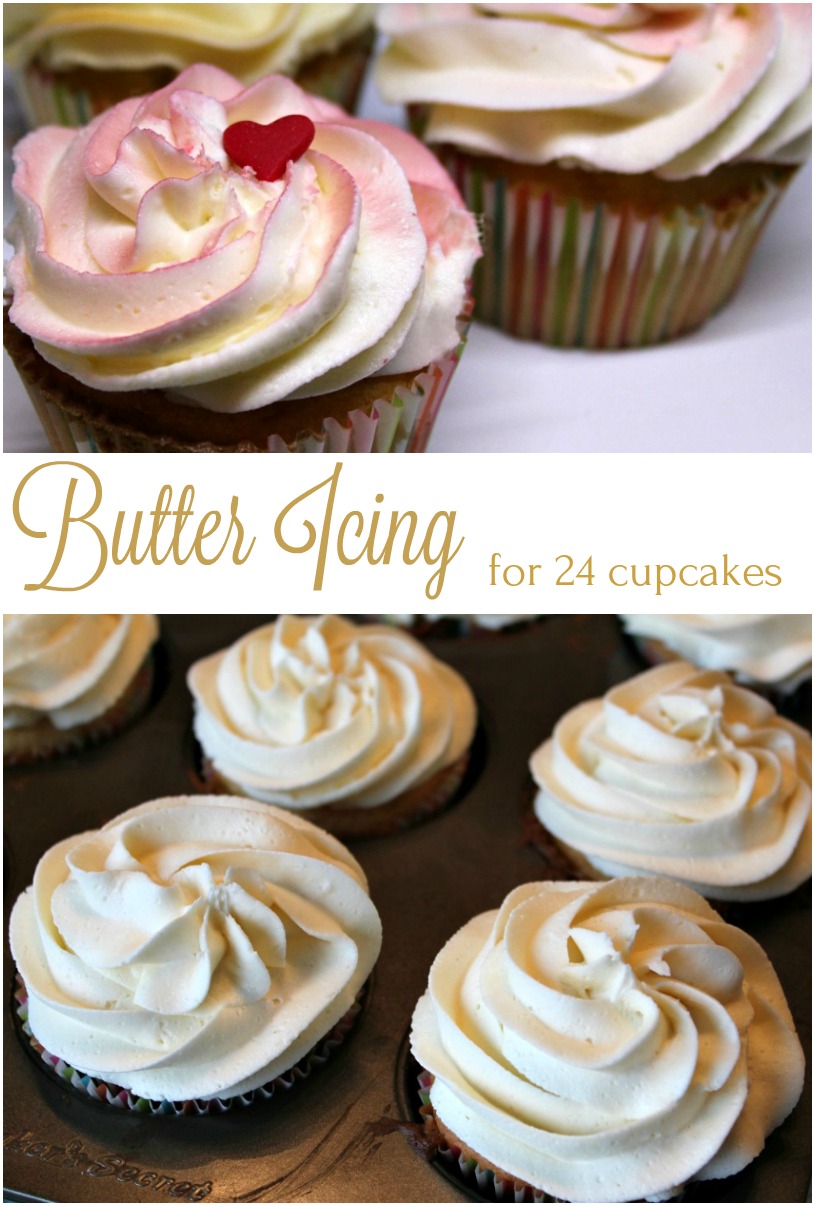 Fluffy butter icing for 24 cupcakes is not something I make often — but when needed its invaluable.   We love cake, whether layered, sheet, or cupcakes but they don't fly on our radar very often.  The usual cake lasts way too long when the family is eating only 3 smallish pieces once a day.  So when my niece put in a request for a couple dozen cupcakes as part of her agency's celebration of National Adoption Day, I was happy to oblige.  I used a good cake mix  but the frosting needed to be something special.   Seven year old Short Stuff was here for the weekend and promptly volunteered to be the decorator.  Keep in mind, my own experience with cake decorating was last "experienced"   with this final decorating class   and this frosting class from the same series of lessons.   I knew I wanted an icing with the same consistency, but with more flavor.  Short Stuff picked out an impressive assortment of sprinkles, sugars and sprays from the box on the shelf and I flipped through a recipe folder in the bottom desk drawer until I spotted this one last used to create a Star Wars tour de force.  We went to bed knowing that was our task for the next morning, armed with a little knowledge, a whole lot of enthusiasm and a "ton of decorations", as Short Stuff told his mommy in their good night phone call.
I laid the butter out to soften when I got up to feed the cat in the morning.  Usually I am the one slicing cold butter thinly into whatever I am making that requires butter softened.  Guess what — letting it soften for an hour or so does make a difference!!!  (But I will probably still be slicing cold butter next time!)   I also used the same brown vanilla flavoring I use for every other recipe — in spite of the original recipes stern warning that I should use clear vanilla to keep the frosting white.  Coz I'm a rebel like that.   I also had to make extra frosting to cover 24 cupcakes.  I want to see the whole cupcake covered, not just a quick shot on top.  I made adjustments and the recipe below will cover 24 cupcakes generously.  There's even a solution if you do have a bit of frosting left over if you keep reading 🙂
I had to do some quick research on You Tube to find out which Icing tip to use and a good thing I did.  The one I had picked out was not it!  Use a Wilton 1M to make the swirls.  My quick research  — two 1 minute videos —  also showed me that there are two different methods in making the swirls.  One says start in the middle with a little mound and swirl around the mound toward the edge.  The other says start on the outside of the cupcake and end with a little peak in the middle.  I tried the start in the middle and felt like I was out of control so I switched.  Next time I started at the outside edge and came in toward the middle and felt like that gave me more even coverage.  You might try both ways to see which is easier and works better for you.  Disclaimer — I am not a professional cake decorator!!!
I swirled the cupcakes and let them set to firm up — which they did very nicely!  Short Stuff decided he wanted red and gold sprayed cupcakes.  We experimented on our arms to learn how to spray lightly, lightly and talked about being golden children with red polka dots and about King Midas and just stuff.  The first spray showed the lightly, lightly spray message was just for arms.  He was picturing GOLDEN cupcakes, getting close and holding steady for 30 seconds on the cupcakes.  We finally compromised. He would spray in one place and I would move the pan of frosted cupcakes around in the spray.  Worked great!   I told him the cupcakes were for kids and he decided to concentrate on just heart decorations — much to my surprise.  And then I remembered we had negotiated frosted graham crackers for him to decorate for us to eat at dinner that night.  I was happy with the restrained donation cupcakes and he was thrilled to go all in on the small plate of lightly frosted graham crackers.  Win, win!!

Butter Icing for 24 cupcakes
A fluffy rich butter frosting that will cover 24 cupcakes with an "ice cream" swirl. AND it tastes great!
Author:
A Pinch of Joy by Charlene Vance
Ingredients
1½ cup butter, softened
6 cups powdered sugar
1 tablespoon vanilla extract
3 tablespoons of milk
Instructions
Using a paddle attachment, mix softened butter until smooth and fluffy, about one minute.
Continuing to mix on a lower speed, slowly add the powdered sugar a bit at a time. Scrape down the sides as needed.
When all the powdered sugar is incorporated, add vanilla and milk while continuing to mix on medium speed.
When all ingredients are added, increase the speed and whip the frosting for four minutes until light and fluffy.
Nutrition Information
Calories:
202
Carbohydrates:
25 g
Welcome to A Pinch of Joy!  I'm so glad you stopped by today!
Follow A Pinch of Joy using the icons on the teal bar at the top of the page so you don't miss a thing!   I'd love to have your company on this venture!!  Share: if you found this helpful or inspiring please click one of the buttons below!  Your support of A Pinch of Joy is appreciated!
Shared with these awesome link parties here