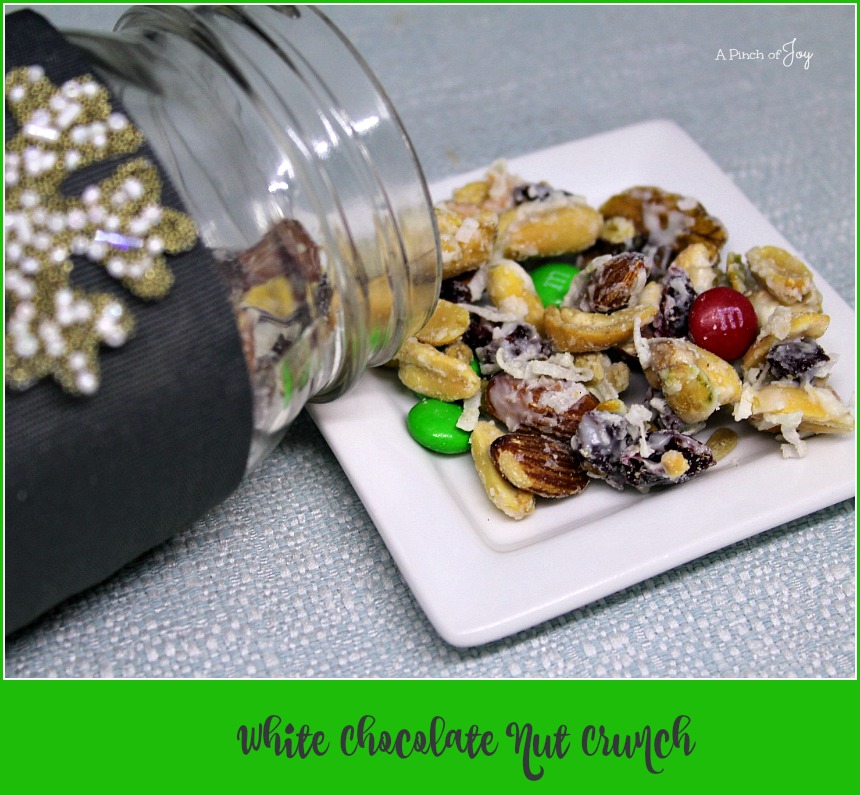 White Chocolate Nut Crunch is perfect for those last minute gifts.  It's so quick and easy to make that anyone who knows how to use a microwave can make it in a flash.  It's easy to package, in a box, a bag or a jar.  It's a wonderful combination of flavors – a little salty, a little sweet and a whole lot yummy!
The recipe below is pretty straightforward.  It can also be customized.  Change out the nuts. I used a package of combined sunflower seeds and pepitas, instead of just sunflower seeds.  Then I added a half cup of whole walnuts — just because.   Add a cup of golden raisins instead of the dried cranberries — or in addition to!   I used white chocolate chips, but you can use white almond bark or white candy melts, if you prefer.  I used coconut flakes off the shelf in the baking section.  However,  if you have access to the big coconut flakes (or chips, they are sometimes called) from the organic or bulk section, they work better because their size makes them less messy.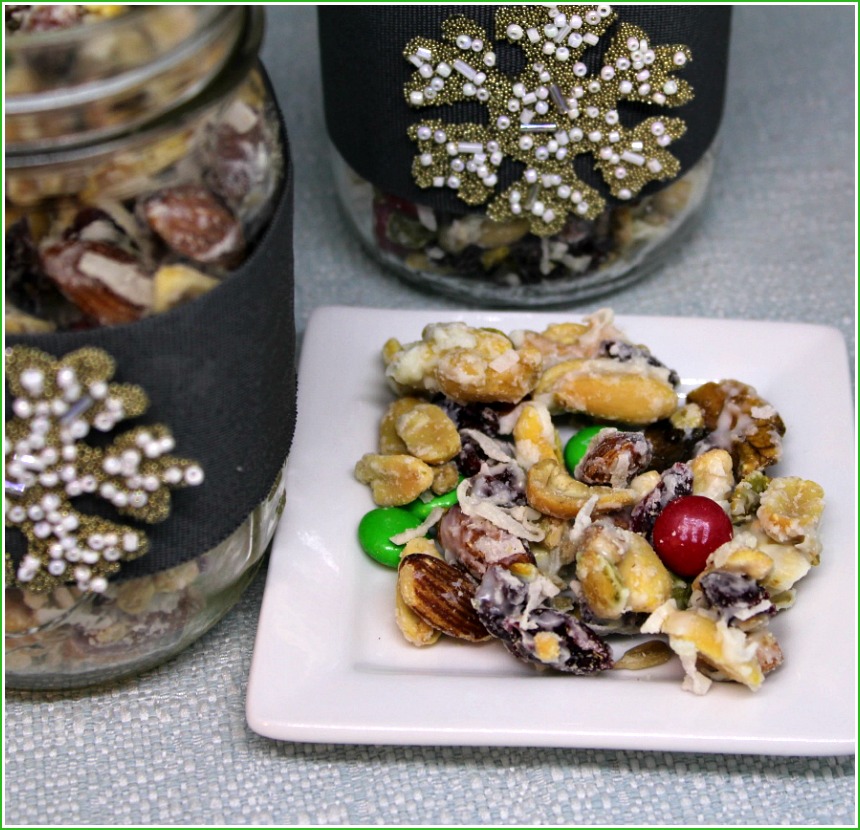 Choose the method you want to package the mix.  Hobby stores often have boxes or bags — plain or seasonal.  I used pint jars, which will hold eight 1/4 cup servings.  The ribbon came from my stash — it was around a gray tablecloth I purchased once upon a time.  The snowflakes were in the scrapbook stash of embellishments.  So easy!  On colored paper, draw a circle around the jar lid (the flat part — not the screw ring).  Write a note or leave it plain, and lay it on top of the flat before screwing the ring onto the jar.   Or you can use fabric and enlarge the circle by an inch all the way around, and again, lay it on the flat before screwing the ring onto the jar.  The extra fabric will flare out for a decorative touch — especially nice if you don't want to decorate the jar itself.
Great for co-workers, neighbors  — anyone with whom you want to share a little extra appreciation!
White Chocolate Nut Crunch
A little bit sweet, a little bit salty, a little crunchy and a whole lot yummy. Make for yourself or to give as a gift!
Author:
A Pinch of Joy by Charlene Vance
Ingredients
1 cup of nuts cocktail peanuts
1 cup almonds
1 cup cashews
½ cup of sunflower seeds
½ cup of coconut flakes
½ cup of dried cranberries, reduced sugar
1 cup of white chocolate chips
½ cup seasonal M&Ms
Instructions
Mix together nuts, seeds, coconut flakes, dried cranberries and seasonal candies.
Spread on a baking sheet covered with wax paper.
Melt white chocolate chips in the microwave, cooking 30 seconds at a time and stirring for about 1½ minutes all together.
Drizzle over mixture and stir gently to coat.
Cool until chocolate is firm. Break apart and serve.
Store in air tight container.
Nutrition Information
Serving size:
¼ cup
Calories:
389
Carbohydrates:
32 grams
Protein:
12 grams
Welcome to A Pinch of Joy!  I'm so glad you stopped by today!   Follow A Pinch of Joy using the icons on the teal bar at the top of the page so you don't miss a thing!   I'd love to have your company on this venture!!  Share: if you found this helpful or inspiring please click one of the buttons below!  Your support of A Pinch of Joy is appreciated!
Shared with these awesome link parties here