I made Mini Tacos for a family reunion get together where I served several mini foods.  The Mini Tacos disappeared quickly, and have reappeared at all sorts of events since.  Kids especially love them. . . you gonna make those baby tacos again?  They are colorful – like a fiesta should be – and have a little zing.  The size is perfect, for little or big appetites, because they can repeat as many times as needed to take care of hunger pangs.   They make great appetizers, but are filling enough for a light meal.
Make the filling and keep it warm in a small crockpot and let guests fix their own taco, adding whatever toppings they choose.  OR —  If serving immediately, make the colorful finished tacos and serve from a warmed baking dish. This makes a great addition to an adult appetizer table and they disappear quickly.  OR — make the taco filling, place in the tortilla, top with cheese and bake in the oven until the tortillas are warmed through and let each guest add their own toppings.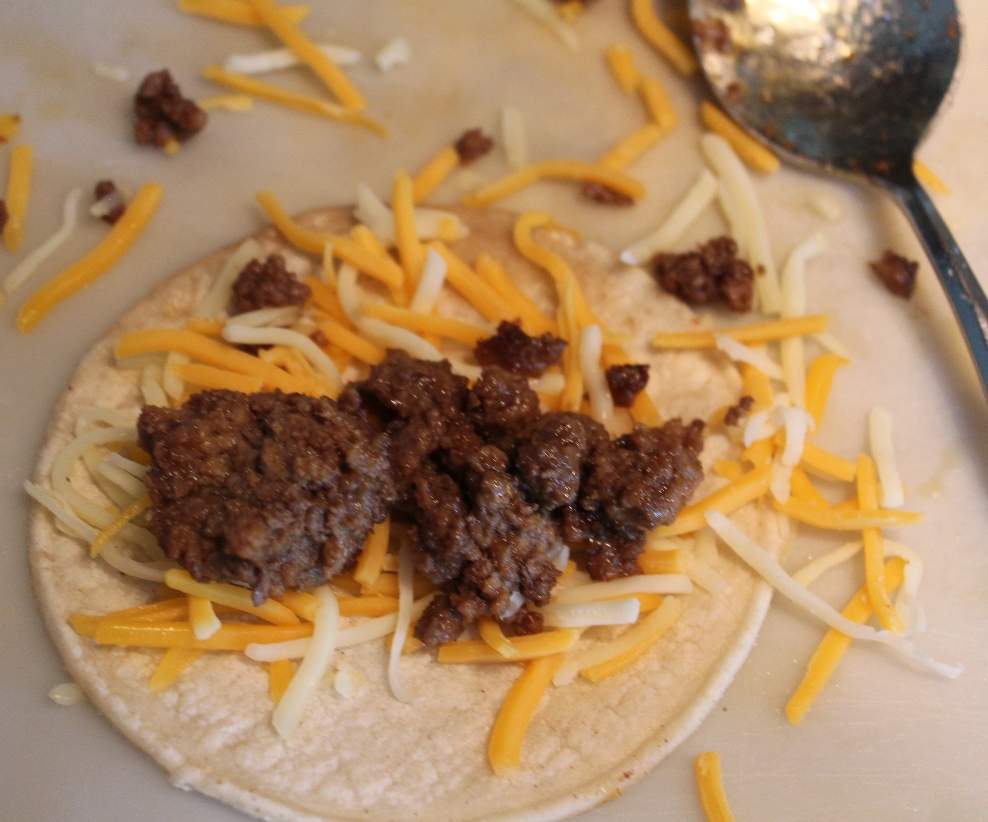 Look for the street taco sized tortilla – about 3-4 inches across.  If you can't find those, you can cut 3 inch diameter circles from larger corn tortillas.  Small tacos are sold on Mexican street corners and are quite different from what we expect..  The little tortillas were hard to find for a while, but now I see them in almost every grocery store.  The corn tortillas are a bit thicker and easier to handle with a more robust flavor. Warm them briefly in a large skillet, on both sides before filling so they are easy to handle.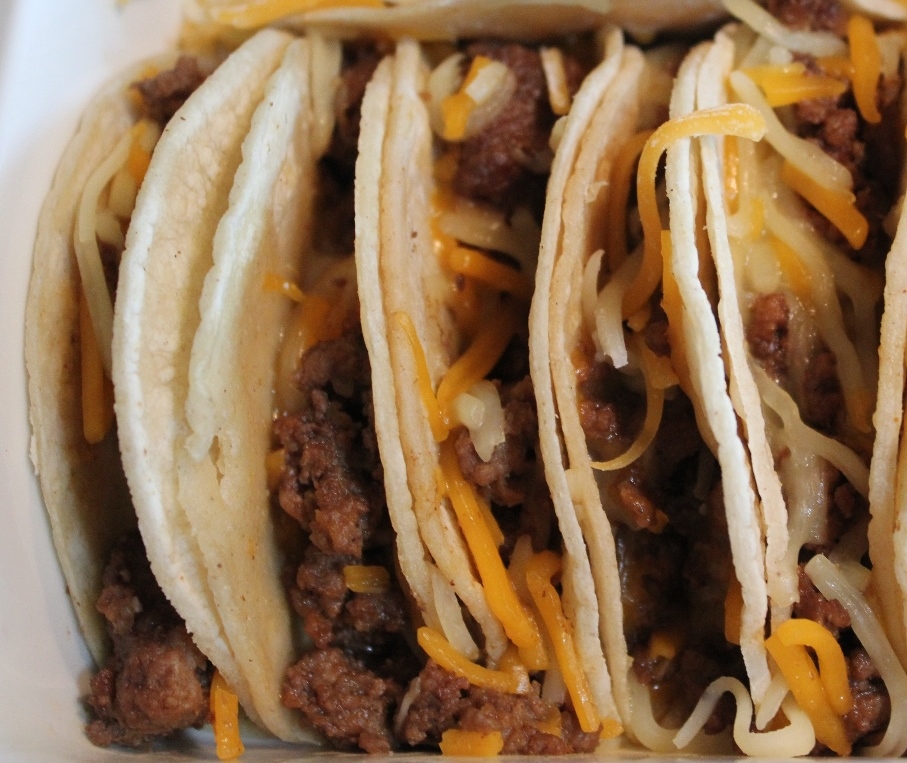 Stack filled tacos in baking dish.  When full, place baking dish in oven for about 10 minutes until tacos are warmed through and cheese is melty.   You could use chicken, fish, pulled pork or beef for the filling—whatever is your family favorite. I use ground beef and taco sauce mix to fill these mini tacos.  Because . . . right now, the little ones in my family are all about the toppings. Layers of shredded Mexican blend cheese, and finely shredded lettuce are applied with serious attention.  Grape tomatoes on top and for the more adventurous a bit of sour cream and/or salsa.  I know two less than ten year olds that think black olives on top are great.  I'm still working on that acquired taste!

Mini Tacos
Mini Tacos are colorful – like a fiesta should be – and have a little zing. The size is perfect, for little or big appetites.
Author:
A Pinch of Joy by Charlene Vance
Ingredients
1 pound lean ground beef
1 package (1.25 ounces) taco seasoning mix
½ cup shredded Mexican cheese blend
1 package street taco corn tortillas
Toppings
• Lettuce, shredded about 2 cups
• Cheddar or Mexican blend cheese, shredded (about 1 cup, additional)
• Cherry tomatoes, halved
• Black olives
• Salsa, your choice
• Sour cream
Instructions
Cook the beef in a 10-inch skillet over medium-high heat until it's well browned, stirring often to break up chunks. Drain off any fat.
Stir in taco seasoning mix and cook, according to package directions.
Heat tortillas on an ungreased skillet over medium-high heat for 10 to 15 seconds. Flip and heat for another 5 to 10 seconds.
Fill warm tortillas with a layer of shredded cheese, and 2-3 spoonsful of filling.
Stack in baking dish.
Bake at 350 for 10 minutes until tacos are warmed through and cheese is melty.
Nutrition Information
Serving size:
71 g
Calories:
165
Carbohydrates:
14 g
Protein:
13 g
Welcome to A Pinch of Joy!  I'm so glad you stopped by today!
Follow A Pinch of Joy using the icons on the teal bar at the top of the page so you don't miss a thing!   I'd love to have your company on this venture!!  Share: if you found this helpful or inspiring please click one of the buttons below!  Your support of A Pinch of Joy is appreciated!
Shared with these awesome link parties here