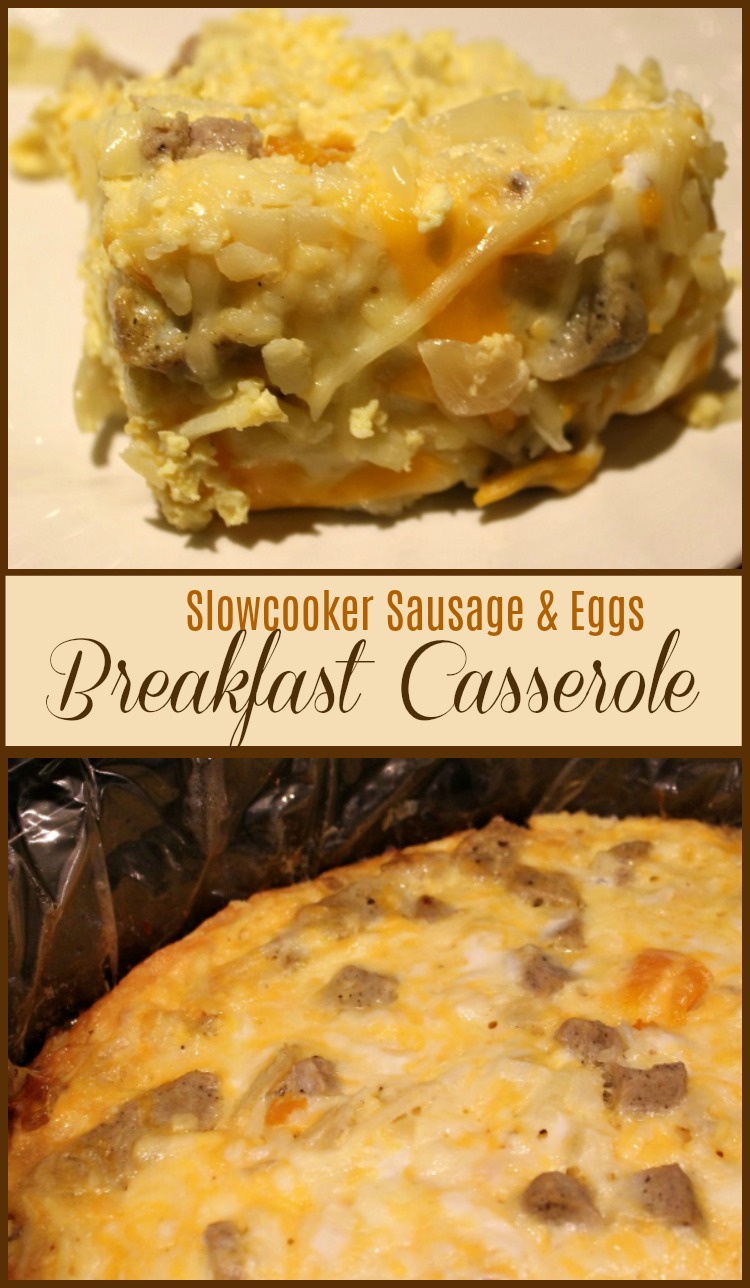 Slow cooker Breakfast and Eggs Casserole is great for a crowd.  And if you don't have a crowd, the leftovers for lunch the next day are great, too!  I like to have casseroles for breakfast when we have guests.  Usually we have some kind of activity planned and hearty breakfast keeps us going till lunch.  This easy to make casserole fills the bill nicely.  It is high in protein at 23 grams per serving for active people and just high enough in carbs at 18 grams to stick to the ribs.
The eggs, well whisked, help keep this dish light.  I use turkey sausage, but you can use your choice of sausage or even diced ham if you prefer.  Precooked sausage crumbles speeds up preparation.   In a time pinch, use frozen diced onions.  The bell peppers add nutrition and color.  Use any color.  I had orange on hand.  If you are buying just for this casserole, grab the green or red for more contrast.  I like the frozen shredded hash browns for the potatoes because they "blend" in with the other ingredients, but you could use the small dice like Potatoes O'brien if your family likes definite potato texture.
I wasn't sure a slowcooker liner would work with a dish like this.  Just once scrubbing the insert, convinced me to give it a try!  It really worked well.  You can serve by cutting and removing slices to plate for individuals or to put on a platter to serve family style.  Or you can stick a big spoon in the crockpot and let people help themselves.  The liner doesn't seem to get in the way and doesn't tear as easily as I feared it might.    Make the casserole ahead of time and let it set in the fridge until bedtime. Last one to bed can take the insert out of the fridge and start it cooking, then set it to stay on the warm setting when done.  Usually the night owls at our house are up long enough that it isn't on warm very long before the early birds rise. 🙂 I've also made this for a brinner – breakfast for dinner.  It only takes six hours to cook so it works well to mix this about lunch time, pop it in the crockpot and it will be waiting when you come back from whatever spontaneous activity you choose in the afternoon.  Serve with yogurt and/or fruit for breakfast or with a salad and veggie for dinner.  Note that this recipe can also be a Make Ahead Freezer Meal.

Slow Cooker Sausage and Egg Casserole
Cheesy Sausage, Eggs and Potato Casserole cooked in the slow cooker for a hearty stick to the ribs breakfast that will keep you going. High in protein and low carb!
Author:
A Pinch of Joy by Charlene Vance
Ingredients
1 pound sausage, your choice
1 small onion, chopped (about ½ cup)
½ red bell pepper, seeded and chopped
1 clove garlic, minced
3 cups frozen hash brown potatoes, thawed
1½ cups shredded Cheddar cheese
12 eggs
1 cup whole milk
½ teaspoon salt
1 teaspoon black pepper
½ cup shredded cheese, additional to sprinkle over top of casserole
Instructions
Line slow cooker with cooking bag and spray with cooking spray.
Place sausage in a large skillet and cook over medium-high heat, stirring occasionally, until browned, about 10 minutes.
Chop onion, dice red bell pepper and mince garlic. Place in large bowl.
Add sausage, potatoes and 1 ½ cups shredded cheese. Stir until mixed. Spoon evenly in crock pot.
Whisk eggs, milk, salt, and pepper together in a bowl; pour over ingredients in slow cooker.
Cook on low,for 6 hours, until eggs are set in the middle and the edges are beginning to turn brown. Sprinkle ½ cup shredded cheese over top of casserole and let set covered for about 10 minutes before serving.
Make Ahead Freezer Instructions
Mix sausage, onion, bell pepper, seasoning, potatoes and 1½ cup cheese in a gallon zipper bag. Place additional ½ cup shredded cheese in zipper sandwich bag to use for topping and add to gallon bag. Thaw this bag overnight before cooking.
Whisk eggs and milk in large bowl and place in gallon zipper bag that is securely closed. Place entire bag in second bag and make sure it is securely closed (to avoid cleaning freezer if there is a leak) Thaw overnight before cooking.
OR
Whisk eggs and milk together when you are ready to cook the casserole.
To cook:
Line crockpot with disposable liner and spray with cooking spray
Place thawed package of sausage, vegetables and cheese in bottom of slowcooker.
Pour the egg mixture evenly over the mixture.
Cover and cook on low for 6 hours. Sprinkle half cup reserved shredded cheese over the cooked casserole, cover and let set for about 10 minutes until cheese is melted.
Nutrition Information
Calories:
352
Carbohydrates:
18 g
Protein:
23 g
Welcome to A Pinch of Joy!  I'm so glad you stopped by today!
Follow A Pinch of Joy using the icons on the teal bar at the top of the page so you don't miss a thing!   I'd love to have your company on this venture!!  Share: if you found this helpful or inspiring please click one of the buttons below!  Your support of A Pinch of Joy is appreciated!
Shared with these awesome link parties here