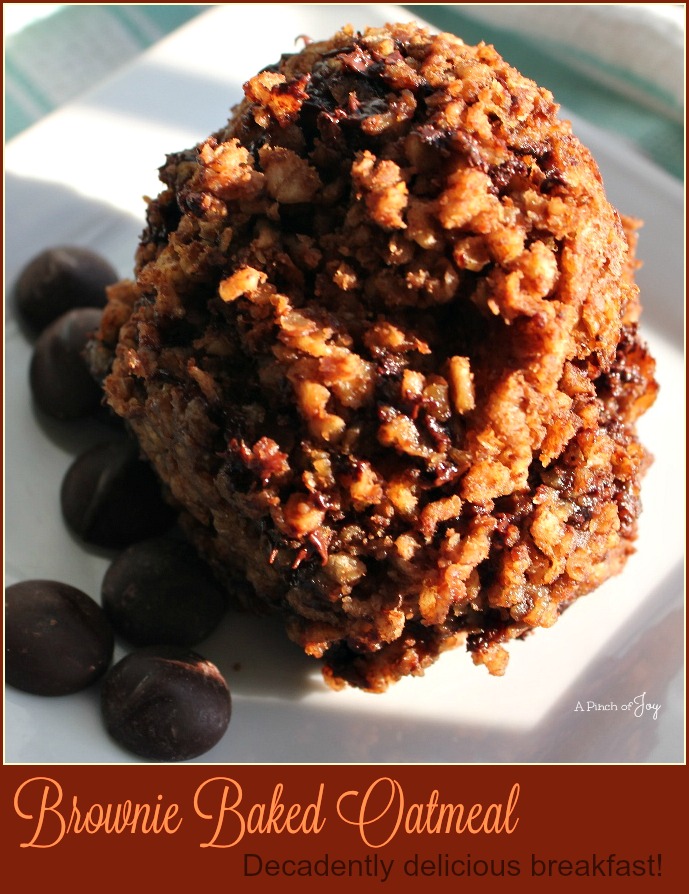 Brownie Baked Oatmeal is wonderful for a special breakfast.  Soo decadent and delightful with 8 grams of protein and, with milk, 32 carbs per serving.
When Valentine's Day falls in the middle of the week, it is sometimes hard to find time to celebrate.  Make this the day before and refrigerate before baking 20 minutes on Valentine's morning – a special glow all day long!  Or celebrate birthdays – or acceptance into college of choice – or making the cheer squad – or any other special occasion.
Customize Brownie Baked Oatmeal with your choice of chocolate chips.  We like dark chocolate so that's what I usually choose.  If all I have on hand is semi-sweet, that's the choice.  Both good.  I've not tried white chocolate chips, but I bet they would be good and have some "visual interest" , as my arty friends say.  You can use ½ to one cup of chips.  I split it down the middle and call for ¾ cup.  The more chocolate chips the fudgier and sweeter tasting the oatmeal.  BTW, you do not taste the pumpkin puree at all.  It just adds moisture without making the mixture too wet.
I generally like oatmeal straight up – no milk or sugar, just walnuts and maybe a few raisins.  But this is so rich, that a couple of tablespoons of milk on a third cup serving provides the perfect accompaniment.  Scoop it out of the pan with a generous ice cream scooper and serve mounded in a small dish or plate with raised sides for an unexpected presentation.  (Thanks for the idea, Leiah!)  Serve with fruit – strawberries would be perfect.  But then melon and blueberries are good.  So is a mix of kiwi and dark grapes.  Or put them altogether.   Add a scrambled egg if you want more protein.
You can use this for a Make Ahead and Freeze dish to make a memorable breakfast for guests.  (I like to make ahead for guests to cut down on the fuss and time spent cooking instead of visiting. 🙂 )  Guests will love this breakfast.  If – and that's a big IF – there are leftovers they will keep for up to a week in the refrigerator.  Or package and freeze for later use.
If you are doing this for Valentine's Day, add this free printable coloring card too:  You Color My World

Brownie Baked Oatmeal
Decadently delicious for a special breakfast!
Author:
A Pinch of Joy by Charlene Vance
Ingredients
In large bowl, combine:
3 cups rolled oats
¼ cup ground flax seeds
2 tsp baking powder
¾ tsp salt
¼ cup cocoa powder
½ tsp cinnamon
¾ cup chocolate chips
In small bowl, combine
⅓ cup honey
2 tbsp butter
⅔ cup pumpkin puree
1 cup skim milk
2 eggs
2 tsp vanilla
Instructions
Preheat oven to 350 degrees. Prepare 9x13 baking pan by spraying with cooking spray.
Pour wet ingredients into the dry ingredients. Mix Well. Mixture will be somewhat crumbly.
Pour mixture into a greased 9 x 13 pan and spread evenly into pan. Use hands if necessary to insure mixture is even depth across pan.
Bake 20 minutes or until toothpick inserted into brownie comes out clean.
Serve warm with milk.
Will keep in the refrigerator for a week.
Make Ahead Freezer instructions
Follow mixing instructions as written.
Freeze in 9x13 pan wrapped in aluminum foil.
Thaw 24-48 hours in refrigerator before baking, unwrapped, according to directions.
Nutrition Information
Calories:
250
Carbohydrates:
32 carbs
Protein:
8 grams
Welcome to A Pinch of Joy!  I'm so glad you stopped by today!
Follow A Pinch of Joy using the icons on the teal bar at the top of the page so you don't miss a thing!   I'd love to have your company on this venture!!  Share: if you found this helpful or inspiring please click one of the buttons below!  Your support of A Pinch of Joy is appreciated!
Shared with these awesome link parties here