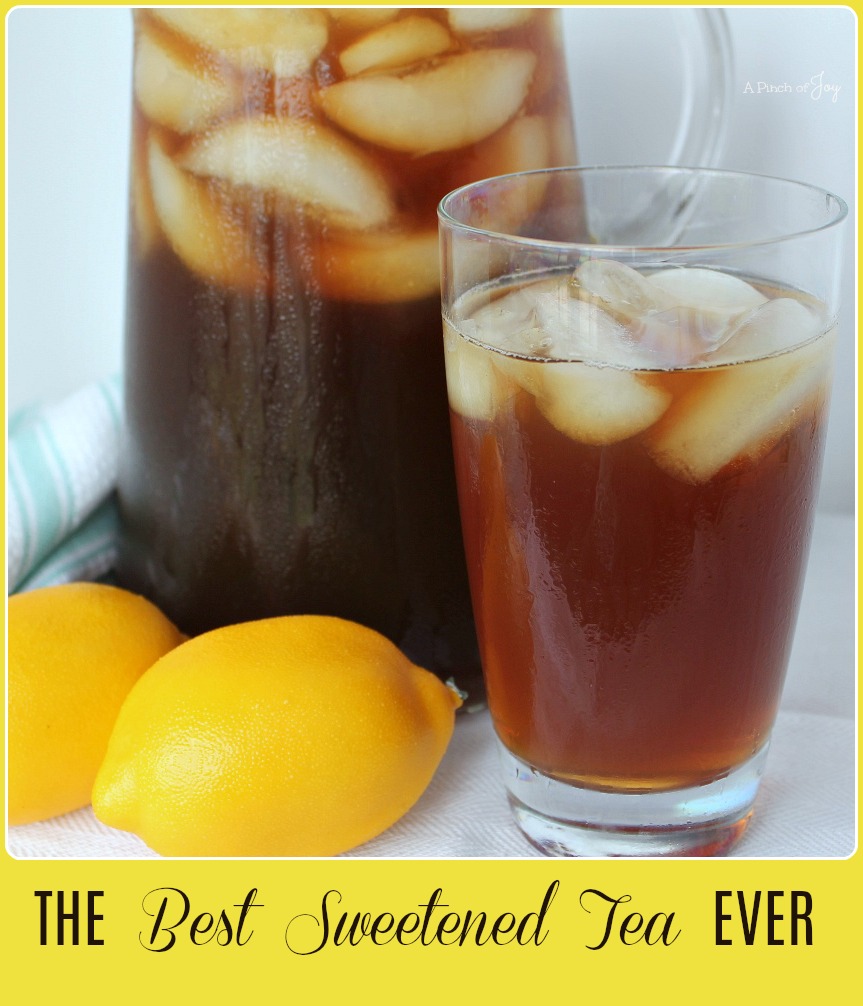 Iced tea.  Just right sweet.  Smooooooth and full-bodied taste with absolutely no bitterness.    Best served with the clink of ice cubes.    Wheels has become the resident iced tea maker and all around expert.  And this recipe is for THE best sweetened iced tea.  Ever.  And it is so easy to make!
Wheels starts with a good brand of tea.  Luzianne or Lipton are available almost everywhere.  Stock up when they are on sale.  His preference is the big one gallon tea bag from Lipton.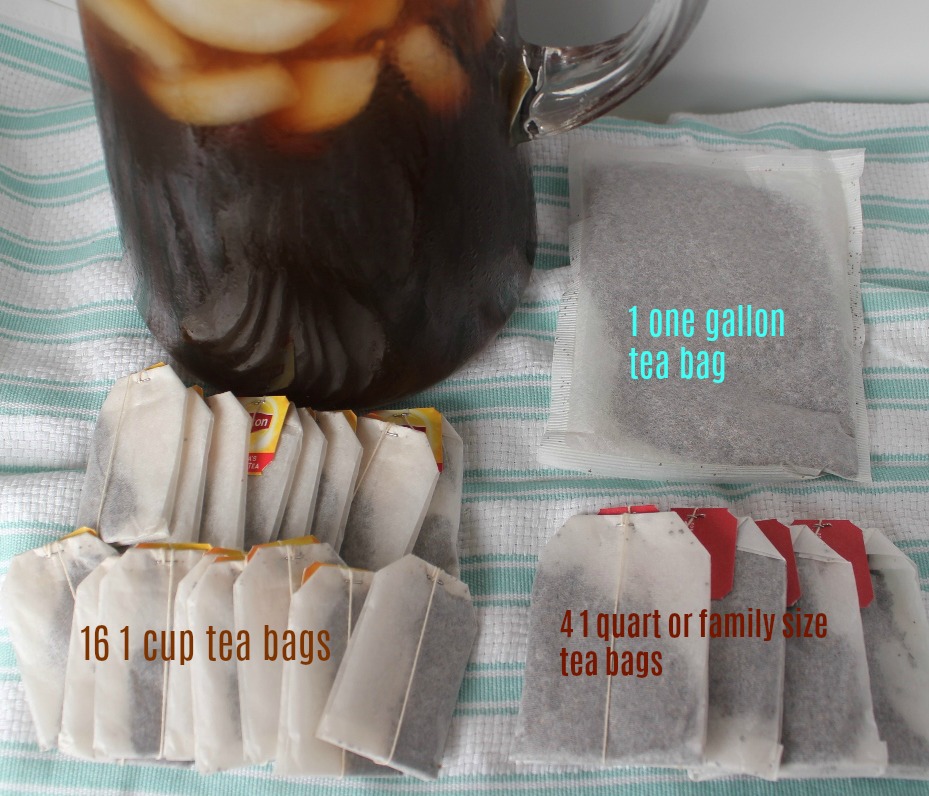 Start with four cups of water in a microwave safe container and microwave for 90 seconds.  Add the tea bags, pushing them into the hot water with a spoon so that they are covered.  Steep — let them set in the water — for a few minutes to let the water draw out the flavor.   Smaller tea bags will need about 5 minutes total. Be sure to use a container large enough that there is space between the bags.   The one gallon size of tea bag steeps for 15 minutes according to the directions.  Steep too long and the tea will be bitter.  Stir once in a while or dunk the bags up and down to encourage the water to flow through the bags.  Remove tea bag, pressing lightly against the side of the container to drain water before disposing of them. Warning — Press too hard and the tea bags will burst.  What a mess that can create! Those tea leaves are tiny — can't strain them out of the tea and they make a stick to the counter top grit that doesn't want to let go!  Not that there is any personal experience with it at our house!  Ha!
Add sugar and the secret ingredient  to the still warm water and stir until they dissolve.  Sugar should dissolve easily.  If it does not, another 30 seconds in the microwave will help.
The secret ingredient?  Baking soda.  Just  1/4 teaspoon for one gallon of tea.  Perfect. You don't taste it all, but you certainly miss it when it's not there.  This is what gives this recipe its signature smoothness. Baking soda removes any bitterness from the tea and prevents cloudiness.  It is essential — makes all the difference in the world!!    Wheel's other secret?  When you pour the steeped and sweetened tea into the gallon container, add cold water until the pitcher is between half and two thirds full.  Top off the container with ice.  It maintains the full bodied flavor and again, helps prevent cloudiness.   Refrigerate until ready to serve.
He likes his tea straight — no fancy frills but you can add a lemon slice or wedge, 3-4 mint leaves or other embellishment.  If you want to use a sugar substitute, try 1/2 cup of Splenda or 1/4 cup agave nectar.   Or you can play with the amount of sugar to suit your taste.  The amount Wheels uses was reduced from the original directions he found.  So of course, if you like it sweeter, add more sugar!
Best enjoyed with the clink of ice in the glass and a good friend or a dozen.  Perfect on a hot summer day after mowing the lawn — Wheel's idea — or in a shady hammock with a good book — my idea.  No trees, no shade, no hammock, but one can dream!!

THE Best Sweetened Iced Tea
Smooth with absolutely no bitterness or cloudiness. THE best sweetened tea you'll ever taste.
Author:
A Pinch of Joy by Charlene Vance
Ingredients
Tea bags to make one gallon of tea
(16 one cup bags, OR 4 1 quart size bags, OR 1 one gallon size bag)
1¼ cups granulated sugar
¼ teaspoon baking soda
4 cups of water, heated to boiling
Additional water and ice to make one gallon
Instructions
Heat 4 cups of water to boiling on stovetop OR 90 seconds in microwave
Add tea bags and let steep according to package directions, stirring or dunking occasionally. Remove and dispose of them.
Add sugar and baking soda, stir to dissolve. Sugar should dissolve easily, if not, apply additional heat.
Pour into one gallon pitcher. Add more cold water to fill pitcher ½ to ⅔ full, then add ice to finish filling.
Refrigerate until ready to serve.
Nutrition Information
Serving size:
8 oz
Calories:
30
Carbohydrates:
8 g
Protein:
0
Welcome to A Pinch of Joy!  I'm so glad you stopped by today!
Follow A Pinch of Joy using the icons on the teal bar at the top of the page so you don't miss a thing!   I'd love to have your company on this venture!!  Share: if you found this helpful or inspiring please click one of the buttons below!  Your support of A Pinch of Joy is appreciated!