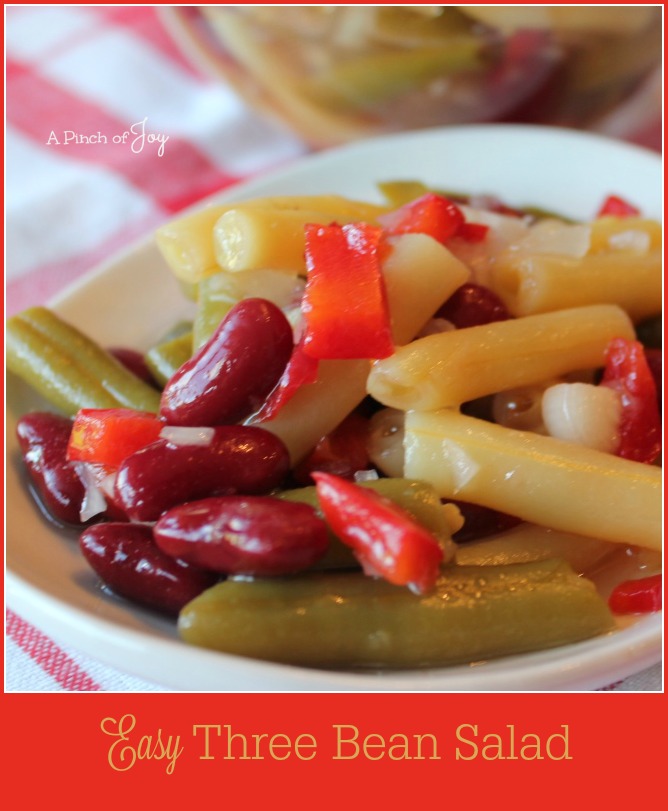 Easy Three Bean Salad is the new bean salad at our house.  Everybody loves bean salad at Chez Charlene – all kinds.  This is the new favorite version.   The red wine vinegar makes a  light dressing with no strong overpowering flavors so it goes with almost any main dish.  It's especially refreshing on a hot summer day.
Ten servings makes this recipe ideal for a crowd – your contribution to a potluck or a salad for your own gathering.  It also means more servings if you are cooking for just two or three, as I frequently do.  The salad keeps well in the refrigerator – in fact,  flavors mature and it becomes even better.   How long can you keep it?  Several days, but it never goes beyond one or two in our house because it disappears so  quickly.  It even gets eaten as a midafternoon pick-me-up snack.
I used red bell pepper because that was what I had on hand.  Yellow or orange peppers would also make a colorful addition.  I had yellow onions so that was what I used, white onions work just as well.  I prefer to use only cane sugar, but a sugar substitute would be fine and would reduce the already low carb count a bit more  .    In a pinch, I have made this and served it right away.  It really needs to be refrigerated a couple of hours for the flavor to meld and mature.  Overnight is even better.  Stir gently to mix with a wooden spoon so you don't break the beans and turn the salad to mush.  I use a glass bowl with straight sides usually for this kind of salad.  With tightly stretched and well sealed plastic wrap over the bowl, you can carefully shake the salad to coat beans with the dressing. I've never had a leak – but seal and shake at your own risk!

EAsy Three Bean Salad
Light and refreshing bean salad that is easy to make! Ten servings makes it great for potlucks or planned overs at home!
Author:
A Pinch of Joy by Charlene Vance
Ingredients
1 15 oz can green beans
1 15 oz can yellow wax beans
1 15 oz can kidney beans
½ cup onion, chopped
1 small bell pepper, seeded and chopped
⅓ cup red wine vinegar
⅓ cup olive or canola oil
⅓ cup white sugar
Salt to taste
Instructions
Empty kidney beans into colander and rinse well. Add yellow beans and green beans to drain. Pour into large mixing bowl.
Dice onion and add to mixing bowl. Dice bell pepper and add to bowl.
In small mixing bowl, add vinegar, oil and sugar. Whisk until well mixed.
Pour dressing over the bean mixture. Stir gently to mix thoroughly.
Refrigerate at least two hours. Stir again and serve.
Nutrition Information
Serving size:
½ cup
Calories:
110
Carbohydrates:
9 g
Protein:
2 g
Welcome to A Pinch of Joy!  I'm so glad you stopped by today!
Follow A Pinch of Joy using the icons on the teal bar at the top of the page so you don't miss a thing!   I'd love to have your company on this venture!!  Share: if you found this helpful or inspiring please click one of the buttons below!  Your support of A Pinch of Joy is appreciated!