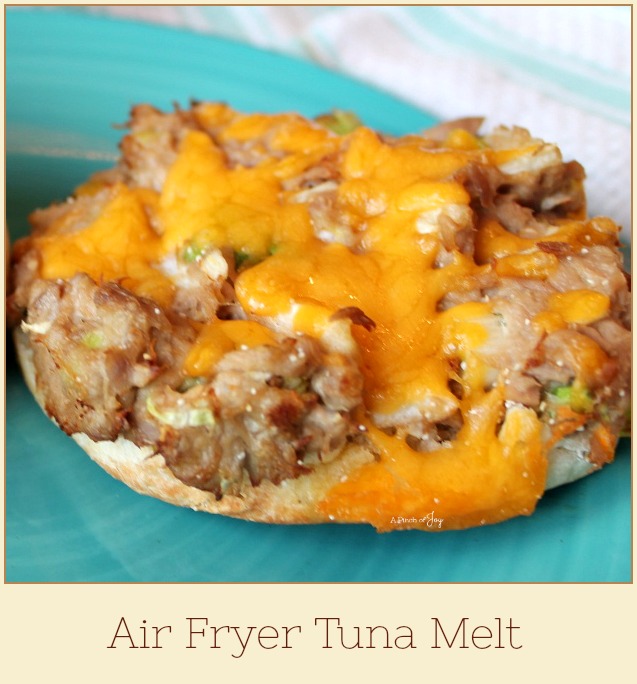 Tuna Melts were the first thing I made in my new air fryer.  I wasn't expecting to buy one last Saturday – especially at the Kiwanis Garage Sale.  But there it was on the Silent Auction table, reserved for brand new products from members or sponsors.  I picked a random number and three hours later the air fryer was mine.  The Tuna Melts I made for lunch today were delicious.  I hope that is a good omen for my ownership!!
Start with a good tuna.  Usually that means a little more expensive – unless you can find a store brand that is just right.  Another random find one day when the store had run out of the national brand that was on sale.  Serendipitous because the substitute is so much better and actually costs less!   I used mounding tablespoons of mayonnaise because I didn't want the tuna mixture to be dry.  Three mounded tablespoons of mayo and 1 scant (not quite full) tablespoon of Dijon mustard were just right for flavor and moistness.  The coleslaw mix was unobtrusive in a good way since it added "stick togetherness" and texture without overpowering the taste.  I'm thinking I will add it to the next cold tuna salad sandwich I make, too!
Since this was my introduction to the air fryer, it took longer to prepare lunch since I had to read the directions and find all the right buttons.   Things were fairly straightforward and it will be easier to use in future. I'm looking forward to trying other recipes.  Short Stuff, the eight year old nephew that shows up frequently, loves tater tots and would willingly eat them at every single meal!  The airfryer should be perfect for that!

Tuna Melt -- Air Fryer
Author:
A Pinch of Joy by Charlene Vance
Ingredients
2 cans chunk white tuna, drained
¾ cup packaged coleslaw mix
3 green onions sliced
3 tablespoons mayonnaise
1 tablespoon Dijon mustard
½ teaspoon dried dill (optional)
4 English muffins, split in half
½ cup shredded cheese
Instructions
Preheat air fryer to 370.
While air fryer is preheating, combine tuna, coleslaw mix and green onion in medium bowl.
Mix mayonnaise and mustard in small bowl. Include dill if desired. Stir mixture into bowl with tuna mixture.
Halve muffins and spread with about 2 tablespoons of tuna mixture.
When air fryer is preheated, place four muffin halves in air fryer basket and cook until heated through, about 3-4 minutes.
Sprinkle with cheese, about 1 tablespoon, and return to air fryer for 1-2 minutes until cheese melts.
Remove heated melts to platter. Repeat the cooking process, steps 5 and 6.
Nutrition Information
Serving size:
2 muffin halves
Calories:
385
Carbohydrates:
28 g
Protein:
29 g
Welcome to A Pinch of Joy!  I'm so glad you stopped by today!
Follow A Pinch of Joy using the icons on the teal bar at the top of the page so you don't miss a thing!   I'd love to have your company on this venture!!  Share: if you found this helpful or inspiring please click one of the buttons below!  Your support of A Pinch of Joy is appreciated!
Shared with these awesome link parties here