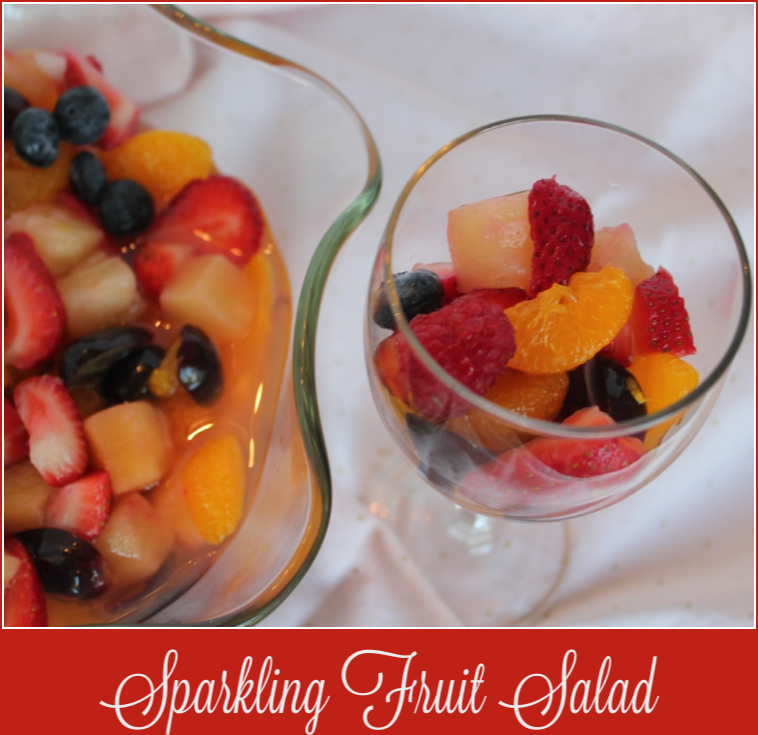 Sparkling Fruit Salad is delightfully refreshing.  Especially in the hot summer, it's fruity flavors straight from the refrigerator are wonderful.  It is colorful addition to a party menu any time of year – great for a shower, a potluck or any other get together.    And so easy to make!
The sparkling dressing is a light combination of your choice of white wine or grape juice mixed with club soda or a lemon lime diet soda.  We had grape juice from Short Stuff's last visit in the refrigerator.  And a mini can of Sprite Zero (no carbs).  So that became the dressing.    I used canned pineapple because I had it on hand and the pineapples at the market looked a little too firm to be used immediately.  I have a thing about grapes – they MUST be sweet or my face just folds up in a "wow, that was tart" grimace.  No control over it!  The big sweet variety of dark grapes won this round.  But if you find the big sweet green grapes, they will add to the festival of color in the bowl.  I also had some gorgeous raspberries in the fridge, but I didn't think they would stand up to stirring and ladling.  However, if you present individual servings, two or three raspberries as a garnish on top would be perfect.

Sparkling Fruit Salad
Light and fruity, delightfully refreshing mix of colorful fruit.
Author:
A Pinch of Joy by Charlene Vance
Ingredients
1 fresh pineapple, peeled and cut into chunks
OR 1 can (20 ounces) pineapple chunks, drained
1 can (11 ounces) mandarin oranges, drained
1 cup halved fresh strawberries
1 cup halved green grapes
½ cup blueberries
1 cup white wine OR white grape juice
½ cup chilled club soda OR diet Lemon Lime soda
Instructions
In a medium glass serving bowl, combine the fruit. Combine wine or grape juice and club soda or lemon lime soda; pour over fruit.
Cover and refrigerate for at least 2 hours, stirring occasionally. Serve with a slotted spoon. Or alternatively, spoon into glasses or small serving bowls for individual servings.
Notes
Note carb count will change when using white grape juice – check nutrition label. Divide one cup carb count as listed on lable by number of servings.
Nutrition Information
Serving size:
¾ cup
Calories:
87
Carbohydrates:
16 g
Protein:
1 g
Welcome to A Pinch of Joy!  I'm so glad you stopped by today!
Follow A Pinch of Joy using the icons on the teal bar at the top of the page so you don't miss a thing!   I'd love to have your company on this venture!!  Share: if you found this helpful or inspiring please click one of the buttons below!  Your support of A Pinch of Joy is appreciated!