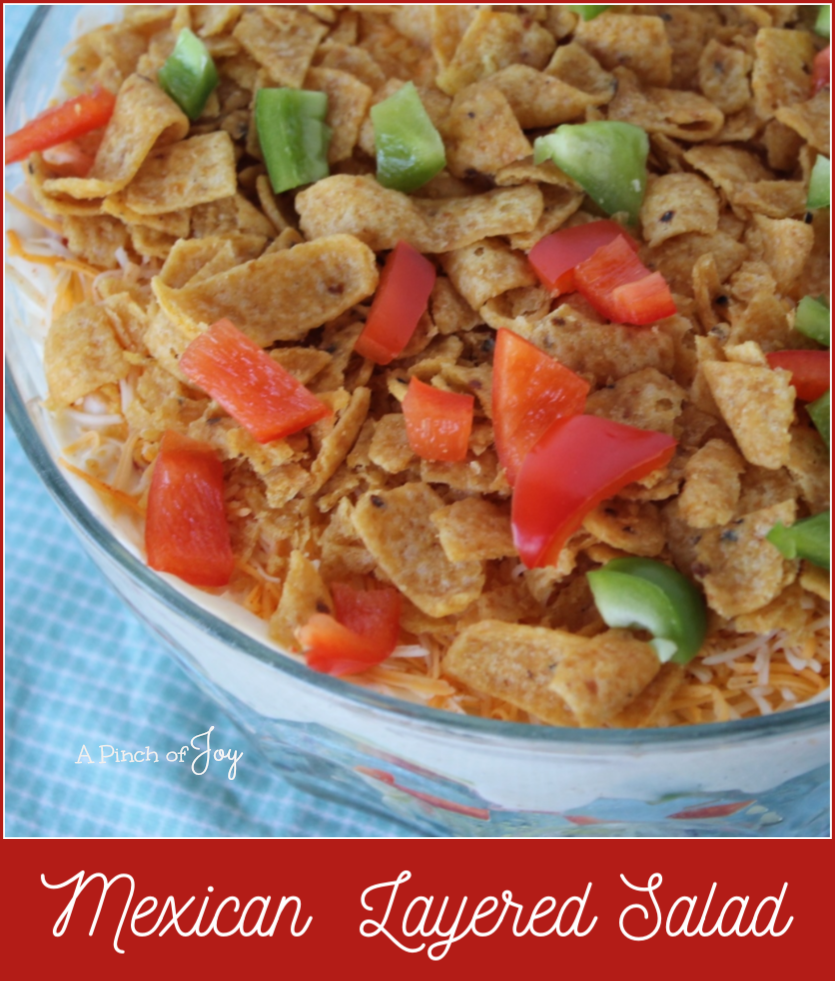 Mexican Layered Salad is a southwestern  twist on an old classic.   Make it ahead of time and refrigerate for a couple of hours or overnight to give flavors time to develop and meld together.  Add the tortilla chips and cheese just before serving.  Mexican Layered Salad is a colorful addition to a pot luck, picnic or buffet dinner.  Disappears quickly – you've been warned.
Romaine lettuce is the usual base, but you can use any head lettuce of your choice.  Google "sturdy lettuce"  — as in "can remain crispy and hold its shape while being shoveled out of the bowl to the plate and then in to the mouth"  — and romaine heads the list.  It generally has more flavor and is a deeper color than other head lettuce.  Leaf lettuce is "sturdy" lettuce's  more delicate and flavorful cousin.  I did a mix of romaine and iceberg lettuce because that's what I had on hand.   A deep clear glass dish with a smaller diameter will show off the layers.
You'll notice there are several optional ingredients.  Avocado tends to turn brown unless well coated with lemon or lime juice.  That's my excuse for leaving it out, but the real reason is I do not like the texture or the flavor of avocado.  Wheels could eat one or two every day – he can have my share J  My mother developed an intolerance for onion, shared by many folks as the birthday candles increase.  If there will be older people diving in, onions can be served on the side.  If you like onions and they like you, they are a nice zingy addition.  And, of course, you know I am wimpy when it comes to anything spicy so 1 teaspoon of chili powder in the dressing is enough, but you can use 2 teaspoons.  More than that is at your own discretion!  I also leave the green chilis out because that thins down the dressing.  If you like them and don't mind a little thinner dressing, add them.   Be generous with the crushed tortilla chips on top.  Or substitute whole Frito chips – my favorite.  Garnish with diced red and green peppers.

Mexican Layered Salad
A Mexican twist on a traditional layered salad.
Author:
A Pinch of Joy by Charlene Vance
Cuisine:
Mexican American
Ingredients
4 cups torn romaine lettuce
1 medium red onion, thinly sliced, optional
1 large cucumber, halved and sliced
3 medium tomatoes, chopped
2 medium ripe avocados, sliced or cut into ½-in. chunks, optional
1 each large green and sweet red pepper, chopped or sliced
1 cup mayonnaise
½ cup sour cream
¼ cup canned chopped green chiles, optional
1 - 2 teaspoons chili powder
½ teaspoon onion powder
• ¼ teaspoon salt
• ¼ teaspoon garlic powder
• 1 cup crushed tortilla chips
• ½ cup shredded cheddar cheese
Instructions
Place torn lettuce leaves in bottom of glass serving dish.
Over the lettuce make layers of onion, cucumber, tomatoes, avocados, and peppers.
In small bowl mix mayonnaise, sour cream, chiles and seasonings. Spread evenly over layered vegetables.
Cover and refrigerate for 2 hours or overnight.
Just before serving, add a layer of crushed tortilla chips or corn chips over the top. Top with a layer of shredded cheddar cheese and garnish with red and green diced peppers.
Nutrition Information
Serving size:
¾ cup
Calories:
371
Carbohydrates:
13 g
Protein:
4 g
Welcome to A Pinch of Joy!  I'm so glad you stopped by today!
Follow A Pinch of Joy using the icons on the teal bar at the top of the page so you don't miss a thing!   I'd love to have your company on this venture!!  Share: if you found this helpful or inspiring please click one of the buttons below!  Your support of A Pinch of Joy is appreciated!