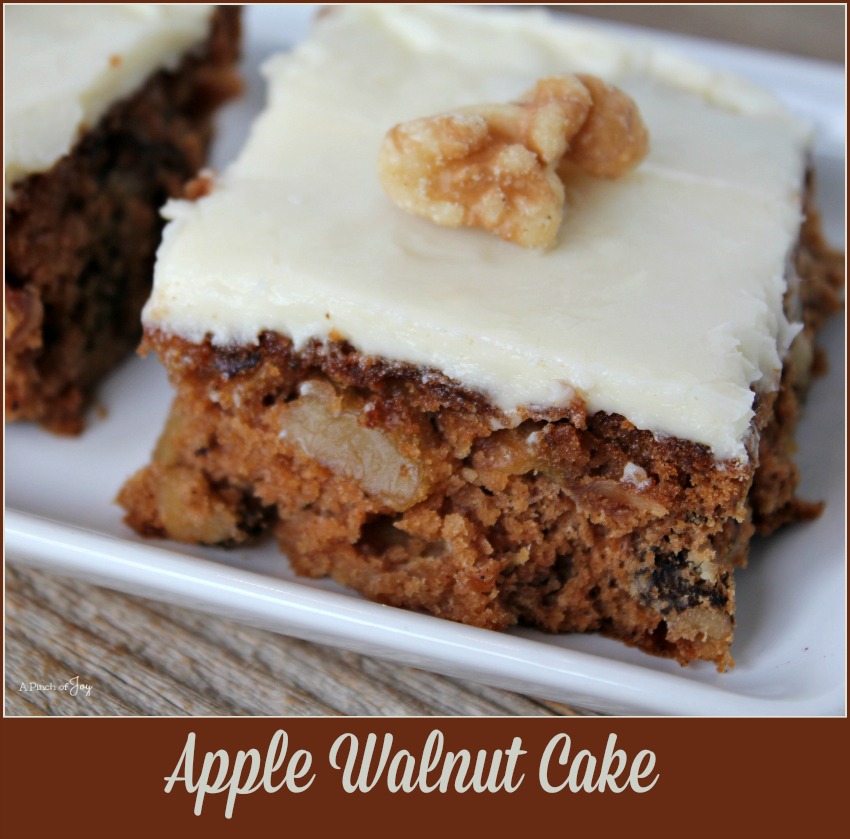 Apple Walnut Cake sings fall with  apple chunks, walnuts and spicy goodness.  Add cream cheese icing and sing Happy Birthday. Which is what we did for Wheels birthday. It was so good  I made another cake —  just because — a week or so later!
I tweaked the amounts of the sugars, reducing them considerably to lower the carb count.  The cake is just right sweet — enough to complement the cinnamon and nutmeg and not overpower them.  I just googled "complement".   It says "a thing that completes or brings to perfection".  Just exactly the description I was looking for!  Don't bother to peel the apples.  I used my favorite Gala, cutting them into slices and then cutting across the slices to make half inch long chunks. Buy the less expensive walnut pieces for this and save yourself time and money because you won't have to chop them.  I don't usually sift flour, but instead "fluff" the flour by scooping it into the measuring cup using a tablespoon.  Scooping the flour with the measuring cup packs the flour more tightly into the cup and can result in a cake that is dry and "tough".  Melting the butter makes mixing the batter a quick and easy job.
The cream cheese frosting is the perfect foil for the spicy cake.  You can make it while the cake is baking and let it set at room temperature until the cake is cool.  Or leave it off and serve with a scoop of frozen whipped topping.  A yummy way to save 9 carbs per serving.
Apple Walnut Cake
Moist and spicy cake, chock full of apple chunks and walnuts topped with cream cheese frosting.
Author:
A Pinch of Joy by Charlene Vance
Ingredients
½ c brown sugar
¼ c. granulated sugar
2 large eggs
6 Tbsp butter, melted
2 tsp vanilla extract
2 cups flour
1 tsp baking powder
1 tsp baking soda
2 tsp cinnamon
½ tsp nutmeg
¼ tsp salt
4 cups apples, chopped, not peeled
1 cup chopped walnuts
Frosting
3 ounces cream cheese, room temperature
3 Tbsp butter, room temperature
1 tsp. vanilla extract
1 ½ cups powdered sugar
Instructions
In large bowl, beat sugar and eggs.
Melt butter in microwave for 45-60 seconds on high. Add to sugar and eggs, with vanilla. Mix well.
In separate bowl, combine flour, baking soda, baking powder, cinnamon and nutmeg. Add to sugar and egg mixture.
Stir in apples and walnuts.
Pour into greased and floured 13x9 baking pan.
Bake at 350 for thirty minutes or until toothpick inserted in the center comes out clean.
Cool on wire rack.
Frosting
Beat cream cheese, butter and vanilla in medium sized bowl.
Gradually add powdered sugar.
Frost cake when cool.
Notes
Cake is 19 carbs and 166 calories per serving plain.
Frosting is an additional 9 carbs and 64 calories per serving.
Nutrition Information
Calories:
166
Carbohydrates:
19 g
Protein:
3g
      Thank you for pinning!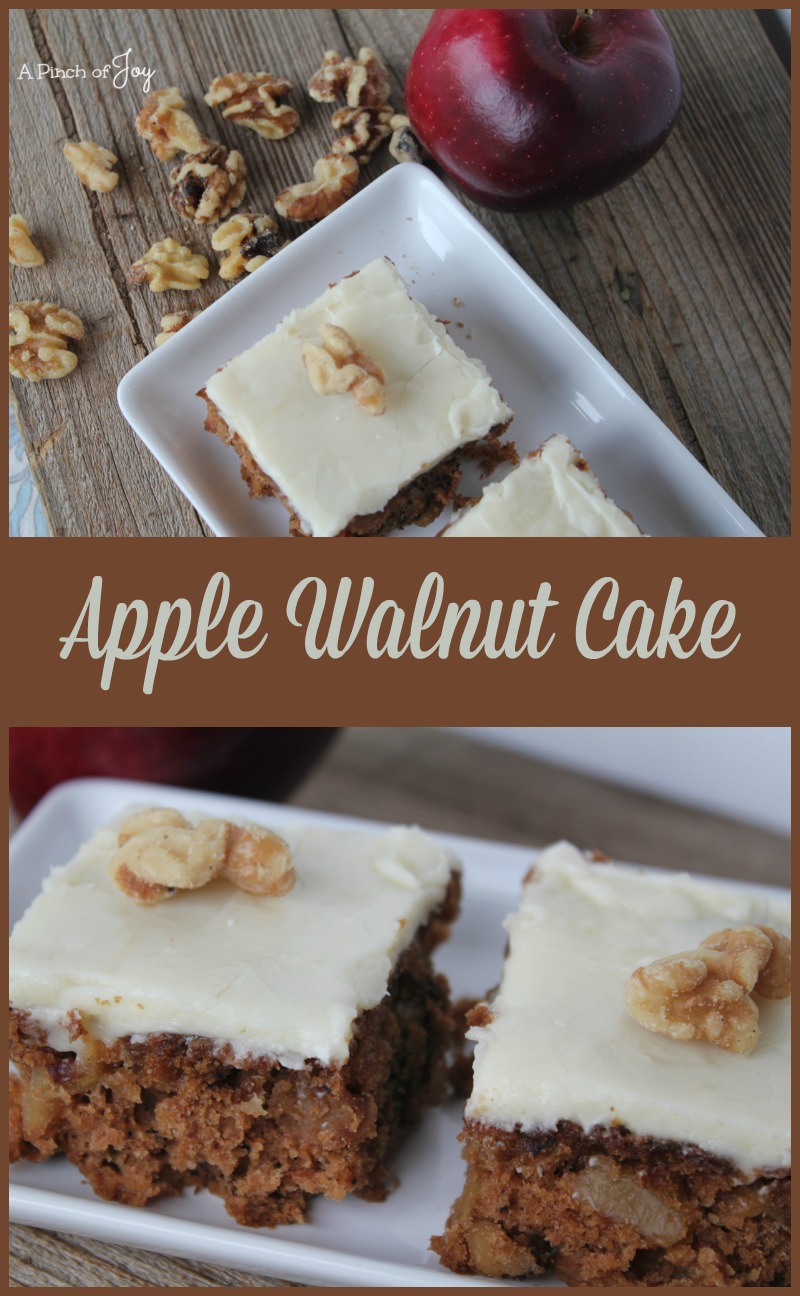 Welcome to A Pinch of Joy!  I'm so glad you stopped by today!   Follow A Pinch of Joy using the icons on the teal bar at the top of the page so you don't miss a thing!   I'd love to have your company on this venture!!  Share: if you found this helpful or inspiring please click one of the buttons below!  Your support of A Pinch of Joy is appreciated!