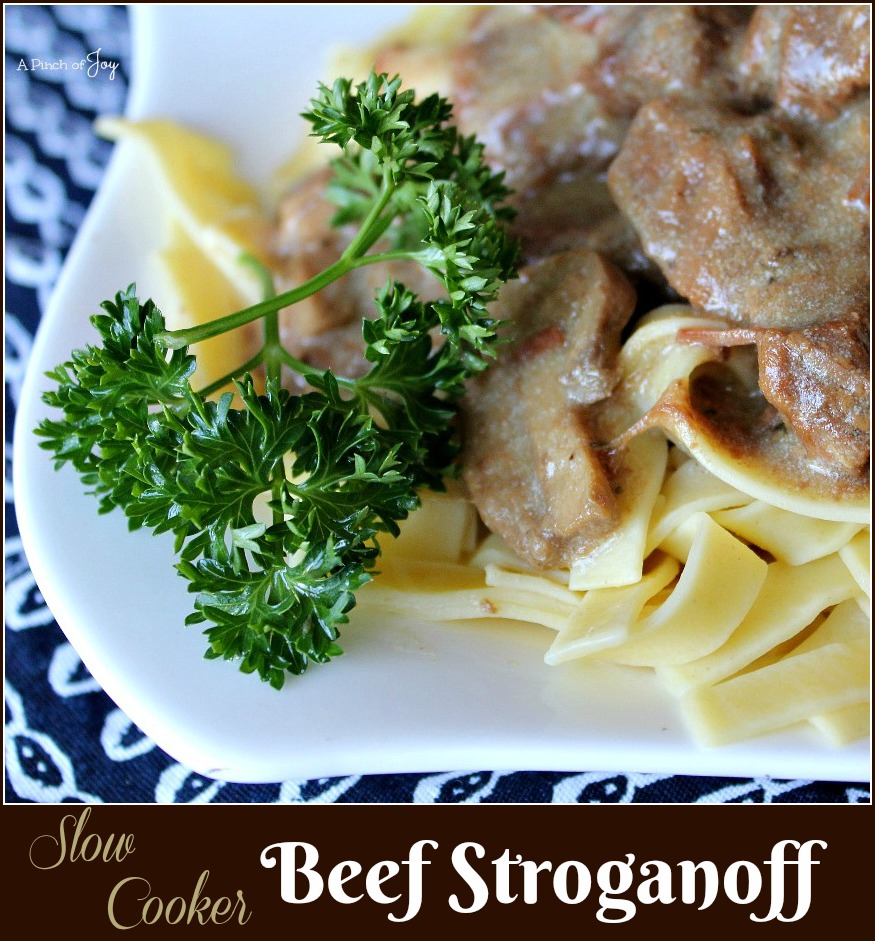 Beef Stroganoff is a simple dish of meat and mushrooms with a sour cream sauce that literally has been around for centuries.   Eventually it was given the name of the Russian Count Pavel Stroganoff.  Stroganoff, was a celebrity in turn-of-the-century St. Petersburg, a dignitary at the court of Alexander III and a gourmet. He entertained frequently and beef, onions and mushrooms in a savory sour cream sauce became a signature dish bearing his name.   However, his Beef Stroganoff was likely served over potatoes rather than noodles.  Beef Stroganoff has many variations and here is one more!
This is a quick and easy version of Beef Stroganoff for families on the go.  It takes about 10 minutes to put together, using cubed stew meat.  You can use frozen diced onions to shave off a couple of minutes more.  If you can't find beef base in the store, use a bullion cube.  Cook on low  in the crockpot for 8 hours.   Thirty minutes before serving, add cornstarch as directed to crockpot to thicken the mixture.  Prepare noodles according to package directions.  I like "chunky" noodles — wide and thick.  You can use whatever your family prefers — even rotini or sea shell pasta. Stir in Greek yogurt (instead of sour cream) just before serving.   Make a tossed salad and dinner is on the table!

Slow Cooker Beef Stroganoff
Beef in a savory mushroom sauce served over hearty noodles -- quick and easy to make, cooks in slow cooker for dinner in a flash!
Author:
A Pinch of Joy by Charlene Vance
Ingredients
1.5 pound stew meat, cubed
2 cans (6.5 ounces) sliced mushrooms, drained
½ cup chopped onion
½ cup apple juice
1 Tablespoon beef stock base
1 Tablespoon minced garlic
1 teaspoon dried thyme
1 teaspoon black pepper
1 cup water
1 container (5.3 ounce) plain Greek yogurt
2 Tablespoons corn starch
1 bag (14 ounces) wide noodles
Instructions
Line slow cooker with liner.
Add meat, mushrooms, chopped onion, apple juice, beef base, garlic, thyme and pepper. Pour in one cup of water. Cover and cook on LOW for 8 hours.
Thirty minutes before serving, mix corn starch with ¼ cup cold water. Stir into slow cooker so liquid will thicken to form gravy.
Prepare noodles according to package directions.
When ready to serve, turn off slow cooker. Add Greek yogurt and mix thoroughly.
Serve beef and sauce over cooked noodles.
Make Ahead and Freeze Instructions
In one gallon freezer bag, place meat, drained mushrooms, onion, apple juice beef base, garlic, thyme and pepper.
Place one container Greek yogurt in one quart zipper bag.(Freezing can make yogurt liquid separate. Just stir it back together before adding to the stroganoff.) Place it and the meat package into a second gallon zipper bag, label and freeze.
Mark one bag of noodles "Stroganoff" and place in pantry.
Thaw overnight before cooking as above.
Nutrition Information
Calories:
449
Carbohydrates:
51 g
Protein:
39 g
Welcome to A Pinch of Joy!  I'm so glad you stopped by today!
Follow A Pinch of Joy using the icons on the teal bar at the top of the page so you don't miss a thing!   I'd love to have your company on this venture!!  Share: if you found this helpful or inspiring please click one of the buttons below!  Your support of A Pinch of Joy is appreciated!