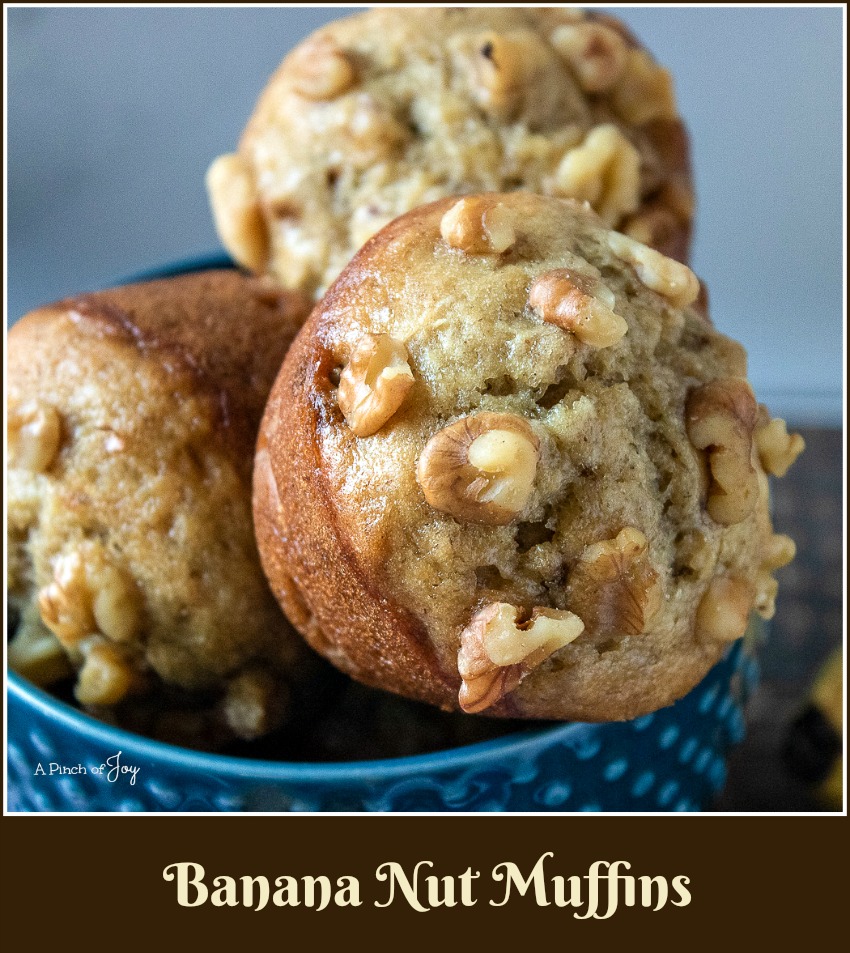 Banana Nut Muffins are a quick and easy breakfast, a delicious addition to any meal, a tasty snack and a life lesson.  A life lesson??  Muffins are so easy to make that they are often the first baked item beginning cooks learn to make.  A muffin recipe teaches how to follow directions, how to measure ingredients, and other basic cooking skills.   (These are pretty darn good eating however,  even if you are an experienced cook!)
To make muffins, the dry ingredients are measured then whisked together in a large mixing bowl.  Wet ingredients are measured and mixed together in a smaller bowl or large measuring cup.  Then the wet ingredients and dry ingredients are put together and stirred just until they are mixed.   Too much stirring makes muffins tough so some lumps are expected.  Ingredients should just barely be combined with no dry flour visible.  Additional ingredients, such as nuts are gently folded in with just a few movements of the spoon.
Be sure to grease each muffin cup.  Cooking spray is the easiest, but a smallish piece of parchment or waxed paper with a heavy coating of butter (margarine or shortening) can also be used to wipe each muffin cup.  Cupcake liners also work well to keep muffins from sticking to the pan.   You can even substitute cupcake liners for a muffin pan if you don't have one.  Place cupcake liners together so they are touching and can support one another. (You can spray the liners, to make sure they come off easily.)  If you forget the spray, liner or butter, getting the baked muffins out of the pan is a lost cause!!  Nothing but crumbs and pieces!!
Measure the batter evenly into the muffin tin, filling each cup about three fourths full.  You can experiment before greasing the muffin pan, by using the set of measuring cups you used to measure the dry ingredients and see what amount of water fills your particular pan to the correct level.  Use that cup to dip into the muffin batter and fill the individual portions of the muffin pan. For my muffin tin, 1/3 cup is just the right amount to fill the cups three fourths full.    After you've done it a few times, you'll know how to eyeball the portions so they are the right amount and uniform.  If you put too much batter into the pan, the muffin batter will spill all over the pan and oven as it rises and create a mess!
Ovens can be quirky.  The time for baking is usually correct, but you can double check.  Use the smell test.  When any baked item is close to being done, it will begin emit delicious odors!  If your muffins reach this stage and the timer isn't close to chiming, grab a clean toothpick and insert it in the middle of a muffin.  If the toothpick comes out clean with no batter or bits of muffin clinging to it – done!!  I always use the toothpick check after the timer goes off, to be sure the muffins are done in the middle and aren't pasty or gooey indicating they haven't had enough time in the oven.  If the time is off, one way or the other, make a note on the recipe as to how long you baked it so you can compensate in the future for your particular oven.
The muffins will continue to bake (and turn dry!) in the hot pan even when you've removed it from the oven.  Let it set just a minute or so, while you close the door and turn the oven off.  Then, using a potholder to keep the muffin pan still with one hand, lift the muffins out with a fork in the other hand.   Let muffins cool on a rack until you can comfortably handle them.
There you go – Muffin Making 101.  If you already know all this, apron up a kid or a friend and teach them.  Knowing how to make one's own food is a gift that keeps on giving.

Banana Nut Muffins
Deliciously quick breakfast, snack or to serve with a meal! So easy even a beginner can make them.
Author:
A Pinch of Joy by Charlene Vance
Ingredients
3 bananas, mashed
¼ cup unsalted butter, melted
¼ cup milk
1 large egg
1 teaspoon vanilla
½ cup brown sugar
½ cup sugar
2 cup all-purpose flour
1 teaspoon salt
1 teaspoon baking soda
1 cup walnuts, chopped + extra
Instructions
Preheat oven to 350°F. Spray muffin tin with non-stick cooking spray and set aside.
Add mashed bananas, melted butter, and milk to a large mixing bowl. Stir to combine.
Beat in egg and vanilla, and brown sugar.
Whisk together sugar, flour, salt and baking soda in small mixing bowl. Add to banana mixture and fold in until just mixed. Then, gently fold in the chopped walnuts.
Fill muffin pan cups to about three fourths full. Top with additional chopped walnuts, if desired.
Place in the pre-heated oven and bake for 18-20 minutes, or until toothpick inserted in the center of a muffin comes out clean.
Remove from pan and cool for 5-10 minutes before serving.
Notes
Nutritional information is approximate
Nutrition Information
Serving size:
1 muffin
Calories:
241
Carbohydrates:
37 g
Protein:
4 g
Welcome to A Pinch of Joy!  I'm so glad you stopped by today!
Follow A Pinch of Joy using the icons on the teal bar at the top of the page so you don't miss a thing!   I'd love to have your company on this venture!!  Share: if you found this helpful or inspiring please click one of the buttons below!  Your support of A Pinch of Joy is appreciated!