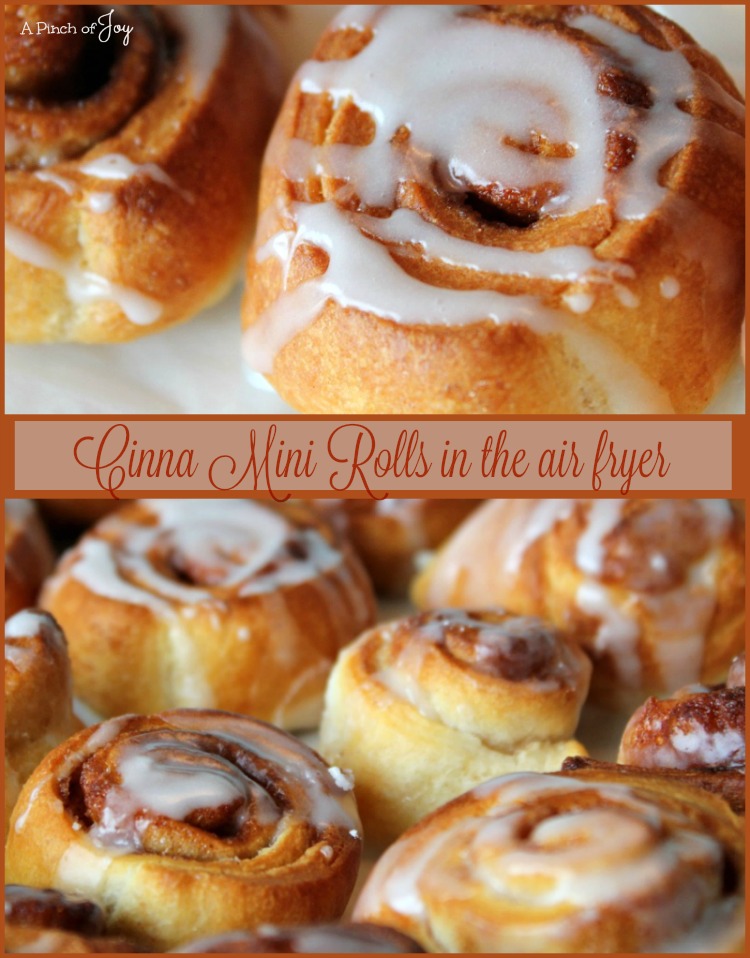 These mini cinnamon rolls were fun to make and offered instant reward!  Well, not exactly instant but they were ready to eat in about 12 minutes and that's pretty close to instant in cinnamon roll world.  And they are fun to eat and oh so good!  Would make a fun addition to an appetizer table.  Or a breakfast table.  Or with dinner.  Or a snack – oh heck, for any occasion, any time!
Older kids could make these by themselves – with an adult handling the air fryer.  I'm sporting a burn on my wrist where I bumped it on the basket.  The motor skills required to make these small rolls are more than younger children can do well, but they certainly could handle stirring and drizzling the glaze.  Edible by all ages!
Separate the crescent dough the long way.  Press  the perforations together to avoid sugar leakage.  The butter goes on more evenly and easier if you use a silicon brush to spread it.  Use light brown sugar mixed with the cinnamon and sprinkle half over each rectangle of crescent dough.  The measurements are exactly right for 24 rolls — some kind of magic, I think. 🙂
Cinna Mini Rolls – Air Fryer
A package of crescent roll dough plus 5 other ingredients from the shelf, an air fryer and 15 minutes -- pure yummy!
Author:
A Pinch of Joy by Charlene Vance
Ingredients
2 Tbsp light brown sugar, packed
½ tsp cinnamon
1 tbsp butter, melted
1 package crescent roll dough
⅓ cup powdered sugar
1 – 1 ½ tbsp. milk
Instructions
Preheat air fryer to 370 degrees. Line basket with parchment paper cut to fit.
Unroll dough and separate the long way into two 12 x 4 inch wide rectangles. Press perforations to seal.
Brush melted butter evenly over the crescent roll dough. Sprinkle evenly with brown sugar cinnamon mixture.
On the long side of the dough, roll tightly toward the opposite long side.
With sharp knife, cut into 12 pieces about 1 inch each. Place in parchment lined basket.
Cook 6 to 7 minutes until golden brown. While baking, repeat steps 2-5 to prepare the second half of the crescent roll dough.
Remove each batch from the air fryer when done and let cool about 10 minutes.
In small bowl, combine 1 tablespoon of milk with powdered sugar. Add additional milk a bit at a time until desired consistency is reached. Drizzle glaze over buns.
Nutrition Information
Serving size:
1 roll
Calories:
19
Carbohydrates:
8 grams
Protein:
0
Please Pin! 
I'm so glad you stopped by today!   Follow A Pinch of Joy using the icons on the teal bar at the top of the page so you don't miss a thing!   I'd love to have your company on this venture!!  Share: if you found this helpful or inspiring please click one of the sharing buttons below!  Your support of A Pinch of Joy is appreciated!
Shared with these awesome link parties here