Creamy Gumbo Sloppy Joe Sliders are a great addition to the appetizer table for Game Day. Or for any party!   They are delicious, filling and different from the usual.  Slider means you still have room to sample other goodies – and circle back for more Sloppies!   They are tasty and amazingly easy to make.
Saute onions and brown the ground beef in the same skillet.  Mix the two soups together in a medium bowl.  Just the soups straight from the can – no other liquid needed.  Add the soup to the meat and onion mixture in the skillet and bring to simmer.  I simmer a few minutes to let the meat absorb the moisture and flavor.  Any excess moisture is also reduced.  You don't want the sloppy joes to be — "soupy".  Sorry – just had to do that!!  Choose your favorite slider bun – Hawaiian King rolls are always good.
Sometimes you'll see similar recipes with ketchup and/or mustard added.  Skip them and go straight for the cream of chicken soup.  If you want pizazz, go for the cream of chicken soup with garlic and herbs (my favorite).  This recipe came from a neighbor across the street from us in Ohio who threw THE best parties.  Everything was perfection.  One Christmas she invited a local musician to come in and play live music for guests.  Amazingly, many guest were also singers – choir or shower – and everyone stopped whatever they were doing to sing along when he played a Christmas carol.  That was the same year, two of her friends persuaded her to let them decorate the whole house in a black and white Christmas theme – gorgeous.  You just know when the perfect hostess gives you a recipe, it will be perfect, too!

Gumbo Sloppy Joe Sliders
Gumbo sloppy joe sliders are so easy to prepare. Cream of chicken and chicken gumbo soup combined with ground beef and onion for a creamy and delicious twist to classic Sloppy Joe sandwiches.
Author:
A Pinch of Joy by Charlene Vance
Ingredients
1 pound ground beef
1 medium onion, chopped (about ½ cup)
1 tablespoon butter
1 can (10¾ ounces) Chicken Gumbo Soup
1 can cream of chicken soup
⅛ teaspoon ground black pepper
12 slider buns, split.
Instructions
In medium skillet, melt butter and add chopped onion, saute 3-4 minutes until onion begins to soften .
Push to one side and add ground beef. Break ground beef into pieces with wooden spoon. Cook, stirring occasionally to break apart clumps of meat, until beef is browned. Drain.
While beef is cooking, add cream of chicken and chicken gumbo soups to medium bowl. Do NOT add any other liquids. Add pepper and stir to combine.
Add soups to skillet with browned beef and bring to simmer. Cooke for 5-10 minutes to let the meat absorb the flavor and moisture.
Divide generously among the 12 slider rolls.
Nutrition Information
Serving size:
1
Calories:
127,
Carbohydrates:
19 g,
Protein:
11 g,
Please Pin!!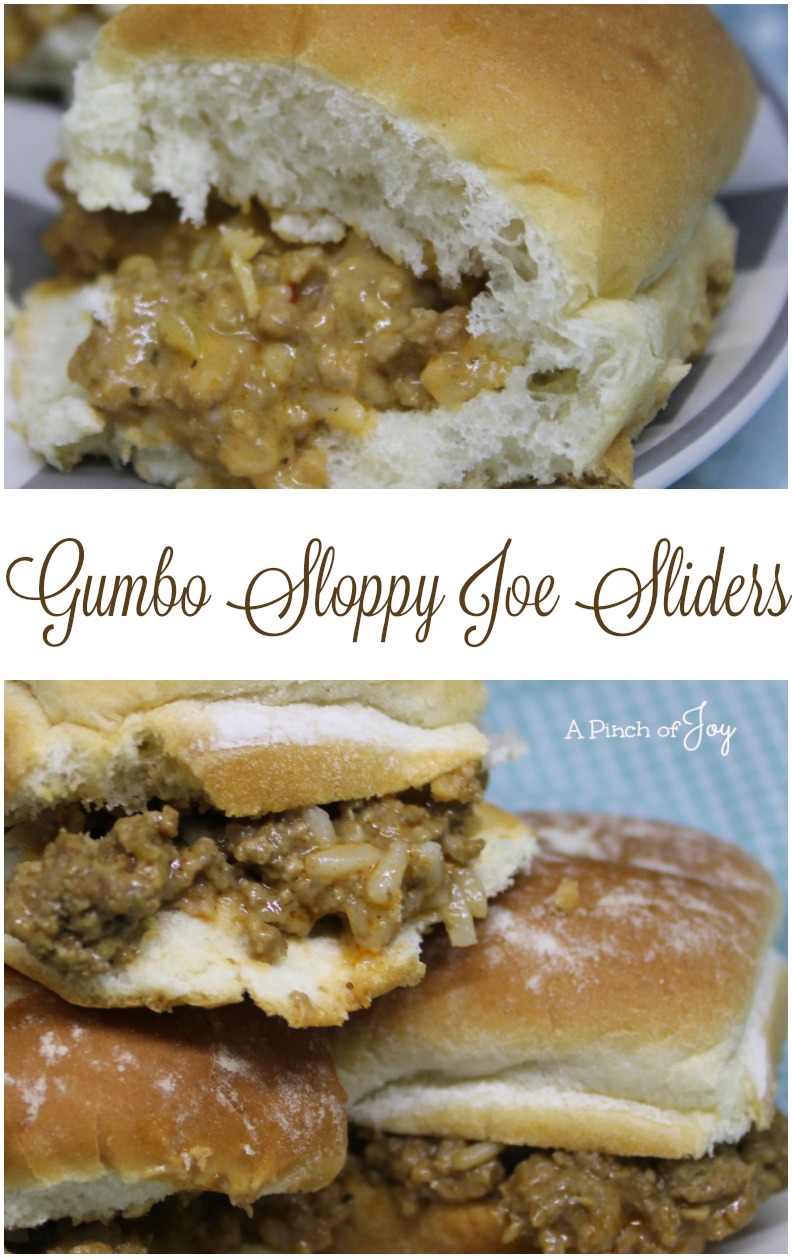 I'm so glad you stopped by today!   Follow A Pinch of Joy using the icons on the teal bar at the top of the page so you don't miss a thing!   I'd love to have your company on this venture!!  Share: if you found this helpful or inspiring please click one of the sharing buttons below!  Your support of A Pinch of Joy is appreciated!
Shared with these awesome link parties here