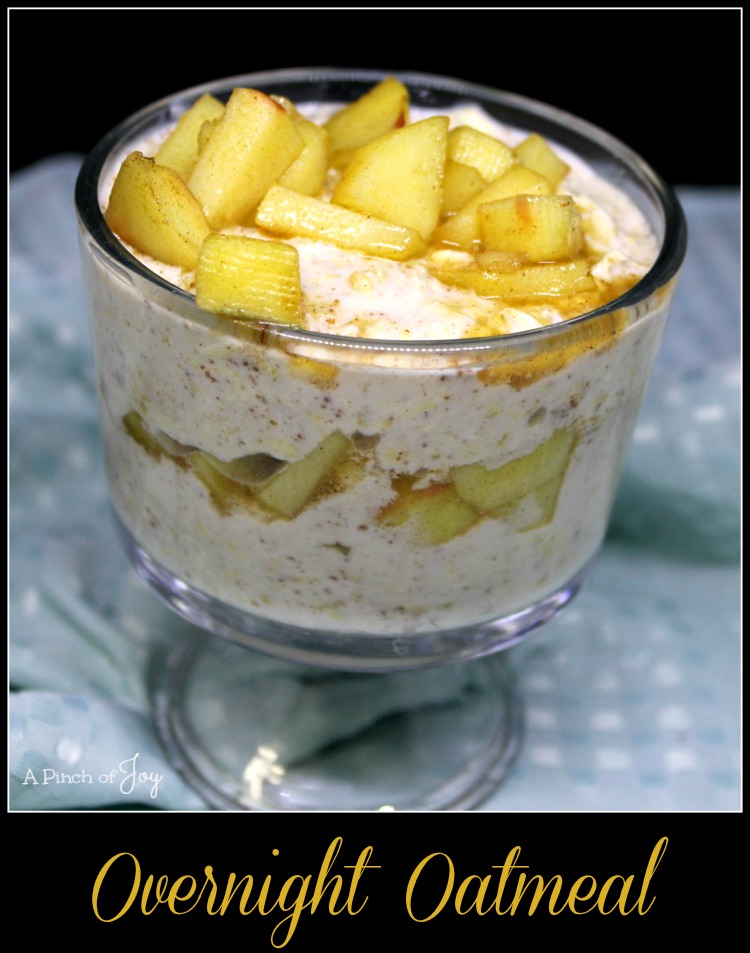 Add pizzazz to your breakfast with Overnight Oatmeal!   It's healthy, nutritious and delicious!  I had a bowl of hot oatmeal every morning with raisins and walnuts for a very long time.  When I heard about oatmeal made overnight in the refrigerator and eaten cold I was pretty skeptical.  But we needed something to go with scrambled eggs (protein!)  and the idea of a basic dish with lots of variations kept leading back to  Overnight Oatmeal.
Sauted apples were the first version we tried.  Peel, slice and dice an apple and saute it with a tablespoon of butter  in a small frying pan.  Layer the hot apple with the cold oatmeal — ummm, heavenly.  Great for a leisurely morning.  But there are lots of  add-in and topping options.  Enough to keep your tastebuds excited for a very long time.  Overnight Oatmeal is fully customizable to meet your lifestyle and tastes!   However, the perfect oatmeal base is essential.
Use only old fashioned rolled oats. They provide texture and are full bodied to handle the additions you'll want to make.  The goal is creamy and almost pudding-like.  Quick oats turn mushy – slimy, to be brutally honest –not good.   Almost any whole or low-fat dairy milk will do.   I wanted to keep the mixture as low carb as possible so we use almond milk at  8 carbs per cup.  Dannon Light and Fit or Oikos Triple Zero yogurt have around 10 carbs per 2/3 cup so I use one of their single serving cups of vanilla yogurt.  You can also measure 2/3 cup from their large sized containers of plain yogurt.   You can omit the sweetening, but we think it is better with 2-3 tablespoons of honey.  You can use maple syrup, stevia, or any other sweetener of your choice.  Don't forget the flavorful additions – vanilla extract and cinnamon with just a pinch of nutmeg to give it depth.  Save the fruit and toppings until serving time.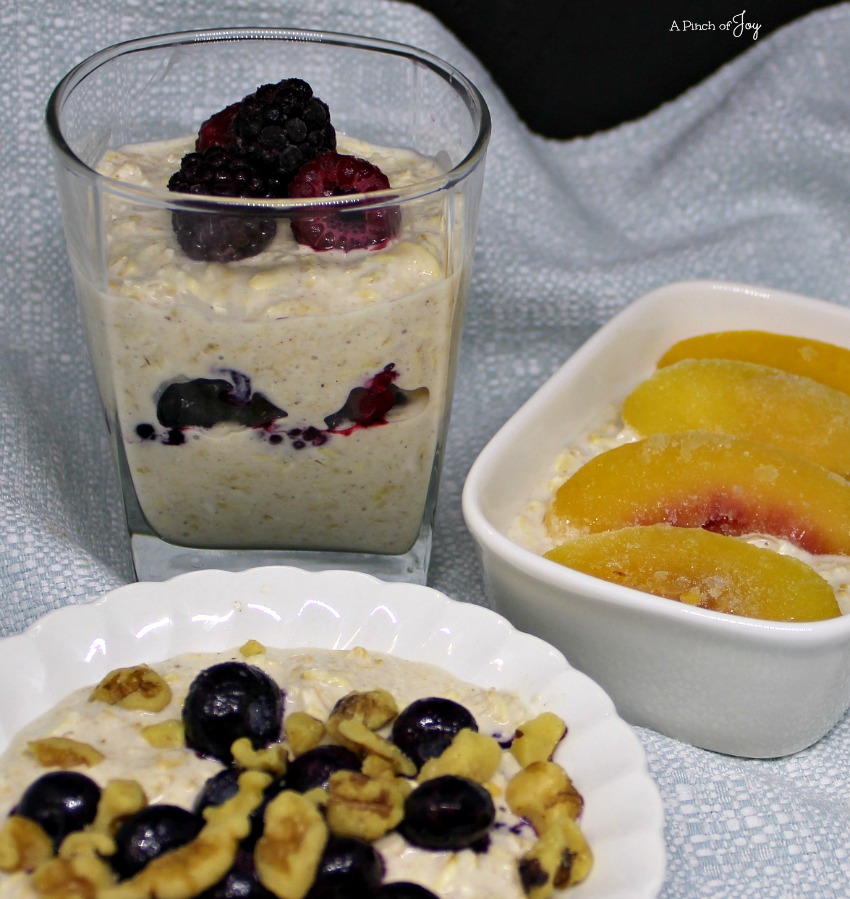 Oats have a higher percentage of protein than most other grains.  Added with the yogurt, you'll have 4 grams of protein.  Fiber is also around 4 grams and will help you feel full longer, as well as aid in digestion.  Oatmeal also contains anti-oxidants which play a role in blood sugar and blood pressure control.  And lots more good things you can read about here.
The best thing about Overnight Oatmeal?  Besides variety and good nutrition, that is.  Time management.  One batch of this recipe will keep about five days in the refrigerator.  Make it Sunday evening and you'll have eight breakfasts ready to go.  Use a medium sized bowl or, quicker and easier, find a widemouth mason jar with measurements marked on the side in which you can mix and store the Oatmeal.
I like to keep m breakfast prep on the quick and easy side.  My scrambled egg sandwich with one precisely microwaved egg on one slice of bread topped with one slice of cheese and two slices of deli sliced turkey breast takes exactly 90 seconds from gathering items from the refrigerator to everything put away and on the way to the table (or the computer desk).    Sauteing the apples took a bit of time.  So we looked to frozen fruit.  Perfect.  Take the amount of fruit you'll need out of the freezer either the night before or just before you start the scrambled eggs.   Then when the egg making ingredients and utensils are cleared away, start putting together the serving of oatmeal.  Bring out the ready made oatmeal.  Two large spoonfuls of oatmeal, a layer of partially thawed fruit, another two large spoonfuls of oatmeal topped with more fruit.  Return the jar of oatmeal to the refrigerator.  Time elapsed – thirty additional seconds.  How's that for quick??
Just oatmeal and need to do it faster?  Spoon out individual servings and store in covered containers when the oatmeal is first made.  Portion frozen fruit in snack bags for each day.  Add the fruit to the bowl when you grab it from the fridge and it will thaw for eating on the go.  (If it's a non-driving commute, of course.  Or eat when you get to your destination.)  Or boost the thaw rate, with a few seconds in the microwave with the fruit  still in the bag.  Watch for even more options — we're still experimenting!

Overnight Oatmeal
Quick, easy, nutritious and customizable to your lifestyle and tastes. What more do you want in a breakfast?
Author:
A Pinch of Joy by Charlene Vance
Ingredients
2 cups old-fashioned rolled oats
2 cups milk, dairy or non-dairy
⅔ cups plain or vanilla Greek yogurt
1-3 tablespoons honey or maple syrup
½ teaspoon cinnamon
¼ teaspoon salt
¼ teaspoon nutmeg
1 teaspoon vanilla extract
Instructions
Add all ingredients in order listed to medium bowl.
Stir together until well combined
Cover and refrigerate overnight (at least 4-5 hours)
Stir before serving.
Add toppings to individual servings just before serving.
Nutrition Information
Serving size:
½ cup
Calories:
80
Carbohydrates:
21
Protein:
4
Please Pin! 
I'm so glad you stopped by today!   Follow A Pinch of Joy using the icons on the teal bar at the top of the page so you don't miss a thing!   I'd love to have your company on this venture!!  Share: if you found this helpful or inspiring please click one of the sharing buttons below!  Your support of A Pinch of Joy is appreciated!
Shared with these awesome link parties here