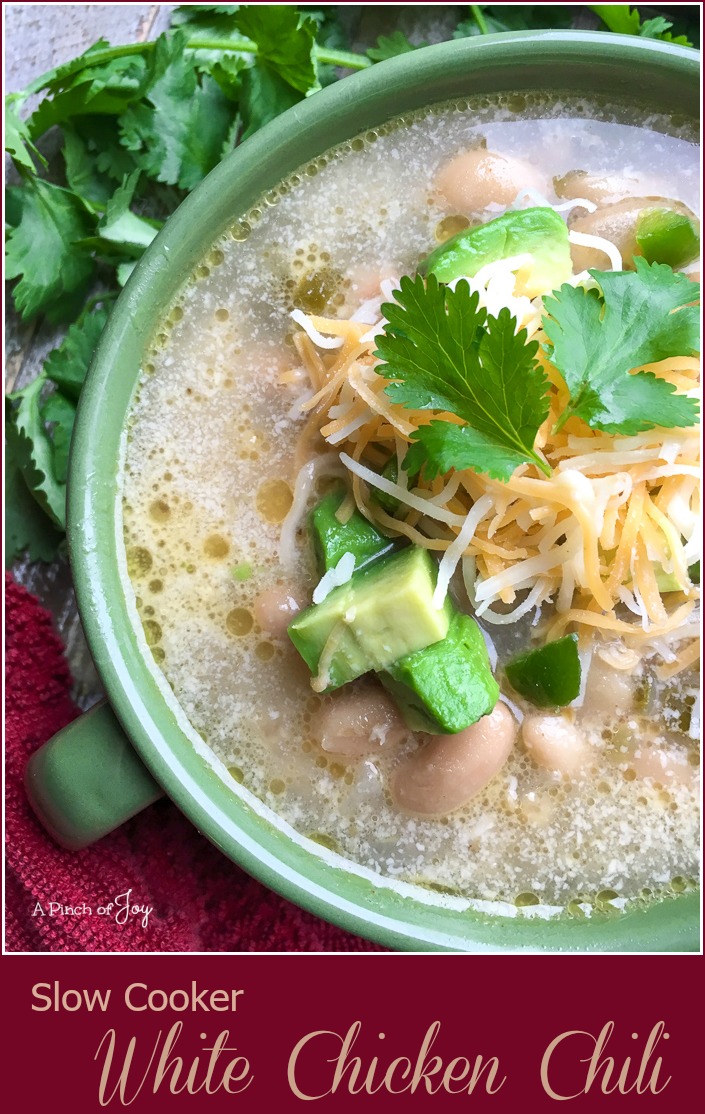 White Chicken Chili is so easy to prepare in the crockpot.  It is a cold weather boost to come in the house after work to a fragrant ready to eat meal.     Since it makes twelve one cup servings, you may have leftovers for a second meal – bonus!  This recipe also works well for make ahead freezer cooking, too. Make it, freeze it and pull it out when needed.  Versatile and delicious!
Beans are a great source of protein, especially in a vegetarian diet.  They are a rich source of fiber and B vitamin as well, as lesser known nutrients as magnesium, phosphorus and manganese.  Beans also have health benefits such as reducing cholesterol, decreasing blood sugar and improving healthy gut bacteria.  They are not low carb, however, so they need to be worked into a low carb diet intentionally.  The high amount of protein will help balance the number of carbs.  The prime consideration is monitoring portion sizes.  Keep servings to the one cup size.  If you use larger servings, adjust your carb count accordingly.
By the way, if you choose to do the make ahead and freeze method — I don't freeze the beans because I have more pantry room than freezer room.  Adapt for your situation.  Beans do freeze quite well.  You could also freeze leftovers – whether in a family size batch or individual servings.  Oooh –individual servings would be good for lunch takers, too.
Coriander is made from the seeds of cilantro, I was surprised to find out.  It is an ancient spice, first widely used in Egypt.  And is frequently used with cumin, which also dates to ancient times, with religious and medicinal uses besides food seasoning.   Greeks kept cumin on the table as we do salt.  Most Americans associate these two spices in particular with Mexican foods as they were introduced to North America by Spaniards where they were introduced from other cultures centuries before.    Cumin and coriander are widely used in cuisines around the world today.  This bit of info brought to you by the spice wimp – yours truly!   I have used cumin – dare I say it, "gingerly" – before, but coriander is a new one to me.

Slow Cooker White chicken Chili
Versatile for any lifestyle, healthy and delicious! Made in the slow cooker, you'll love coming home to a fragrant home made meal!
Author:
A Pinch of Joy by Charlene Vance
Ingredients
3 15-oz. cans Great Northern beans, divided
⅓ c. water
1½ lbs. boneless, skinless chicken breasts, cut into bite sized pieces
½ small red onion, diced
3-4 cloves garlic, chopped
1 4-oz. can mild green chilies
1 Tablespoon ground cumin
2 teaspoon chili powder
1 teaspoon oregano
1 teaspoon ground coriander
3 cups chicken broth
Salt and pepper, to taste
1½ c. Mexican blend cheese, shredded, divided
Optional, to serve:
¼ c. fresh cilantro, chopped
1 small avocado, diced
1 medium jalapeño pepper, sliced
2 large limes, cut into wedges
Instructions
Drain beans. Rinse beans to remove excess salt if not using low sodium.
Place half the beans in a blender or food processor with ⅓ cup water and process until slightly chunky. Transfer the puréed beans to a 5 or 6-quart slower cooker. Add remaining whole beans.
Add chicken broth, onion, garlic, chilies with the herbs and seasonings to the beans in the slow cooker. Stir to combine.
Add chicken. Cover slow cooker. Cook 4 hours on high or 8 hours on low.
When cook time is complete, remove lid and add 1 cup of the shredded cheese and stir to combine. Cover and allow cheese to melt for 1-2 minutes.
Taste and adjust seasonings, as desired. Serve immediately with remaining Mexican cheese, fresh cilantro, avocado, jalapeño slices, and/or lime wedges, if desired. Enjoy!
Make ahead directions:
Mark cans of beans and green for white chicken chili and place in storage together.
Cut chicken into bite sized pieces and place in gallon zip freezer bag. Mark bag with instructions: "Thaw in refrigerator night before cooking. Cook 4 hours on high/8hours on low"
Measure seasonings into snack sized zip bag. Measure 1 cup of shredded Mexican cheese into sandwich zip bag. Add seasoning and cheese bags to the bag of chicken pieces before placing in freezer.
Notes
Nutritional values will vary with different brands and are offered merely as a guide. They are not a substitute for information from medical professionals.
Nutrition Information
Serving size:
1 cup
Calories:
260,
Carbohydrates:
24 grams,
Protein:
27 grams,
Please Pin!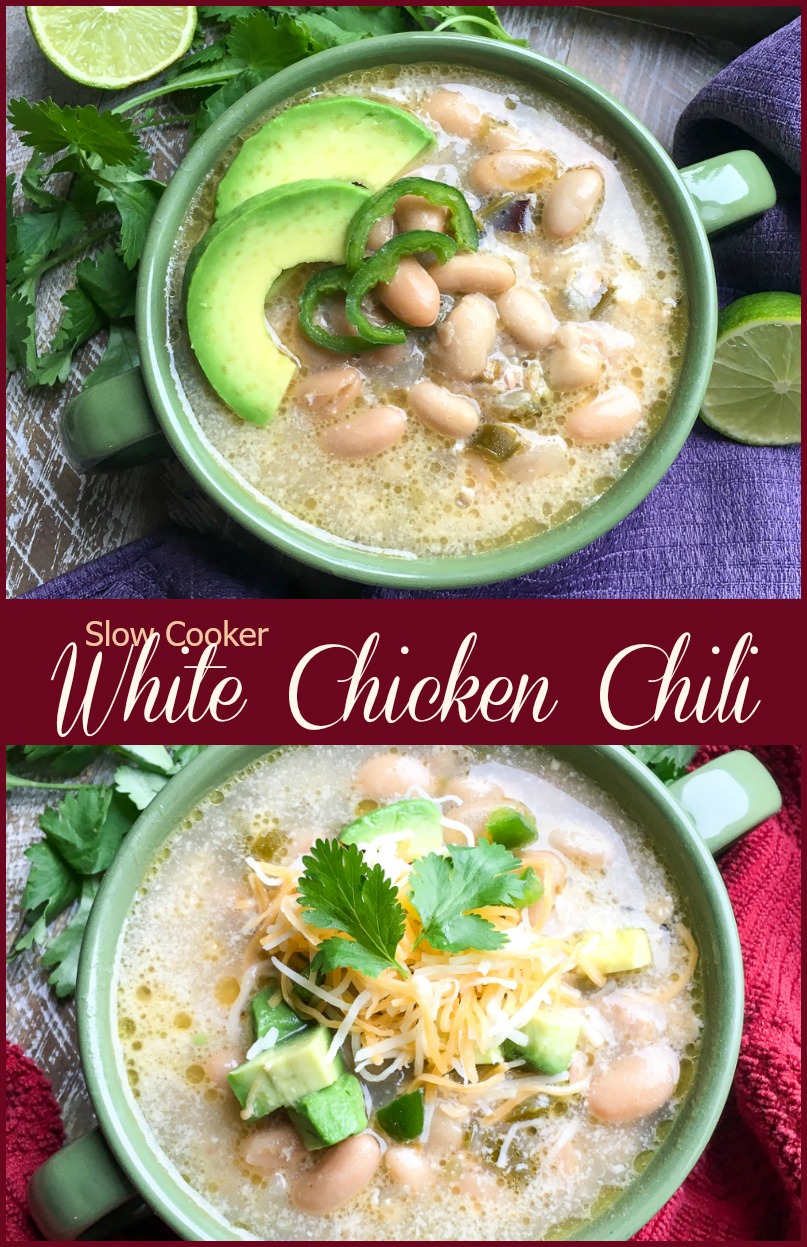 Welcome to A Pinch of Joy!  I'm so glad you stopped by today!   Follow A Pinch of Joy using the icons on the teal bar at the top of the page so you don't miss a thing!   I'd love to have your company on this venture!!  Share: if you found this helpful or inspiring please click one of the buttons below!  Your support of A Pinch of Joy is appreciated!
Shared with these awesome link parties here