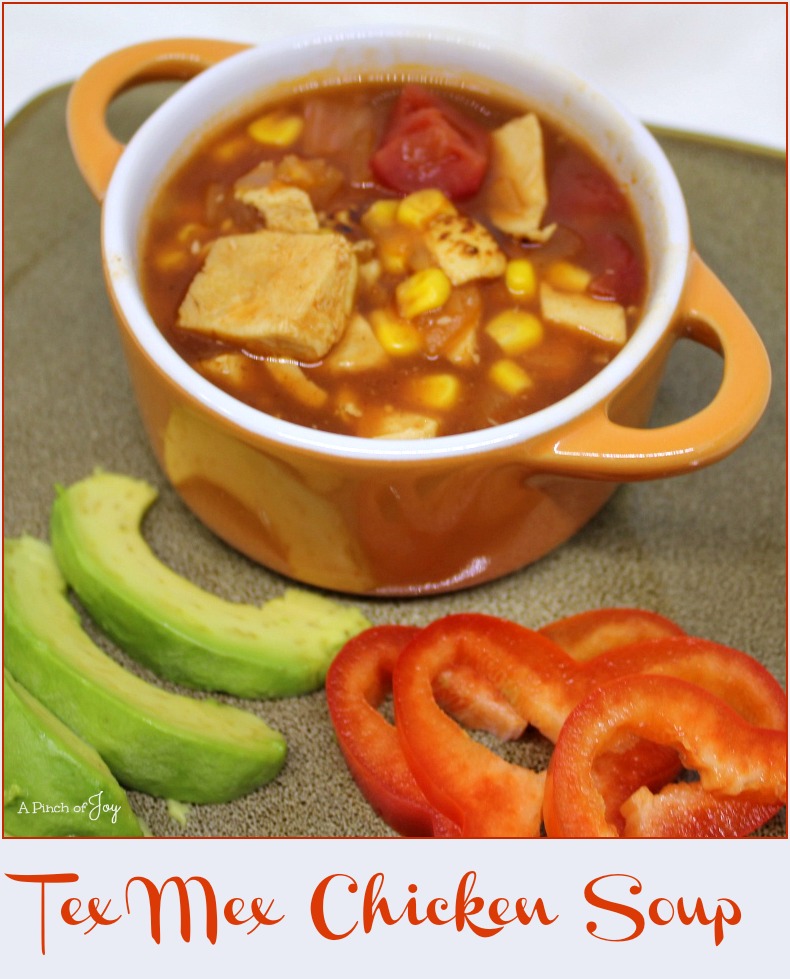 What's for lunch?  A question frequently asked in these days of being at home a great deal more than any of us are used to being!  Today the answer is Tex Mex Chicken Soup.  My project is to have something different for lunch every day this week.  And then to share ideas and recipes with anyone else who finds lunch a difficult meal.
If it is just me for lunch, I am happy with a cup of cottage cheese and a handful of crackers.  Or a meat, cheese and mayo sandwich on low carb bread.  Lunch is not my favorite thing.  I'm usually involved in a project and I don't really want to stop, so I don't want a time consuming affair.   Preparing lunch at home, doesn't have to be hard. Or the same old, same old.  And, if we are limited in our choices otherwise – like under a stay home order –  lunch can be a rejuvenating interlude.  If we are all working at home, we need to get away from the screen for a while and connect with real people.  If you don't have others under the same roof, may I suggest a phone lunch with a good friend?
I had almost everything needed for this soup on the shelf.  It can be made with 10 minutes prep and about 20 minutes of cooking time.  Check and check!   Y'all know I'm a spice wimp – mild for me.  I used half the cumin (½ teaspoon), but I will leave even that out next time. Totally omitted the chili powder because I didn't have it on the shelf.  Same with the green chiles.  The mild enchilada sauce is really enough flavor for me.  However, if you want more kick – you have some suggestions as to how to add it.  I had diced frozen chicken on hand from leftover chicken breast.  You could use canned chicken.  Or poach two large chicken breasts to dice. Add about 10 minutes to the prep time, if you do.  This makes six servings.  Any leftover soup also keeps well  covered in the refrigerator for 2-3 days before making another appearance on the menu.
For more delicious soups, check out the recipe index here.

Tex Mex Chicken Soup
Quick and easy, low carb and Mexican inspired -- a filling soup is a delicious answer to "what's for lunch?"
Author:
A Pinch of Joy by Charlene Vance
Cuisine:
Mexican inspired
Ingredients
2 cups water
1 can (14.5 oz) chicken broth, low sodium
1 can (14.5 oz ) diced tomatoes, no salt
1 can (10 oz) mild enchilada sauce
1 bag (10 oz frozen corn
1 medium onion, chopped
1 teaspoon minced garlic
2 ½ cups diced chicken
Salt to taste
Pepper to taste
1 teaspoon cumin, optional
1 teaspoon chili powder, optional
1 can (4 oz) diced green chiles, optional
Instructions
Combine water, broth, diced tomatoes and enchilada sauce in large pot and bring to boil. Reduce heat and simmer for 5 minutes.
In meantime, chop onion and garlic. Immediately add to liquid in pot, with frozen corn. Add desired spices.
Add diced chicken to soup and heat through.
Nutrition Information
Serving size:
1¾ cup
Calories:
170 calories,
Carbohydrates:
14 grams,
Protein:
20 grams,
Welcome to A Pinch of Joy!  I'm so glad you stopped by today!   Follow A Pinch of Joy using the icons on the teal bar at the top of the page so you don't miss a thing!   I'd love to have your company on this venture!!  Share: if you found this helpful or inspiring please click one of the buttons below!  Your support of A Pinch of Joy is appreciated!
Shared with these awesome link parties here