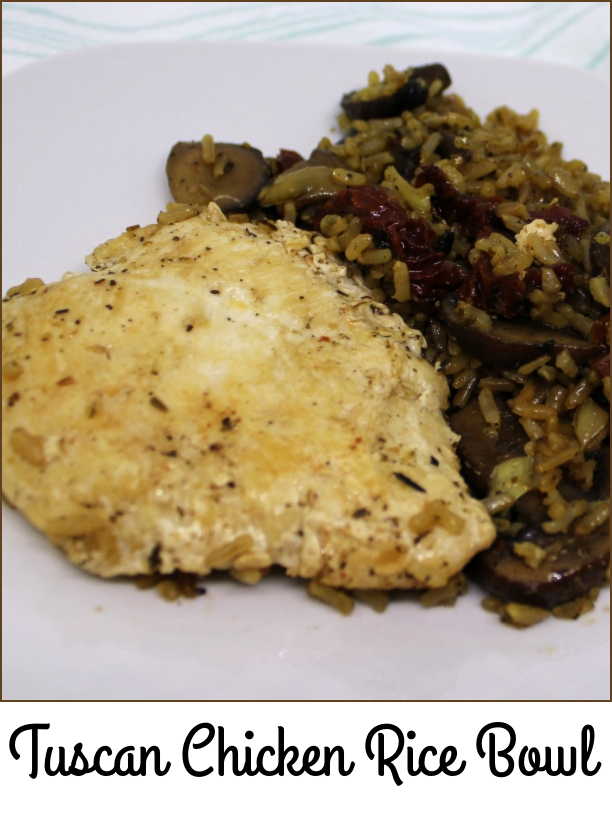 A delicious meal, ready to eat in about 30 minutes.  You can assemble from scratch which may take a just a few minutes longer at cooking time or freeze ahead of time, thaw overnight and have it ready in a flash for a healthy work night meal.  Add a quick salad of spring greens, feta cheese, a few walnuts and blueberries.
Look for chicken breast fillets as they are about half an inch thick and will cook quickly and evenly.  Most stores will carry them, but if you don't find them make your own fillets.  With a sharp knife slice a chicken breast lengthwise into half inch pieces.  Look for chopped mushrooms if you have a "fungus-phobe" like Bytes at your house.  He'll eat chopped mushrooms with little comment, but objects to the bigger pieces.  (We're making progress with that — lol!)  You'll have Tuscan seasoning left over.  Store it tightly covered in a small bottle or jar for another time.

Tuscan Chicken Rice Bowl
Quick, easy and delicious!
Author:
A Pinch of Joy by Charlene Vance
Recipe type:
Chicken Dinner
Ingredients
2 Tablespoons garlic
2 tablespoons olive oil
⅓ cup sundried tomatoes,chopped
¼ cup marinated artichoke hearts,chopped
2 Tablespoon Tuscan seasoning (below)
1 bag frozen mushrooms
1 ¾ cups quick brown rice
1 14 ounce can chicken broth
Tuscan Seasoning
6 tablespoon dried basil
3 tablespoon sea salt flakes
2 tablespoons dried rosemary
2 tablespoons dried oregano (marjoram)
2 tablespoons dried thyme
1 tablespoon powdered garlic
2 tablespoons fennel seed
2 tablespoons ground black pepper
Instructions
In a large skillet, over medium-high heat, heat olive oil.
Add the chicken fillets. Cook undisturbed for about 3-4 minutes or until chicken turns golden brown. Flip and repeat on the other side. Remove from pan and set aside.
Reduce heat to medium and add mushrooms. Cook the mushrooms until brown.
Add sundried tomatoes and artichokes and 1¾ cup uncooked rice, stirring until everything is coated.
Pour in broth, and stir gently to combine. Bring mixture to a boil, cover and reduce heat to low.
Cook for 14 minutes, then add chicken. Cook for an additional 4 minutes until chicken is warmed.
Remove from heat, garnish with shaved parmesan, if desired.
Make Ahead and Freeze
Put frozen chicken breast fillets and garlic in gallon zipper freezer bag.
Mix sundried tomatoes, chopped artichoke and Tuscan seasoning in zipper sandwich bag and add to bag with chicken breasts.
To the gallon bag, add bag of frozen mushrooms and another sandwich bag with 1¾ cup instant brown rice.
At cooking time, you will need one 14 oz can of chicken broth and olive oil. Follow directions above.
Nutrition Information
Calories:
609 |
Carbohydrates:
44 grams |
Protein:
73 grams |
I'm so glad you stopped by today!
Follow A Pinch of Joy using the icons on the teal bar at the top of the page so you don't miss a thing!   I'd love to have your company on this venture!!  Share: if you found this helpful or inspiring please click one of the buttons below!  Your support of A Pinch of Joy is appreciated!
Shared with these awesome link parties here