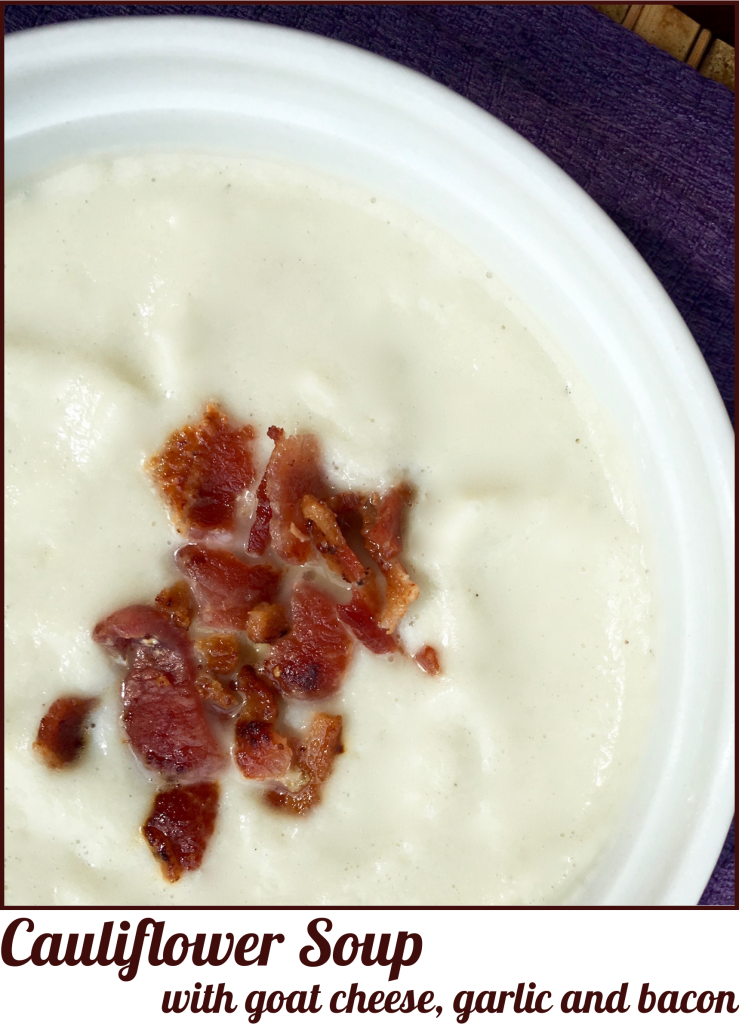 Cauliflower Soup with Bacon, Garlic & Goat Cheese is lunch time quick .  Pair it with a crisp, green salad or crisp crusted rolls for a more filling meal.  It also makes a nice, light appetizer when served in small portions and garnished with green onion slices.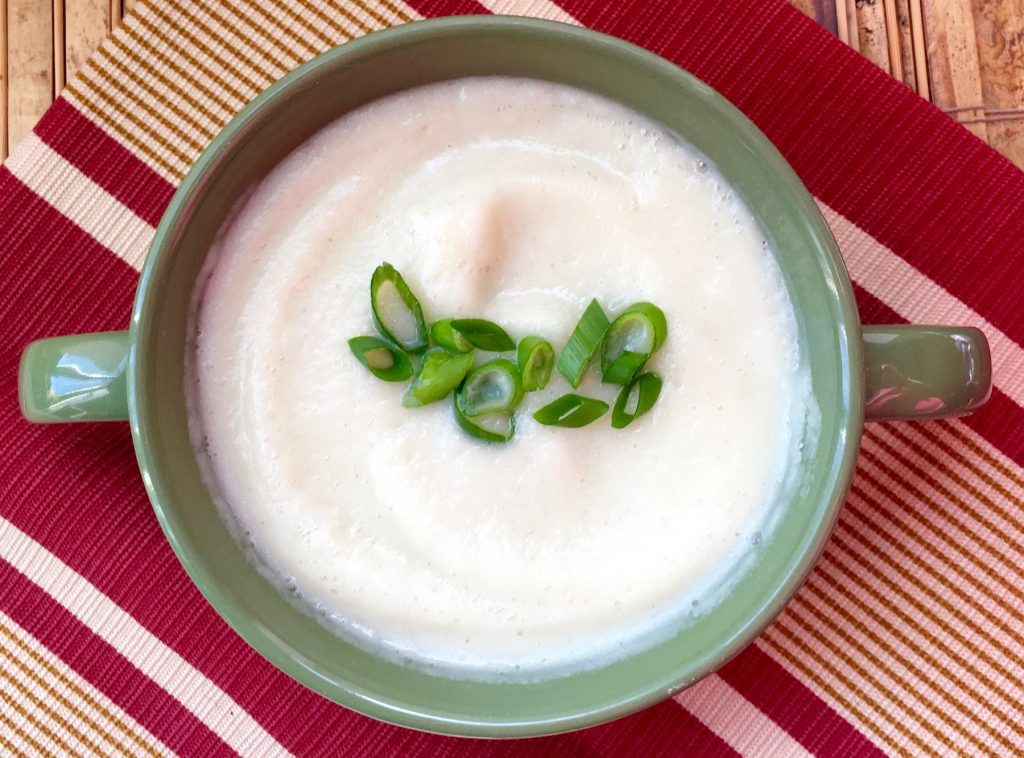 One of the great things about cauliflower is how well it takes on the flavors of other ingredients. In this case, the tangy goat cheese adds an interesting and delicious dimension to the finished result. If you want more robust flavors, roast the cauliflower and onion before blending. The flavor will be more complex, but be aware the soup will take on a darker brown color as a result.
Goat cheese is a good source of protein, healthy fats, vitamins and minerals. The fatty acids found in goat's milk have antibacterial qualities.  Garlic has been used for thousands of years to enhance flavor and as a medicine. Records indicate that garlic was in use when the Giza pyramids were built, about 5,000 years ago.  Olympic athletes in Ancient Greece were given garlic, possibly the earliest example of "performance enhancing" agents used in sports. Today, claims for the health benefits of garlic include lower blood pressure and cholesterol, a reduced risk of cancer, and a stronger immune system.  Bacon – well, everything tastes better with bacon!

Cauliflower Soup with Goat Cheese, Garlic & Bacon
Cauliflower Soup with Bacon, Garlic & Goat Cheese is lunch time quick, flavorful and delicious.
Author:
A Pinch of Joy by Charlene Vance
Ingredients
1 large head cauliflower, broken apart and chopped
2-3 cloves fresh garlic, roughly chopped
2 green onions, rinsed, roots and dried ends removed
2 teaspoons dried parsley
2-3 Tablespoons water
Sea salt and freshly ground black pepper, to taste
3-4 cups organic chicken or vegetable stock, divided
4 oz. log goat cheese, cut into chunks
Optional Garnish:
Sliced green onions, green parts only
Crumbled bacon
Instructions
Break apart cauliflower and chop, stems included, into small pieces and place in a large colander. Rinse thoroughly under running water and let drain briefly when finished.
Place cauliflower in a large, microwave-safe dish with garlic, white part of green onions, and dried parsley. Add 2-3 tablespoons of water and season with salt and pepper, to taste.
Cover container and microwave on high until the cauliflower is fork tender, approximately 6-7 minutes. Actual cooking time will vary. Test with fork after 4 minutes and adjust cooking time accordingly.
Remove from microwave, and fill blender container half full with steamed cauliflower mixture. Add 1 cup stock to the blender and blend until smooth. (Make sure blender lid is adequately vented to allow steam to escape before turning on blender).
Pour cauliflower puree into soup pot and repeat with the remaining steamed cauliflower mixture and stock all cauliflower has been pureed and transferred to the pot.
Turn heat to medium and cook until the cauliflower mixture is heated through, about 5-6 minutes, while stirring occasionally. Add chunks of goat cheese and stir until blended. Cook another minute or two, or until the soup is uniformly heated. If soup is too thick, add additional stock to reach the desired consistency. If it is too thin, continue cooking until excess moisture has been reduced.
Taste and season with additional salt and pepper, if desired. Serve immediately topped with sliced green onion or crumbled bacon. A dash of paprika across the soup adds color.
Notes
Nutritional values are estimates and may vary.
Nutrition Information
Calories:
172 |
Carbohydrates:
9 grams |
Protein:
17 grams |
I'm so glad you stopped by today!
Follow A Pinch of Joy using the icons on the teal bar at the top of the page so you don't miss a thing!   I'd love to have your company on this venture!!  Share: if you found this helpful or inspiring please click one of the buttons below!  Your support of A Pinch of Joy is appreciated!
Shared with these awesome link parties here