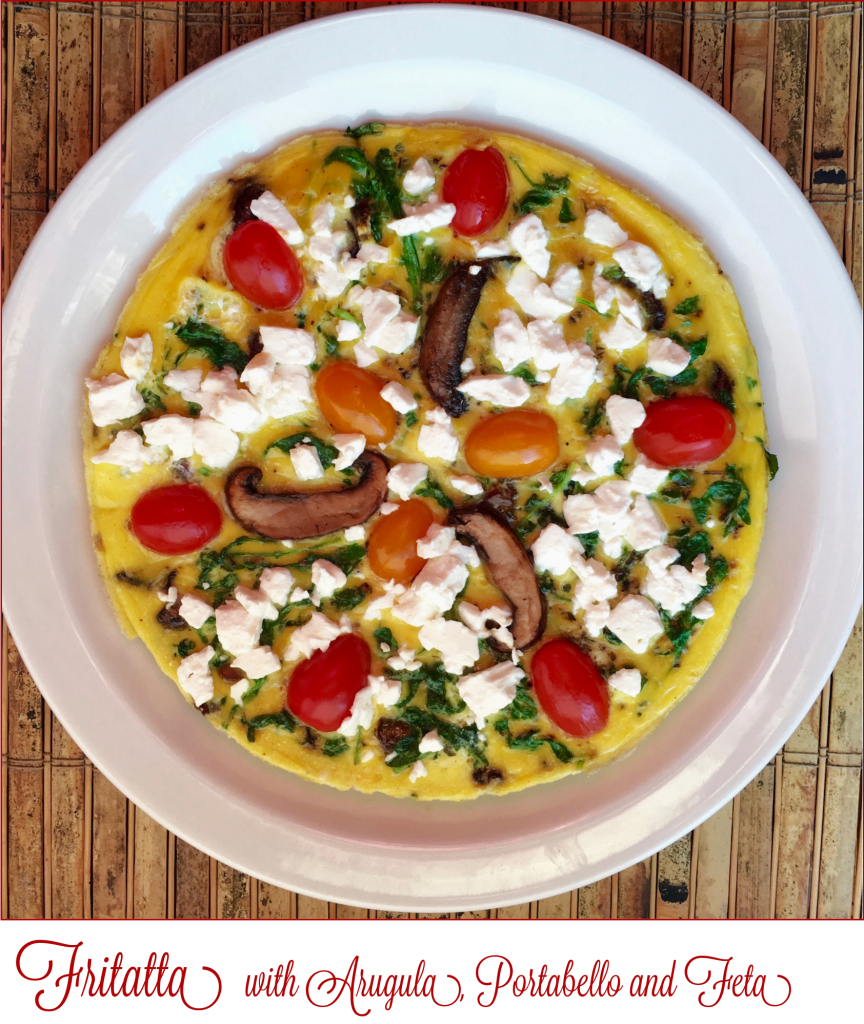 A fritatta is cooked slowly over low heat.  Omelets are cooked quickly over higher heat with filling  placed in the middle of the omelet and  folded before serving hot from the stove.    Fritattas are often served at room temperature, making them perfect to make ahead for brunches or larger groups. A fritatta is similar to crustless quiche which makes it perfect for low carb dining or "don't want to make a crust" meals. They are often prepared in well-seasoned cast iron skillets but you can also use a standard 10" non-stick skillet .  This savory stovetop fritatta is a delicious Mediterranean combination, easy to make and  versatile. The most difficult part is deciding whether you will enjoy it for breakfast, brunch, lunch, or dinner.

Fritatta with Arugula, Portabello and Feta
Savory Mediterranean style fritatta -- breakfast, dinner, your choice!
Author:
A Pinch of Joy by Charlene Vance
Ingredients
6 eggs
¼ cup half and half
3 Tablespoons water
Salt and freshly ground black pepper, to taste
1 Tablespoon olive oil
6 baby Portobello mushrooms
2 cups arugula
6 cherry tomatoes
2 oz. Feta cheese
Instructions
In a medium bowl, whisk together 6 eggs, half & half, water, sea salt, and freshly ground black pepper until blended. Set aside.
Wash mushrooms, remove gills, chop stems and slice caps. Wash arugula, and pat dry. Wash cherry tomatoes and cut in half. Cut Feta cheese into equal sized pieces.
Add olive oil to a 10" non-stick skillet and heat over medium heat. Add Portobello mushroom slices and chopped stems and cook approximately 5-6 minutes, stirring occasionally. When the mushrooms are browned, remove 3 uniformly sized mushroom slices from the pan and set aside.
Add arugula to pan and stir constantly until wilted, approximately 1-2 minutes.
Spread ingredients into a uniform layer across the bottom of pan, ensuring an even distribution of mushrooms and arugula throughout. Pour egg mixture on top and let cook for 1-2 minutes, or until the egg begins to set on bottom.
Reduce heat to low setting and cover. Cook 8-9 minutes, then remove cover and arrange the 3 Portobello strips, cherry tomato halves, and Feta chunks in a decorative pattern, if desired. OR simply scatter those ingredients across top of frittata before covering again.
Cook for another 5-6 minutes, or until egg is cooked through and Feta has just begun to melt. Remove from heat and carefully transfer to a serving platter and cut into wedges.
I'm so glad you stopped by today!
Follow A Pinch of Joy using the icons on the teal bar at the top of the page so you don't miss a thing!   I'd love to have your company on this venture!!  Share: if you found this helpful or inspiring please click one of the buttons below!  Your support of A Pinch of Joy is appreciated!
Shared with these awesome link parties here