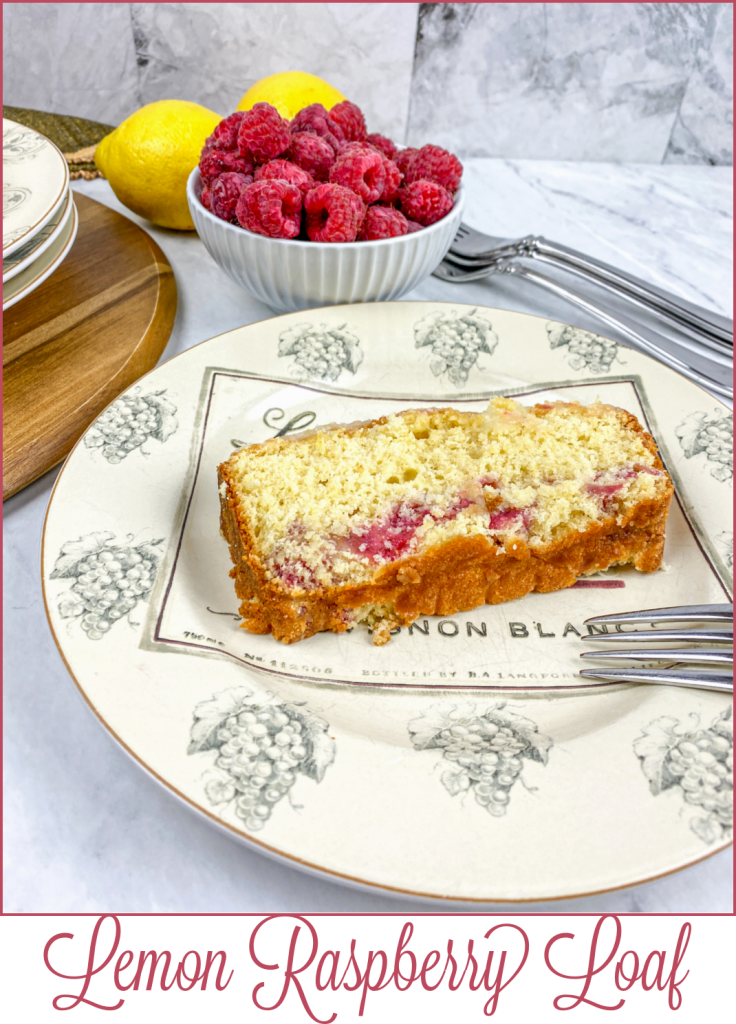 This delicious lemon raspberry loaf is a welcome addition to brunch, or it can be enjoyed as a not-too-sweet treat any time of day. If you want a little added sweetness,  add a light drizzle of the optional lemon glaze right before serving.
Raspberries are members of the rose family.   We generally think of red raspberries but there are also golden (yellow) and black raspberries.  Which ever color you choose, don't wash before storing as this causes the berries to spoil quickly. Handle the delicate berries as little as possible. To wash,  use a colander to hold the berries and dip in water then let drain  just before using.  Raspberries are nutritional powerhouses.  They are high in Vitamin C, low in sugar, high in anti-oxidants, good source of fiber, help prevent diabetes and are good for brain and memory!  If you use frozen raspberries instead of fresh, stir them gently into the batter while   still partially frozen.

Lemon Raspberry Loaf
Fresh fruit flavors, a delightful addition to a brunch buffet, snack tray or dinner menu.
Ingredients
½ cup butter, room temperature
1 cup granulated sugar
2 teaspoons vanilla extract
⅓ cup unsweetened applesauce
3 Tablespoons fresh lemon juice
1 Tablespoon fresh lemon zest
3 large eggs, room temperature
2 cups all-purpose flour
½ teaspoon baking soda
⅛ teaspoon salt
1 pint fresh raspberries, rinsed and patted dry
Optional Lemon Glaze:
¼ c. powdered sugar
2-3 T. fresh lemon juice
½ T. fresh lemon zest
Instructions
Place top oven rack in center position and pre-heat oven to 350°F. Line 8½" loaf pan with parchment paper cut to length of pan but leave longer edges hanging over the sides a couple inches. Set lined pan aside until needed.
Cream butter and sugar together with mixer in a large mixing bowl. Add vanilla extract, applesauce, lemon juice, and lemon zest and mix until thoroughly combined.
Add eggs, one at a time, and beat until incorporated into mixture.
Combine flour, baking soda, and salt in bowl and stir to combine. Gradually add flour mixture to wet ingredients a little at a time until incorporated into the batter. Use rubber spatula to scrape sides of the bowl while mixing.
Once the wet and dry ingredients are just blended, carefully fold raspberries into the batter with spatula. Pour batter into prepared loaf pan and spread evenly.
Place loaf pan into pre-heated oven and bake for 40-50 minutes, or until toothpick inserted into the center of the loaf comes out clean. Check after 40 minutes and adjust final cook time accordingly.
Remove from oven and carefully lift parchment paper to transfer loaf to wire rack to cool.
If desired, prepare lemon glaze by combining powdered sugar, two tablespoons lemon juice, and the lemon zest together in a small bowl. Add additional lemon juice, if needed to adjust consistency. Set aside. Once cooled, drizzle lemon glaze on top before serving.
Notes
Nutritional values are estimates and may vary.
Nutrition Information
Serving size:
½ in. slice
Calories:
174 |
Carbohydrates:
26 grams |
Protein:
3 grams |
I'm so glad you stopped by today!
Follow A Pinch of Joy using the icons on the teal bar at the top of the page so you don't miss a thing!   I'd love to have your company on this venture!!  Share: if you found this helpful or inspiring please click one of the buttons below!  Your support of A Pinch of Joy is appreciated!
Shared with these awesome link parties here