Got a ride in the ambulance this week.   Sat up in bed Friday morning and the world turned into a tilt a whirl and I found myself on the floor — I slid down so I wouldn't fall down, could not stand or even move.   I was back home before noon with a diagnosis of sinusitis which upset my ears and my balance — another version of the annual bout with spring allergies.  I am lucky it was nothing worse and there is medicine to help.  Nevertheless — let's not do that again, 'kay???  Hope your week was better!  Thanks for stopping by to share your awesome posts!!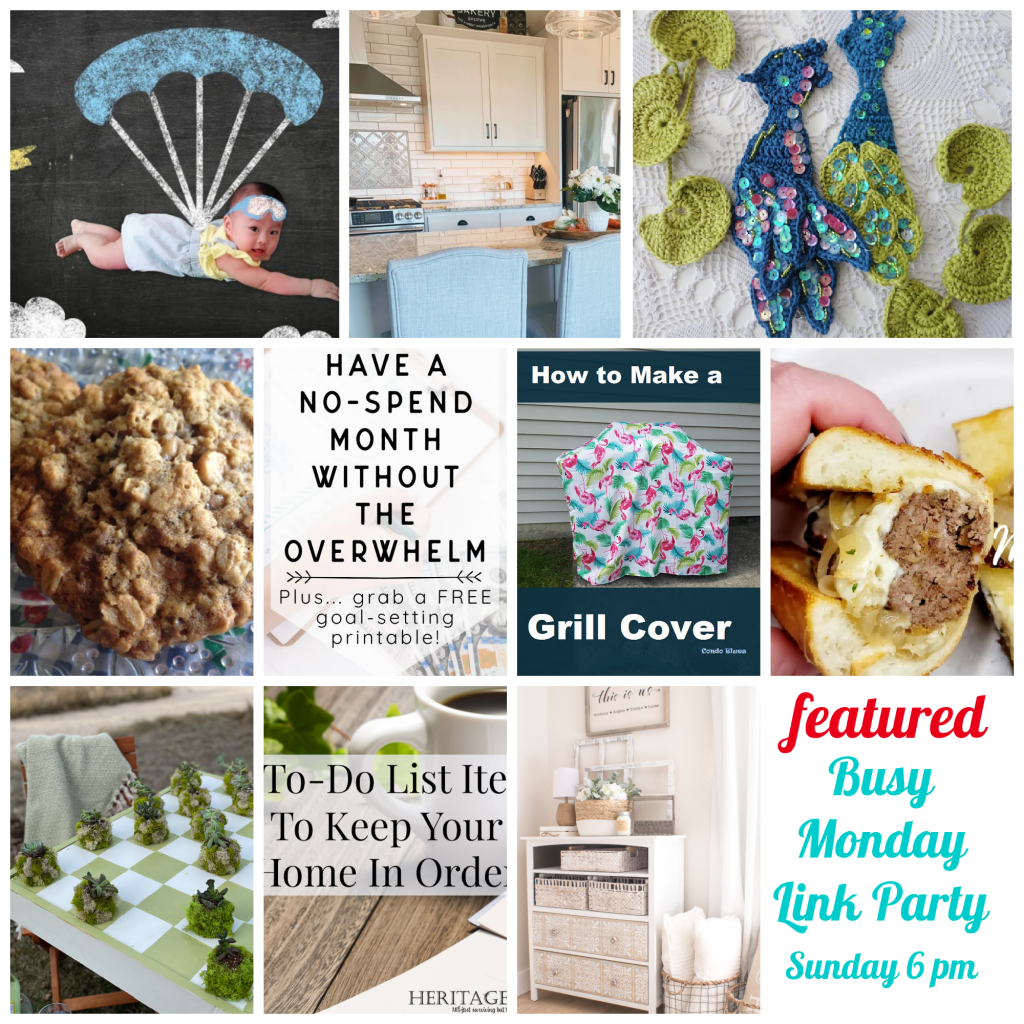 The Happy Mustard Seed — Fun Things to Do in Frisco with Kids The House on Silverado – Kitchen Barstools Easy Makeover with Paint  Little Treasures – Peacock Necklace and Brooch     REcipe Exchange – Giant Butterscotch Toffee Oatmeal Cookies Filling the Jars – 6 Ways to have a No-Spend Month without the Overwhelm  Condo Blues – How to Make a Grill Cover    Home on a Weeknight — French Onion Meatball Subs      A Life Unfolding – Cutest Checkboard Table for the Patio    Heritage Home Ec – 30 Things to Do to Keep Your Home in Order Simply Beautiful by Angela  –  Dresser Makeover with Stencil  Filling the Jars – 6 Ways to have a No-Spend Month without the Overwhelm  Grab a Featured button by clicking on the gray button. You won't see the code, but the button will show a green line, indicating that the code will appear when you click "paste" on your blog's text screen.

Add a Busy Monday Button OR a text link somewhere on your blog. Click "copy" for the button code. You won't actually see the code until you click "paste" on your blog.
Link only posts you created yourself. Please no link parties, sales pages, giveaways. Visit others and give the gift of a comment. It's a party! By linking, you agree photos are your own and posts may be shared on social media with attribution to you. All features are pinned to the Busy Monday Feature Board or the Busy Monday Recipes Board.
You are invited to the Inlinkz link party!