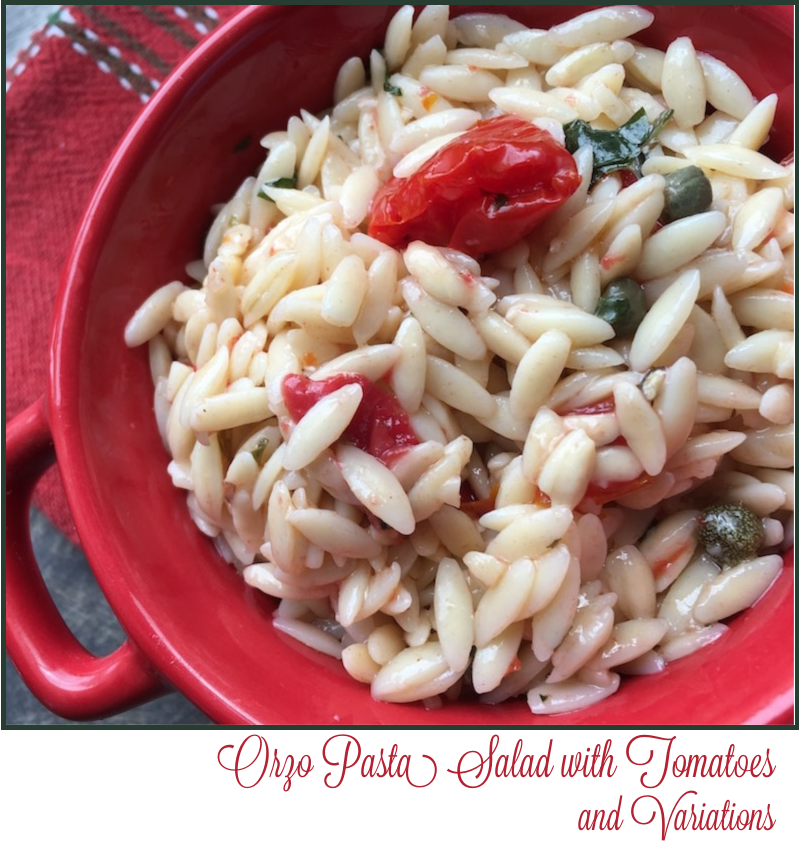 Chilled Orzo and Tomato Pasta Salad is a great way to keep cool on a hot day. This delicious side dish tastes even better after the flavors have melded, so make it a day or two in advance for your next picnic or family get-together.   So I read while looking for new pasta salads to serve this summer.  This recipe sounded intriguing – except for a couple of ingredients.
The recipe calls for a couple of tablespoons of capers though I also remembered olives could be substituted for capers.  Now somewhere I also remember reading that only the super intelligent like celery and olives.  Well, I am half way there.  (Does that make me a half wit??)  I like celery.   Olives, not so much.  And capers, even less.  Just not a fan of vinegary, salty, acidic, or such flavor bursts.  But one of them may be just the zing in this salad for you!   Go right ahead.
Capers are the little green balls in the photo above, in case you are not familiar with them.   If you are like me and want tamer flavors or your favorite small grocery does not carry them, what can you substitute?  Chopped olives – green or black.  Pickles, dill or sweet –  your favorite. You can add a tablespoonful of the pickle juice as well.  Pickled red onions – again with a tablespoon of the brine.   Keep in mind, this flavor wimp has not checked any of these out personally.  I researched it just for you!  Or substitute diced celery!   In that case, omit the brine and use olive oil to replace it. I think that little bit of crunch would be great!  Want softer celery?  Dice stalk into about quarter inch squares to make two tablespoons,  add it to the skillet with the garlic and cook according to directions.  Add olive oil to lemon juice and herbs before mixing in orzo.
Why bother making changes?  Because I love orzo.  And a new pasta salad for this summer would be great!

Orzo Pasta Salad with Tomatoes and Variations
Author:
A Pinch of Joy by Charlene Vance
Ingredients
2 Tablespoons olive oil
3 cloves garlic, peeled and finely minced
1 large or 2 medium tomatoes, washed and chopped, seeds and excess liquid discarded
1 ½ cup dried orzo, cooked according to package directions and cooled
2 T. capers
1 Tablespoon caper brine
1 Tablespoon fresh lemon juice
1 Tablespoon fresh thyme, chopped
1 Tablespoon fresh parsley, chopped
Salt and pepper, to taste
Instructions
Cook orzo according to package directions. Drain and set aside.
While orzo is cooking, cut tomatoes into halves or wedges. Discard seeds and liquids, then chop.
Add olive oil and minced garlic to a cold skillet and turn heat to medium high. Sauté for 2 minutes.
Add tomatoes and cook for an additional 2-3 minutes until tomatoes become soft, stirring occasionally. Remove from heat and set aside.
Remove stems from thyme and parsley and chop.
In large bowl, stir together capers and liquid (or substitutes), lemon juice, thyme and parsley with the tomato and garlic mixture. Add orzo and toss gently to combine.
Add cooked orzo and toss until thoroughly combined. Season with salt and pepper, to taste.
Cover and refrigerate for at least one hour or overnight.
Notes
Nutritional values are estimates only and will vary.
Nutrition Information
Calories:
245 |
Carbohydrates:
44 grams |
Protein:
9 grams |
Welcome to A Pinch of Joy!  I'm so glad you stopped by today!   Follow A Pinch of Joy using the icons on the teal bar at the top of the page so you don't miss a thing!   I'd love to have your company on this venture!!  Share: if you found this helpful or inspiring please click one of the buttons below!  Your support of A Pinch of Joy is appreciated!
Shared with these awesome link parties here