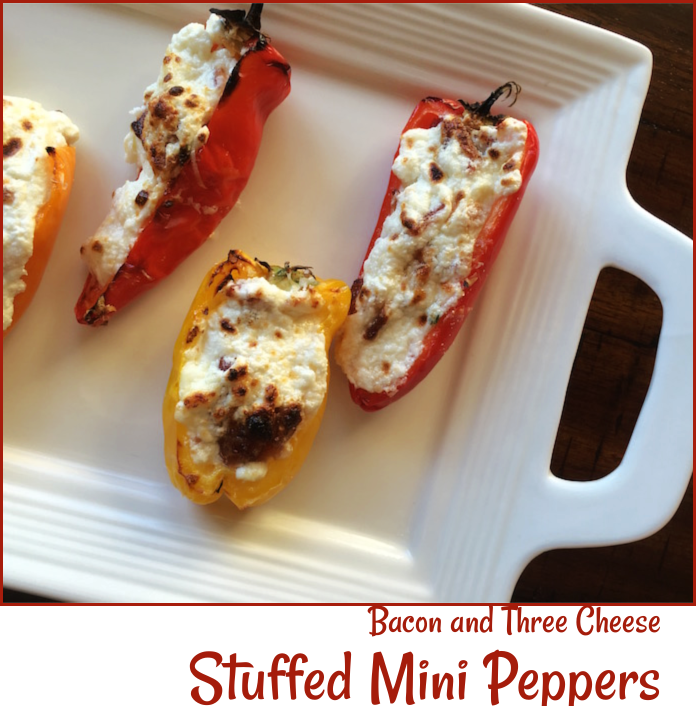 Bacon and Three Cheese Stuffed Mini Peppers are a quick and easy appetizer for any occasion.  A plate full of this colorful deliciousness turns the occasion into instant party!  The hardest part of this easy dish is waiting five minutes for the cheese to turn golden underneath the broiler.  Party in less than fifteen minutes!!
To make things go even faster, use precooked bacon instead of cooking your own.  I always have a package of bacon in the freezer, but sometimes we need something faster than the bacon would thaw and then cook.  Precooked bacon to the rescue.  You can cut the precooked and packaged bacon slices into small bits.  OR you can open a package of precooked bacon crumbles.  I'm talking the real deal bacon — no imitation meat or bacon flavor or anything like that.  One hundred percent real bacon.  One heaping tablespoon equals one slice of bacon.  For this recipe you will need four heaping tablespoons which is the equivalent of one heaping quarter cupful of real bacon crumbles.
Peppers should be rather uniform in size so they will cook at the same rate.  If you are taking your peppers straight from the garden or buying at the farmer's market, look for uniformity.  If you are buying from the grocery pick up a package of mini sweet peppers in a variety of colors.  You'll need at least six peppers.  Cut in half and seeded that will provide the container for twelve yummy, melty cheesy appetizers.

Bacon and Three Cheese Stuffed Mini Peppers
Deliciously quick and easy, made with bacon and melty cheeses -- these appetizers are a party by themselves.
Author:
A Pinch of Joy by Charlene Vance
Ingredients
1 bag mini sweet peppers in assorted colors
6 oz. goat cheese
6 oz. ricotta cheese
3 Tablespoons fresh thyme leaves, stems removed and chopped
4 strips thick-cut bacon, cooked and crumbled ( ¼ cup cooked bacon crumbles)
salt and pepper, to taste
1 oz. Parmesan cheese, grated
Instructions
Wash peppers and pat dry. Cut each pepper in half lengthwise, leaving the stem intact, if desired. Remove seeds and membranes from each pepper half and discard. Set aside.
In small bowl, combine goat cheese, ricotta cheese, chopped thyme leaves, bacon. Sprinkle with salt and pepper to taste. Combine ingredients thoroughly.
Turn on broiler to preheat on high.
With a small spoon, fill each pepper half with the cheese and bacon mixture.
Arrange on a rimmed baking sheet covered with parchment paper.
Top each stuffed pepper half with grated Parmesan cheese.
Place baking sheet with stuffed pepper under preheated broiler set to 'high.'
Broil for approximately 5 minutes or until the cheese begins to brown and peppers start to blister. Remove from oven and place on a serving plate. Serve immediately.
Notes
Nutritional values are estimates and will vary.
Nutrition Information
Calories:
146 |
Carbohydrates:
2 grams |
Protein:
10 grams |
Welcome to A Pinch of Joy!  I'm so glad you stopped by today!   Follow A Pinch of Joy using the icons on the teal bar at the top of the page so you don't miss a thing!   I'd love to have your company on this venture!!  Share: if you found this helpful or inspiring please click one of the buttons below!  Your support of A Pinch of Joy is appreciated!
Shared with these awesome link parties here