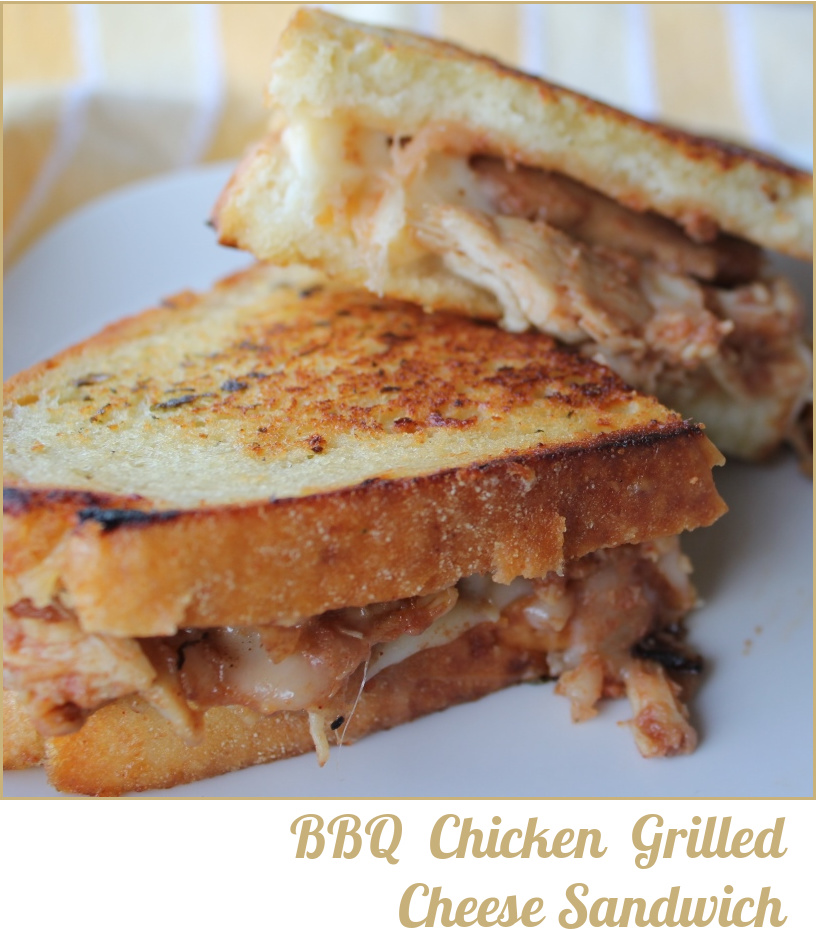 Grilled cheese sandwiches show up on the lunch menu, not frequently but regularly, at our house.  Barbecue chicken grilled sandwiches – a whole new level of lunch goodness!   It is also a very versatile recipe, easily customized to your family's taste.
Make your own delicious barbecue pulled chicken by following the steps above.  The sauce will cook into the chicken so your sandwich will have all the chicken and enough sauce to give flavor, but not drip.  You can make the chicken  ahead of time and refrigerate until time to warm and add to the sandwich.  (See note below.)
I recently found out you can also buy packaged garlic butter.  If you can't find it, make your own by stirring about half a teaspoon of garlic powder into softened butter (15 seconds in the microwave) until it is well mixed.  Add more to taste. (A bit of chopped chives adds a nice touch, if you have them on hand.)  Brushing the bread with melted butter insures that every nook and cranny will absorb the butter – soo good.  This is one time we go for the real deal on the bread– a nice firm artisan bread with chewy crust.  Sourdough, whole grain, whatever your favorite may be. Havarti cheese is a perfect cheese for this, but we've also used Gouda and Provolone.  Use a large skillet or griddle that will leave you enough room to turn the sandwich.
You'll love this addition to your lunch rotation!   OR  a quick supper,  filling and yummy good, for when you are in a hurry—think sport season!

BBQ Chicken Grilled Cheese Sandwich
New twist on a lunchtime staple!
Author:
A Pinch of Joy by Charlene Vance
Ingredients
5 chicken breasts, sliced
2 Tablespoons olive oil
½ cup onion, chopped
½ teaspoon paprika
1 teaspoon Worcestershire sauce
1 cup your favorite barbecue sauce
1 Package Havarti sliced cheese
1 cube garlic butter
1 loaf artisan bread, sliced
Instructions
Slice chicken into even pieces, an inch or two wide, so it will cook more quickly.
Add 2 Tablespoons olive oil to skillet over medium heat. Add chicken and onion. Sprinkle paprika and Worcestershire sauce over the chicken. Add barbecue sauce and cover the pan. Bring to simmer and cook until chicken is cooked through.
Remove chicken and shred with two forks, then return to the pan and stir well.
Melt garlic butter in the microwave, use 15 second intervals until completely melted.
Lay bread slices on a cookie sheet or other flat surface and brush with melted butter. Turn slices over so buttered side is down.
On half of the slices place a slice of cheese. On the other half of the slices evenly distribute the chicken mixture.
Place the slice with cheese butter side facing you on the slice with chicken and buttered side down to form a sandwich.
Cook sandwiches in a skillet or griddle over medium heat until both sides are golden brown.
Notes
Nutritional values are estimates and will vary.
Nutrition Information
Serving size:
1
Calories:
1149 ||
Carbohydrates:
51 g ||
Protein:
82 g ||
Note:  I did try this with ready made pulled chicken to see if it would be faster.  It was, but way  too much sauce! (Which also spattered all over the microwave even though covered!  And there went time saved – plus!)    It's better to take the time, use your own favorite sauce to cook the chicken from scratch and enjoy this delightful version of a grilled cheese sandwich. 
I'm so glad you stopped by today!   Follow A Pinch of Joy using the icons on the bar at the top of the page so you don't miss a thing!   I'd love to have your company on this venture!!  Share: if you found this helpful or inspiring please click one of the buttons below!  Your support of A Pinch of Joy is appreciated!
Shared with these awesome link parties here