Sorry for being MIA last week. I was almost ready to hit the publish button,when Wheels required a trip to the emergency room. Doctors found two other issues totally unrelated to the issue for which he was admitted. He spent four days in the hospital to take care of the admitting issue, had testing that showed the second issue could be resolved with medication and is home awaiting outpatient for the third problem. If you have a moment — prayers, good thoughts and positive energy sent this way will be welcome! In the meantime, thanks for understanding and thank you for stopping by to share your awesome posts!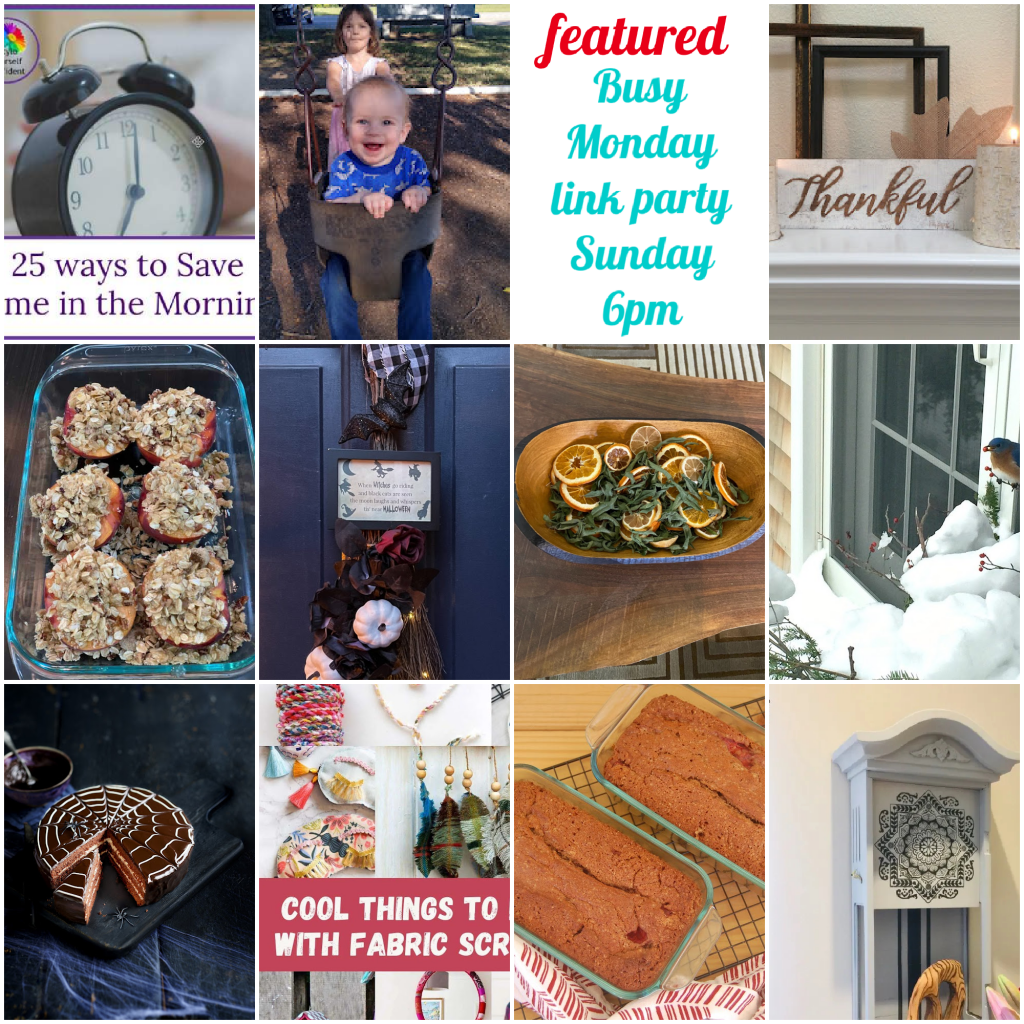 Featured from last week:Style Yourself Confident – 25 Ways to Save Time in the Morning  Trial and Error Home Ec – Easy Frugal Lunches for Littles     Fresh Vintage by Lisa – How to Make Birch Pillar Candles  Pea cock Ridge Farm – Best Baked Peaches     My Home of All Season – Quick and Easy Halloween Door Decoration   Thrifting Wonderland – Fall Citrus Potpourri   It's My Sustainable Life – How to Decorate Outdoor Window Boxes for Winter   Claire Justine – Ultimate Halloween Cake  Pillar Box Blue – Cool Things to Make for Adults from Fabric Scraps  Little Frugal Homestead – Granny's Strawberry Bread    Birdz Of a Feather – How to Paint with Chalk Paint    To add a Busy Monday Feature Button just click "copy" for the button code. (You won't actually see the code until you click "paste" on your blog.)
Please add a Busy Monday Button OR a text link somewhere on your blog.  Click "copy" for the button code. (You won't actually see the code until you click "paste" on your blog.
Link only posts you created yourself. Please no link parties, sales pages, giveaways. Visit others and give the gift of a comment. It's a party! By linking, you agree photos are your own and posts may be shared on social media with attribution to you. All features are pinned to the Busy Monday Feature Board or the Busy Monday Recipes Board.
You are invited to the Inlinkz link party!