30 degrees on Tuesday and 90 degrees on Saturday.  Whiplash!  Add wind  gusts 30- 70 mph — slapstick stuff.   Beautiful sunshine suckered me into a walk.  My feet were moving quickly while bending horizontal to the sidewalk with wind whipping from behind.  Wind abruptly changed direction and I ended up setting on the curb.  Tried to stand just as the wind gusted from yet a different direction and I hugged a mailbox until I was blown to the street sign.   Turned the corner into the wind — no perceivable progress.  Sudden wind stop and I bolted for the door. Wind slammed door shut behind me.   Staying inside today!  Thanks for stopping by to share your awesome work!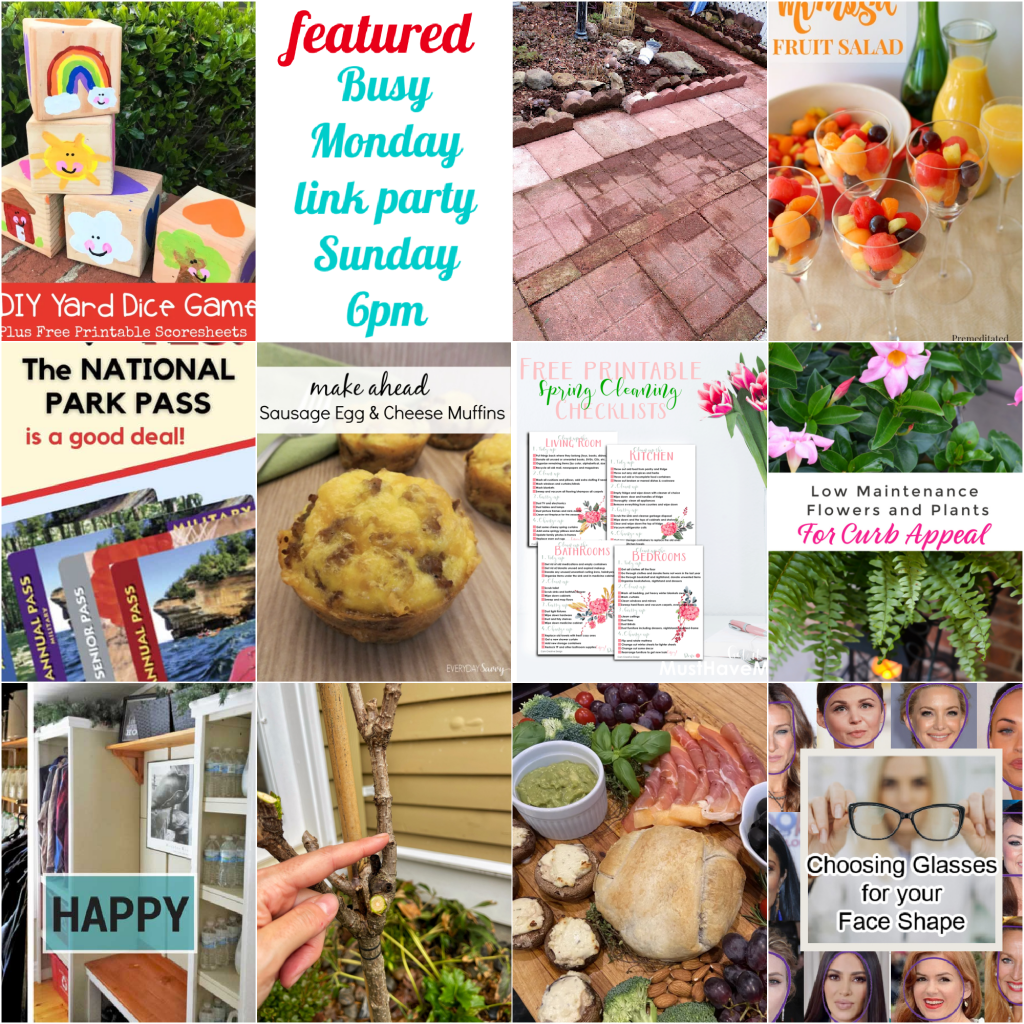 Featured from last week:  Me and My Inklings – DIY Yard Game with Dice   Debbie Dabble – Huge Patio and Back Yard Project  Premeditated Leftovers – Mimosa Fruit Salad   Photo Jeepers – Buy a National Park Pass  Every Day Savvy – Make Ahead Sausage Egg and Cheese Muffins  Must Have Mom –Free Spring Cleaning Checklist Printables  An Artful Mom – Low Maintenance Flowers and Plants for Curb Appeal    Filling the Jars – My Favorite DIY: Farmhouse Style Entry Way      Stacy Ling – Pruning Hydrangeas and Other Woody Plants  Thrifting Wonderland – How to Create a Charcuterie Board     Style Yourself Confident – Face Shape and Glasses To add a Busy Monday Feature Button just click "copy" for the button code. (You won't actually see the code until you click "paste" on your blog.)
Please add a Busy Monday Button OR a text link somewhere on your blog. Click "copy" for the button code. (You won't actually see the code until you click "paste" on your blog. Link only posts you created yourself. Please no link parties, sales pages, giveaways. Visit others and give the gift of a comment. It's a party! By linking, you agree photos are your own and posts may be shared on social media with attribution to you. All features are pinned to the Busy Monday Feature Board or the Busy Monday Recipes Board.
You are invited to the Inlinkz link party!