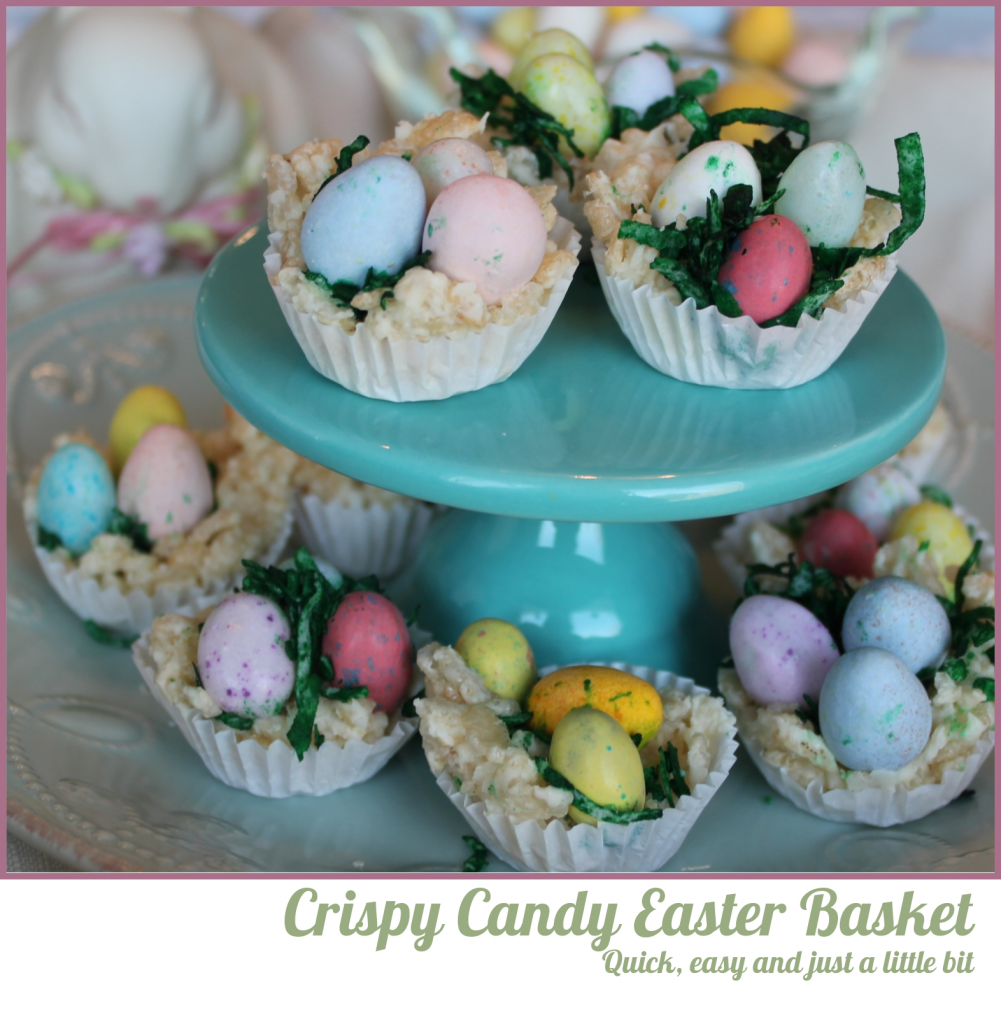 Our Easter dinner had three attendees – Wheels, Bytes and me.  That was okay.  We had celebrated a couple of weeks before with a big egg hunt for the littles and a potluck for thirty –ish people at my sister Bee's home.  For our dinner,  I planned ham – but glazed ham balls instead of a big ham.  Sweet potatoes, green beans, salad, apple dessert and a bunny centerpiece.   But something was missing.   The dinner needed  just a little bit more to make it festive and fun.  We couldn't eat a whole batch of Easter Treats when the recipe was sized for twenty five instead of three.  Two of us are low carbers and don't need candy anyway.  Just a Little Bit to celebrate was okay, though.  Why should we miss out on a little fun and good cheer?
Just a Little Bit sounded just right.  You know,  like Goldilocks. . . well that's a whole different story.  Anyway, I buzzed through the pantry and came up with crispy rice cereal, white candy melts (no marshmallows on my crispy cereal!!), a half bag of mini egg candies Bee slipped me as we left her house, coconut and green food coloring.  A higher shelf yielded candy cups and a tart sized muffin pan.  Twenty minutes later there were twelve Just a Little Bit festive Easter Baskets with grass and eggs gracing the table. And it WAS just right.
Just so I remember it for next Easter, here's what I did . . . .     P.S.   —  you can pin it, if it sounds just right for you too.

Crispy Candy Easter Baskets
Fun, festive and a small recipe that makes just a little bit. . .
Author:
A Pinch of Joy by Charlene Vance
Recipe type:
Holiday Treat
Ingredients
½ cup white candy melts
1 tsp. butter
¾ to 1 cup crisp rice cereal
36 mini candy eggs or jelly beans
¼ cup coconut
Green food coloring
Instructions
Mix coconut with green food coloring, one drop at a time until a grass green color is achieved. Set aside.
Line tart cups with candy sized paper cups and set aside.
Melt candy melts in microwave according to package directions or stirring after 15 each second interval until melted. Stir in butter so candy will not become hard and difficult to bite.
Quickly add ¾ cup crisp rice cereal, stirring to thoroughly coat with melted candy melts. Continue to add small amounts up to ¼ cup of rice cereal until candy melts will not cover any more. Mixture should still be pliable.
Drop by spoonfuls in candy cups, pressing with spoon or fingers to form basket.
Sprinkle a few pieces of green coconut over top and press three candy eggs into each basket. Let set a few minutes until firm. Makes one dozen.
Notes
Nutritional values are estimates and can vary by brand.
Nutrition Information
Serving size:
1
Calories:
73 |
Carbohydrates:
9 g |
Protein:
1 g| |
Welcome to A Pinch of Joy! I'm so glad you stopped by today! Follow A Pinch of Joy  so you don't miss a thing! I'd love to have your company on this venture!! Share: if you found this helpful or inspiring please pin or share on fb! Your support of A Pinch of Joy is appreciated!
Shared with these awesome link parties here