What's that sound?  The sound of silence.  The wind stopped!!!!!!   It's nice to stand up straight and stay in one spot.  And it rained — not enough to break the drought but enough to make grass turn green.  All is right and good with the world.  However, there is tomorrow. We could get torrents of rain to break the drought and celebrate in the streets.  Or the temperature will go above 100 and stay there for a week, while we frantically look for where we put summer shorts  and the central air manual!   Spring is always full of surprises on the Great Plains!   No surprise, always glad to have you stop by and share your awesome posts!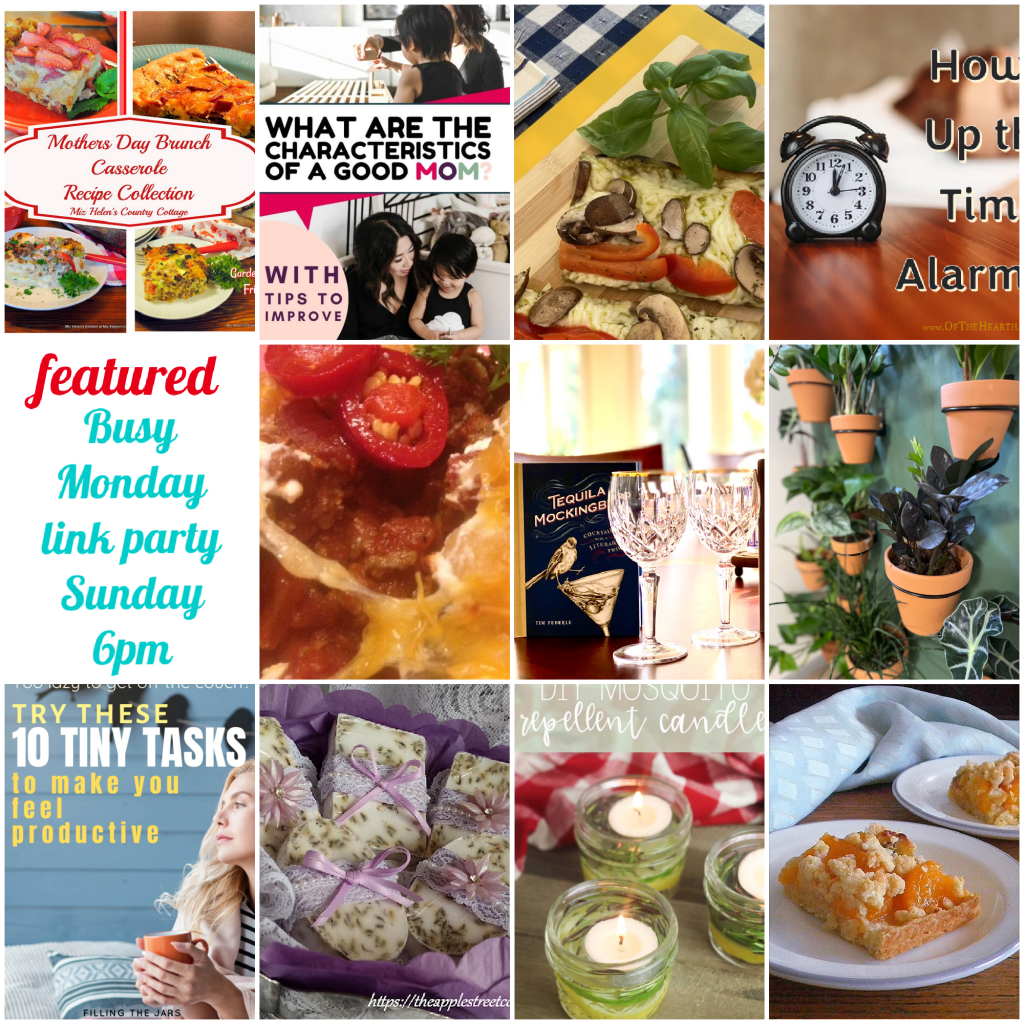 Featured from last week :  Miz Helen's Country Cottage – Mother's Day Brunch Recipes  Organized Motherhood – Characteristics of a Good Mother  Thrifting Wonderland – Easy Pizza Dining  Of the Hearth – How to Get Up the First Time Your Alarm Sounds    Cindy's On-Line Recipes – Texas Frito Pie  Story Tellers Cottage – Literary Inspired Cocktails    A Life Unfolding – DIY Living Plant Wall  Filling Jars – Try These 10 Tiny Tasks to Make you Feel Productive   The Apple Street Cottage – Homemade Lavender Soap  Hunny I'm Home – DIY Mosquito Repellant Candles     Treat n Trick – Peach Crumble Slab Pie
To add a Busy Monday Feature Button just click "copy" for the button code. (You won't actually see the code until you click "paste" on your blog.)
Please add a Busy Monday Button OR a text link somewhere on your blog. Click "copy" for the button code. (You won't actually see the code until you click "paste" on your blog.
Link only posts you created yourself. Please no link parties, sales pages, giveaways. Visit others and give the gift of a comment. It's a party! By linking, you agree photos are your own and posts may be shared on social media with attribution to you. All features are pinned to the Busy Monday Feature Board or the Busy Monday Recipes Board.
You are invited to the Inlinkz link party!