It was a three crises week.  Crises (I looked it up — more than one crisis!) defined by me as anything that takes more than three dedicated hours to resolve and threatens more damage if left unresolved.  For one, my computer "updated"  by itself.  That means back to the bare basics (always for "improved" security and service) — a new password and loss of important features that only Bytes can find and restore. Am I bitter??  You bet!!! 🙂  One feature was apparently the Pinterest Button   which I only discovered this morning.  So for all the Featured Blogs — I'll catch you next week.  May you have a wonderful holiday and a no-crisis week!  Thanks for stopping by to share your awesomeness.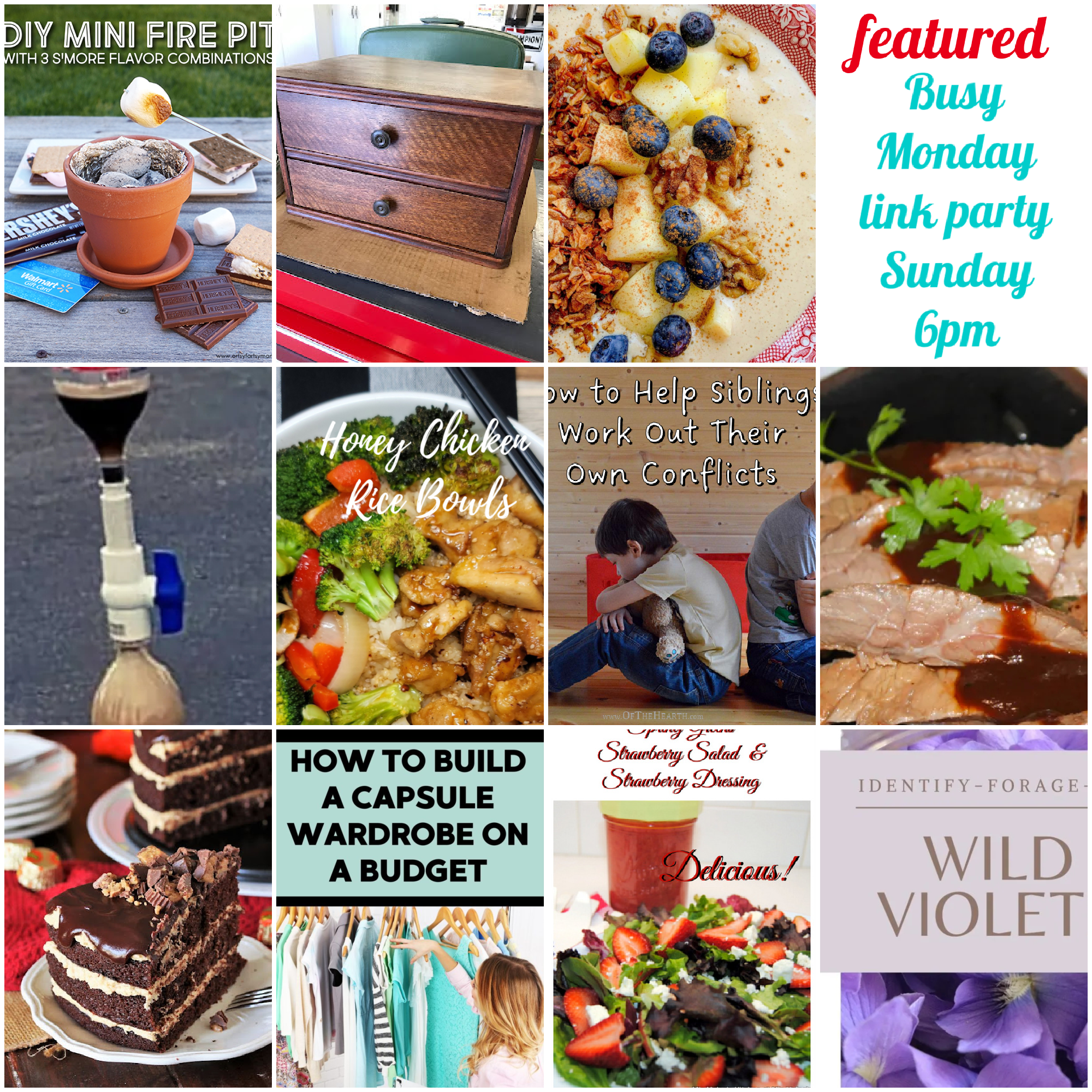 Featured from last week:  Artsy Fartsy Mama – DIY Mini Firepit        Fresh Vintage by Lisa — How I Made a Workstation  Not Entirely Average – What to Eat with Granola  Hessun Academy – How to Build a Mentos Rocket         Home Made on a Weeknight – Honey Chicken Rice Bowls  Of the Hearth – How to help Siblings Work Out Their Own Conflicts       Lazy Gastronome – Tropical Inspired Grilled Top Round Steak   The Kitchen is My Playground – Reese's Peanut Butter Chocolate Cake        Everyday Savvy – How to Build a Capsule Wardrobe on a Budget      Miz Helen's Country Cottage — Spring Greens Strawberry Salad with Strawberry Dressing      It's My Sustainable Life — Foraging for Wild Violets
To add a Busy Monday Feature Button just click "copy" for the button code. (You won't actually see the code until you click "paste" on your blog.)
Please add a Busy Monday Button OR a text link somewhere on your blog. Click "copy" for the button code. (You won't actually see the code until you click "paste" on your blog.
Link only posts you created yourself. Please no link parties, sales pages, giveaways. Visit others and give the gift of a comment. It's a party! By linking, you agree photos are your own and posts may be shared on social media with attribution to you. All features are pinned to the Busy Monday Feature Board or the Busy Monday Recipes Board.
You are invited to the Inlinkz link party!