Sometimes a blog post is so descriptive of life as I know it, but with a breathtaking understanding of the topic that it brings insights I have missed.  Sometimes a topic is approached in a way that makes total sense but because of differing circumstances would not work at my house, then I realize recognizing the difference makes my life richer.  There are those blog posts that go directly to the heart of the problem with ideas to solve whatever the issue may be — planning a party, making memories without involving money, creating beautiful surroundings.  Each post is presented in the context of the blogger which makes each one totally unique!  And the general attitude is "to each his/her own" and "no judgment here."  Yeah!!  Thank you for sharing your awesome posts, experiences, ideas and more each week!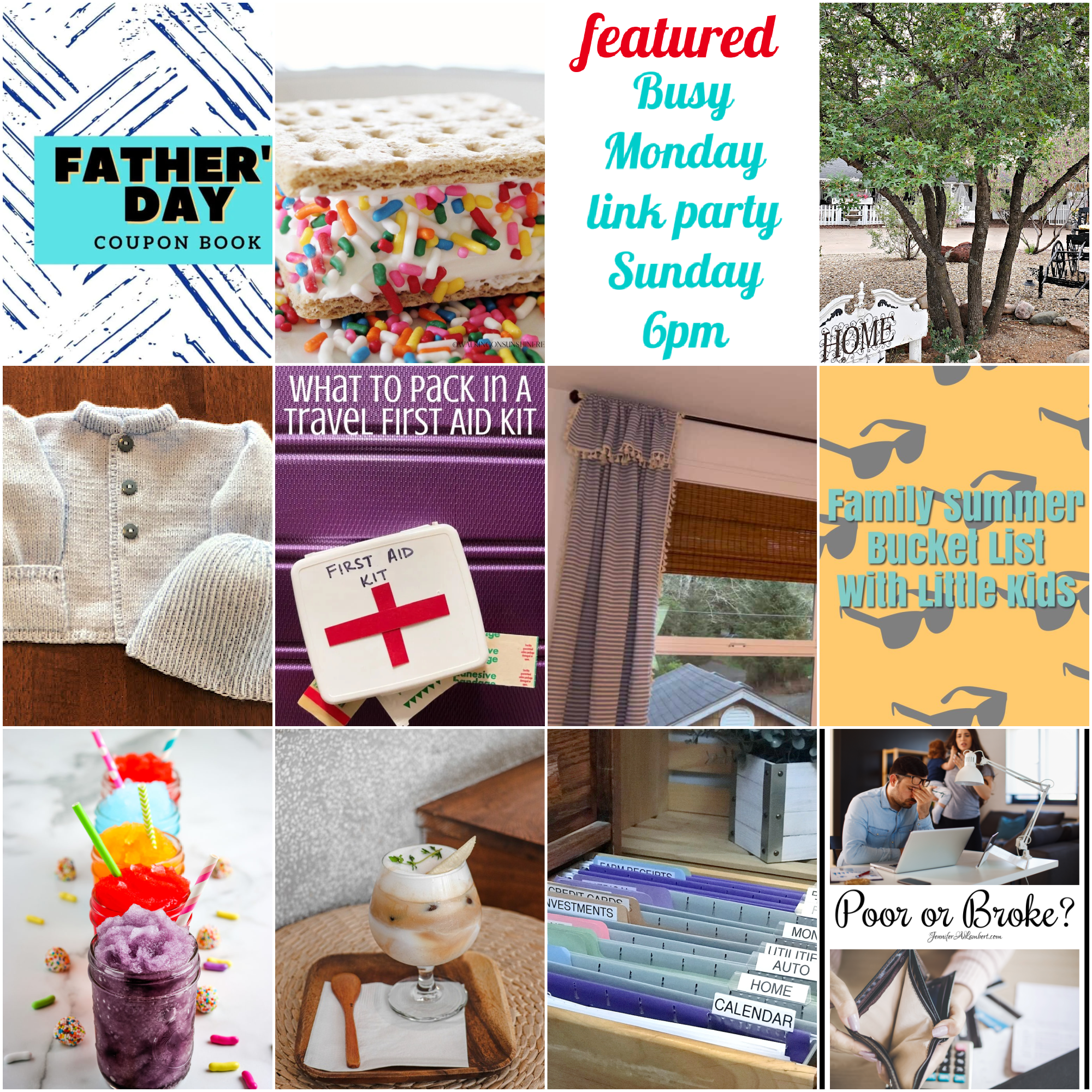 Featured from last week:  The Sun Academy – Free Father's Day Printable Coupons  Walking on Sunshine – Graham Cracker Cool Whip Sandwich  Penny's Treasures – Creating Curb Appeal in a Dry Climate  Just East of Eden – Mod Knit Baby Cardigan and Hat in Blue      Drugstore Divas – What to Pack in a Travel First Kit   Peacock Ridge Farm – How to Customize Store Bought Curtains   Lou Lou Girls – Family Summer Bucket List with Little Kids  Mommy Hates Cooking – Easy Sonic Slushies      The Inspired Eater – OMG Ice Cream Hack and the Poison of Perfection   Organized Motherhood – The Five Shocking Ways Lazy Moms Clean  Jennifer Lambert – Poor or Broke? 
To add a Busy Monday Feature Button just click "copy" for the button code. (You won't actually see the code until you click "paste" on your blog.)
Please add a Busy Monday Button OR a text link somewhere on your blog. Click "copy" for the button code. (You won't actually see the code until you click "paste" on your blog.
Link only posts you created yourself. Please no link parties, sales pages, giveaways. Visit others and give the gift of a comment. It's a party! By linking, you agree photos are your own and posts may be shared on social media with attribution to you. All features are pinned to the Busy Monday Feature Board or the Busy Monday Recipes Board.
You are invited to the Inlinkz link party!