Severe heat advisory for the next week and more!  We've moved indoors — just like we do in winter except it's cold drinks in our hands instead of fluffy blankies clutched to our chests. I'm pondering the wisdom of living somewhere where it is blazing hot for weeks in a row and then frigid snow and ice for another  weeks long period.   No wisdom that I can see.  Lucky  that weather  isn't divided evenly so the remaining 46 weeks of the year (give or take) are relatively livable!  Depending on the force of the prairie "breezes", of course!  May you find wisdom in your life choices– or just good luck!  Thanks for stopping by to share your awesomeness!!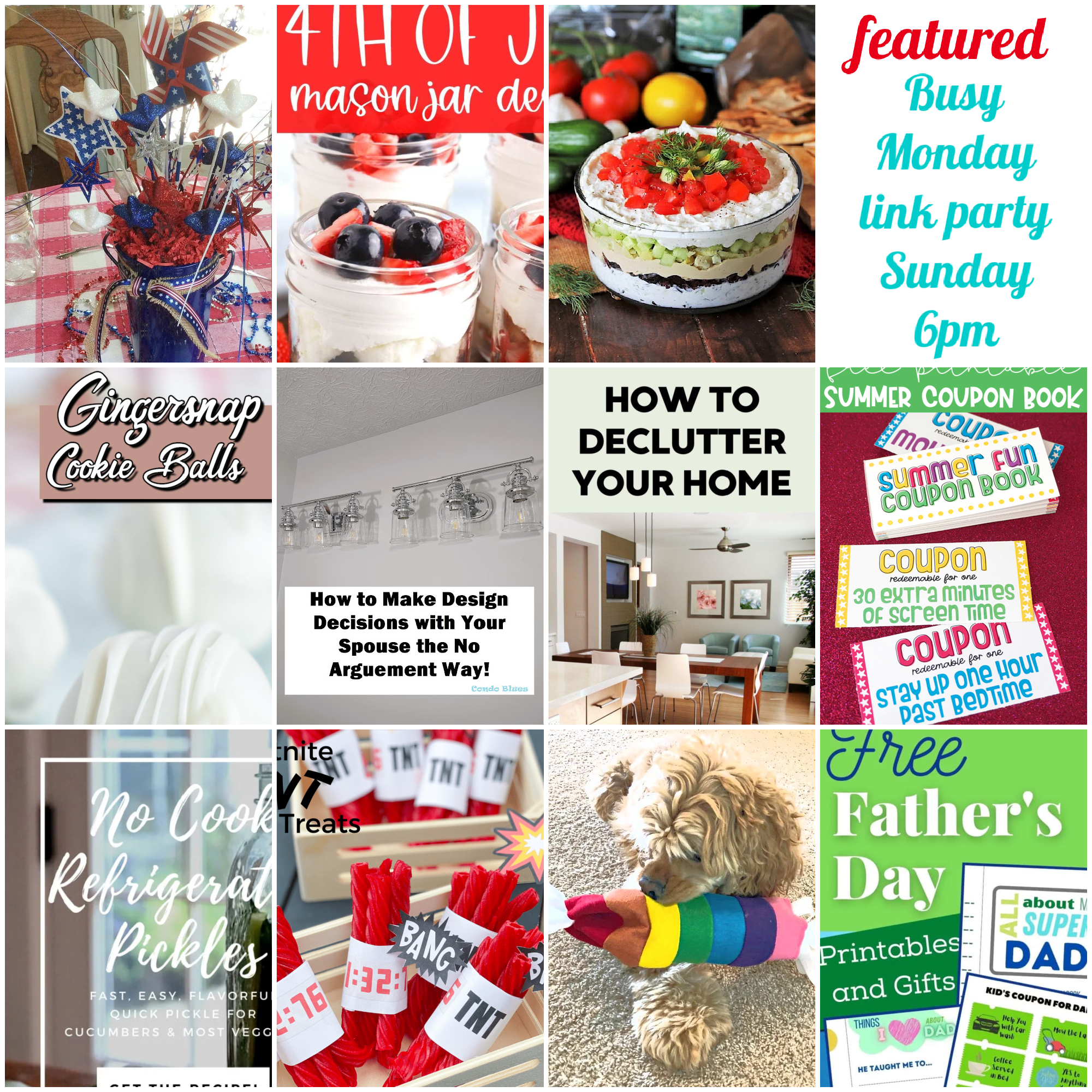 Feaured from last week:  Bluesky at Home – Our Favorite Fourth of July Party with Recipes  Hunny I'm Home – 4th of July Mason Jar Dessert      The Kitchen is My Playground – 7 Layer Greek Dip  Fat Dad Foodie – Gingersnap Cookie Balls    Condo Blues – How to Make Design Decisions with Your Spouse the No- Argument Way    Everyday Savvy – How to Declutter Your House and Simplify Your Life  Artsy-Fartsy Mama – Free Printable Summer Coupon Book    It's My Suustainable Life – No Cook Refrigerator Pickles     Must Have Mom – Fortnite TNT Party Treats  Me and My Inklings – How to Make a Water Bottle Dog Toy  Hess Un-Academy – Free Father's Day Printables and GiftsTo add a Busy Monday Feature Button just click "copy" for the button code. (You won't actually see the code until you click "paste" on your blog.)
Please add a Busy Monday Button OR a text link somewhere on your blog. Click "copy" for the button code. (You won't actually see the code until you click "paste" on your blog. Link only posts you created yourself. Please no link parties, sales pages, giveaways. Visit others and give the gift of a comment. It's a party! By linking, you agree photos are your own and posts may be shared on social media with attribution to you. All features are pinned to the Busy Monday Feature Board or the Busy Monday Recipes Board.
You are invited to the Inlinkz link party!