I started to put 4 paving blocks under the bird feeder station to make it easier to mow.   The first paver popped into place and I juggled the second on its edge to its place.  And promptly slammed all my right hand fingers between the two pavers.   The fingers are still purple and  swollen after a couple days of  ice packs, pain reliever and doing everything left handed.  They work with care and caution, but the mini paving project is on indefinite pause.  May you keep your digits safe and have a great week!  Thanks for stopping by.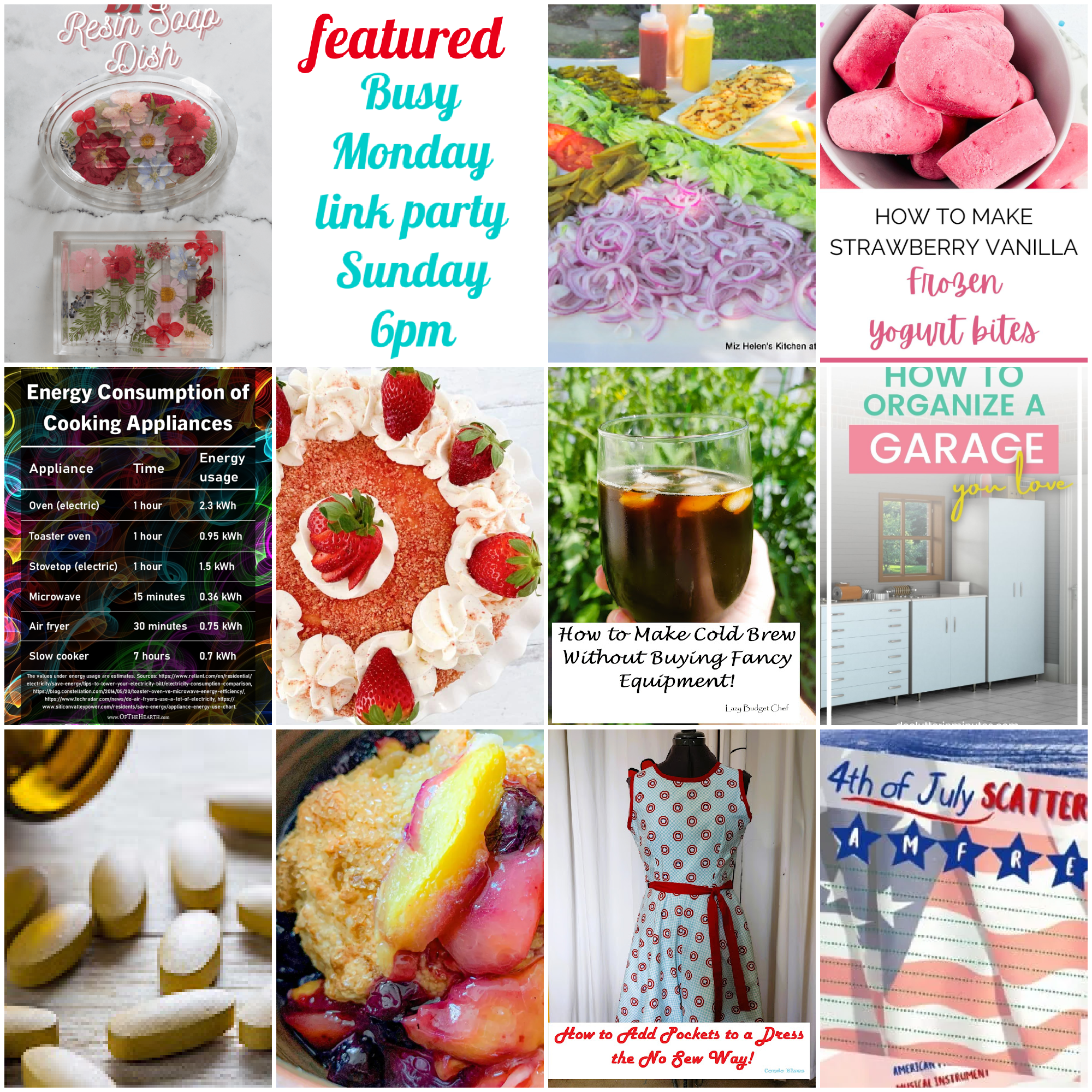 Featured from last week:  Handmade Weekly – Resin Soap Dish  Miz Helen's Country Cottage – Green Chile Burger Charcuterie Board      The Wooden Spoon Effect – Simple Frozen Yogurt Bites  Of the Hearth – Save Money on Your Electric Bill by Avoiding the Oven  Organized Island – Strawberry Crunch Cheesecake  Lazy Budget Chef — How to Make Cold Brew Coffee  Declutter in Minutes – How to Organize Your Garage  Trial and Error Home Ec — There is No Trophy      Not Entirely Average – Cast Iron Peach and Blueberry Cobbler  Condo Blues – How to Add Pockets to a Dress the New Sew Way   Hess Unacademy –  Free 4th of July Scattergory PrintableTo add a Busy Monday Feature Button just click "copy" for the button code. (You won't actually see the code until you click "paste" on your blog.)
Please add a Busy Monday Button OR a text link somewhere on your blog. Click "copy" for the button code. (You won't actually see the code until you click "paste" on your blog. Link only posts you created yourself. Please no link parties, sales pages, giveaways. Visit others and give the gift of a comment. It's a party! By linking, you agree photos are your own and posts may be shared on social media with attribution to you. All features are pinned to the Busy Monday Feature Board or the Busy Monday Recipes Board.
You are invited to the Inlinkz link party!