We attended a family baby shower yesterday, scheduled before kickoff and featuring a huge tv screen. Guests of all ages showed up in team colors. Grandma-to-be made Yoda and Baby Yoda deviled eggs in keeping with the Star Wars nursery theme.  As part of our gift, we passed on the 100 year plus high chair Wheel's dad sat in as a baby.  Every one of his grandchildren sat in that same high chair when they visited.  And it just seemed right for us to pass it on to the youngest of those grandkids to be used again as he and his wife begin their family.   John and Lisa were appreciative and will be good stewards of the legacy – and good parents too.  It was a very good day!   May your days all be good this week!  Thanks for stopping by to share your awesome posts!!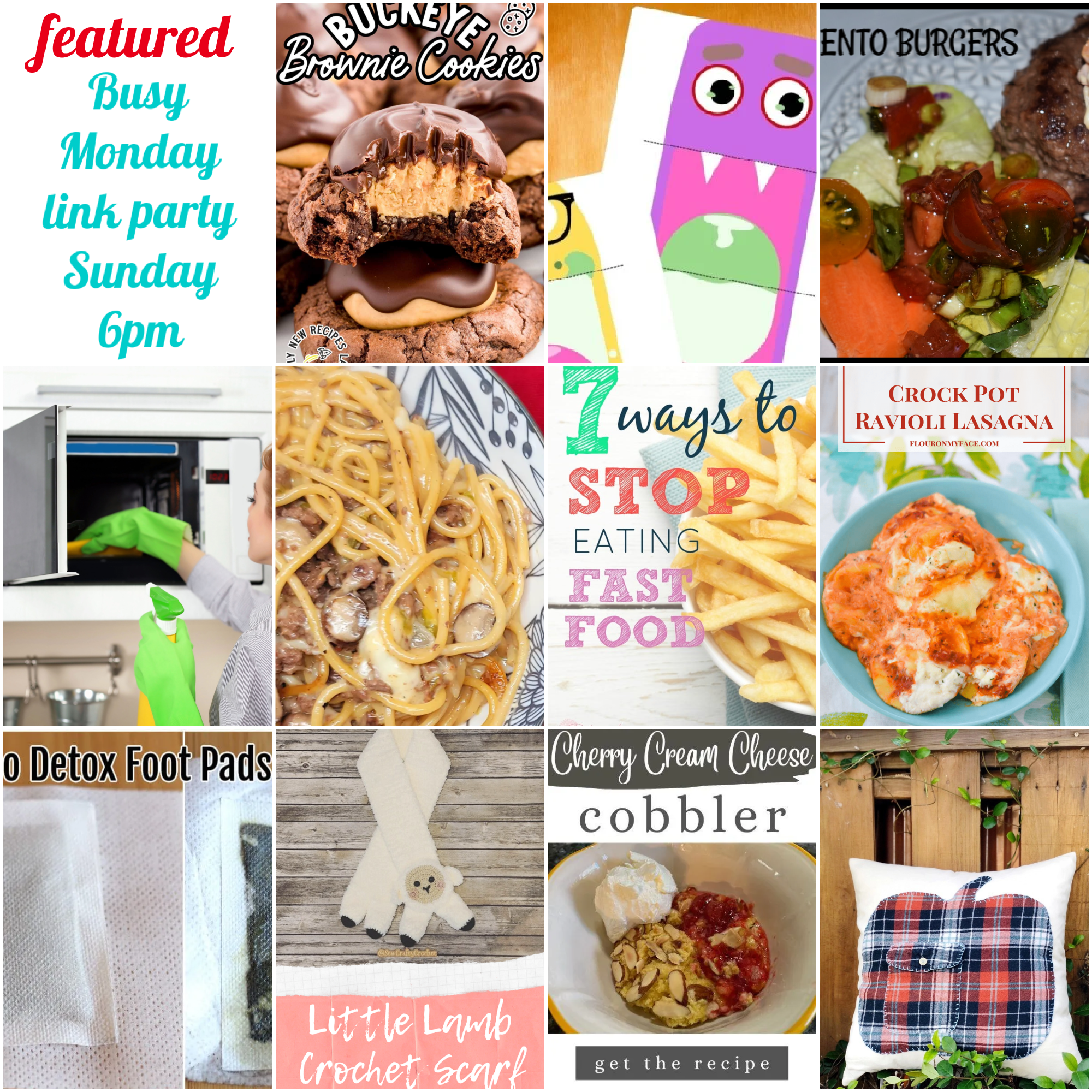 Featured from last week:  Spaceships and Laser Beams – Buckeye Brownie Cookies  Hess Un-Academy – Make Easy Monster Hand Puppets    Chasing My Life – Spicy Pimento Cheese Bunless Burgers  DeClutter in Minutes – 3 Microwave Cleaning Hacks to Try   Homemade on a Weeknight – Philly Cheese Pasta     Blessed Simplicity – 7 Ways to Stop Eating Fast Food  Flour on My Face – Crockpot Ravioli Lasagna   Fork Prints – Detox Food Pads  Sew Crafty Crochet – Little Lamb Crochet Scarf  Out of the Box Baking – Cherry Cream Cheese Cobbler   Creatively Beth – Upcycled Flannel Pumpkin PillowTo add a Busy Monday Feature Button just click "copy" for the button code. (You won't actually see the code until you click "paste" on your blog.)
Please add a Busy Monday Button OR a text link somewhere on your blog. Click "copy" for the button code. (You won't actually see the code until you click "paste" on your blog. Link only posts you created yourself. Please no link parties, sales pages, giveaways. Visit others and give the gift of a comment. It's a party! By linking, you agree photos are your own and posts may be shared on social media with attribution to you. All features are pinned to the Busy Monday Feature Board or the Busy Monday Recipes Board.
You are invited to the Inlinkz link party!