Several hot days predicted for the next couple weeks with no air conditioning. In October!!!  Which will come first: the new air conditioning unit or the first frost of the season?   My money is on both coming at the same time!!  Around November when blizzard season starts.   Not complaining, though. All good wishes to those in the path of Hurricane Ian who are in far, far worse straits.  May you stay cool and dry this week!  Thanks for stopping by to share your great posts!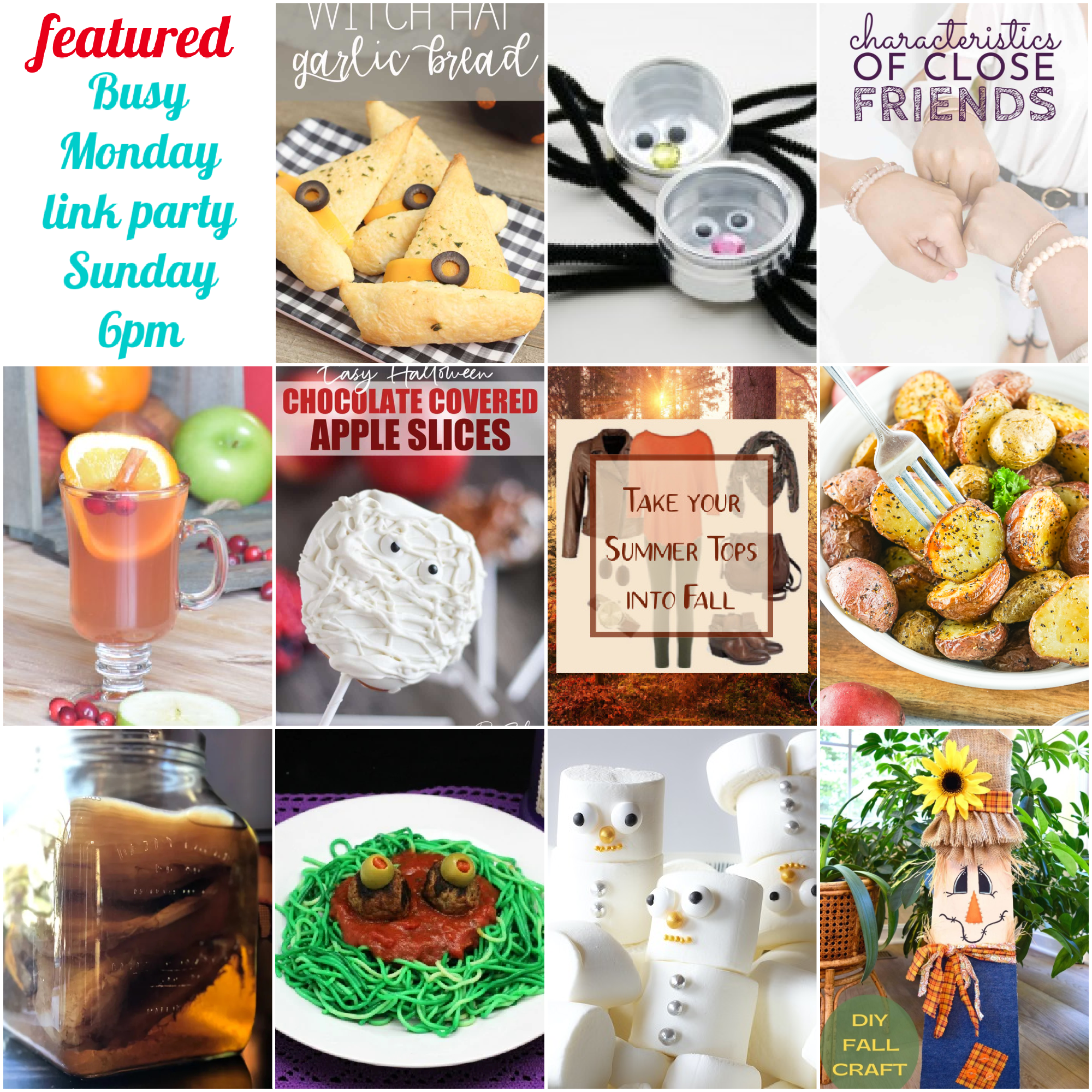 Featured from last week:  Hunny I'm Home —Witch Hat Garlic Bread    Serenity You – Treat Filled Spiders  Organized Motherhood — Characteristics of Close Friends   A Proverbs 31 Wife – Cranberry Orange Spiced Cider in the Crock Pot  Rose Bakes –Easy Halloween Chocolate Covered Apple Slices   Style Yourself Confident – Take Your Summer Tops into Fall   The Wooden Spoon Effect – Roasted Potatoes in the Air Fryer   It's My Sustainable Life – Continuous Brew Kombucha  The Inspired Eater – Making It Through the First Week   Every Day Savvy – Monster Pasta    Southern Sunflowers – Scarecrow Ceiling Fan Blade
Please add a text link somewhere on your blog. Link only posts you created yourself. Please no link parties, sales pages, giveaways. Visit others and give the gift of a comment. It's a party! By linking, you agree photos are your own and posts may be shared on social media with attribution to you. All features are pinned to the Busy Monday Feature Board or the Busy Monday Recipes Board.
You are invited to the Inlinkz link party!