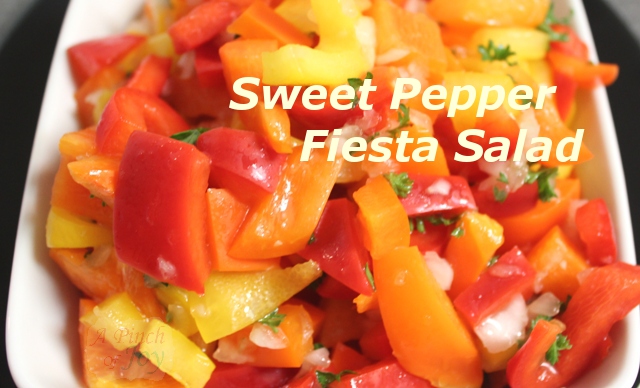 I love the bright colors of this salad.  It just sings party!  You can slice the peppers and onion into rings before marinating for a fun party look.  Or slice the peppers lengthwise and dice the onion for a side salad.   Or you can slice the peppers lengthwise and then cut them into pieces about an inch long, as I did, and used diced onion.   With the smaller pieces, you can add the marinated peppers to a tossed salad, put a spoonful on top of a burger or use it to flavor another dish – besides eating it as a salad.  Besides its colorful versatility, this combination has several "good for you" benefits!
Discovered by Christopher Columbus in the "new world", the sunshine colors give a hint to the nutrional punch packed by bell peppers,  One small red, yellow or orange pepper has three times the daily required amount of Vitamin C.  They contain Vitamin A which helps night vision and other compounds which help protect against macular degeneration and cataracts.  These two vitamins boost immunity and guard again heart disease, diabetes and arthritis.  They are a good source of Vitamin B6 and folic acid.  Lycopene is found in red peppers and helps protect against certain cancers.  Peppers are a good source of fiber, with its associated benefits.  That's a lot packed into a pretty pepper!
The dressing has a lot of health benefits as well.  Continuing studies, in particular at Arizona State University and Lund University in Sweden and Tokyo University in Japan, verify the benefits of acetic acid found in vinegar.  Vinegar decreases blood glucose levels.  According to Dr. Carol Johnston of ASU,   "[Vinegar] in inexpensive and can be easily incorporated into the diet. Used in combination with diet and exercise, it can help many people with type 2 diabetes."
Other studies have shown regular consumption of as little as 2 teaspoons of vinegar a day  will help with metabolic syndrome ( pre diabetes) and produce moderate weight loss.  Dr. Johnston recommends an easy way to consume vinegar is through dressings on salads and cooked vegetables with a mix of 50-75% of vinegar to oil.  Our dressing is 75% vinegar.  If you are using this recipe for that purpose, you can eliminate the sugar or choose a sugar substitute.
Who knew healthy food could look so festive and taste so good???
Sweet Pepper Fiesta Salad
Ingredients
1 each red, yellow and orange bell peppers
1 small onion
¼ cup oil
3 tablespoons vinegar
1 Tablespoon of sugar or equivalent sweetener
1 Tablespoon of chopped parsley – optional
Instructions
Wash, seed and slice the peppers.
Prepare the onion – diced finely or sliced thinly into rings.
Whisk together oil, vinegar and sugar.
Place peppers and onion into bowl and pour the dressing over them.
Marinate in the refrigerator for at least two hours.
6 servings
Pin  using the button at top or share on facebook or stumbleupon  with one of the buttons below.  Don't miss a thing —  subscribe by email or RSS feed, follow on facebook or twitter to catch the latest post! 

Related posts: