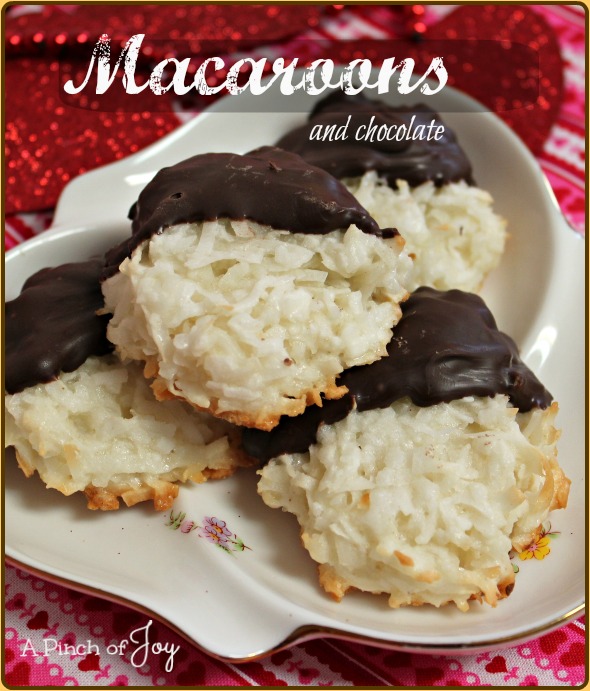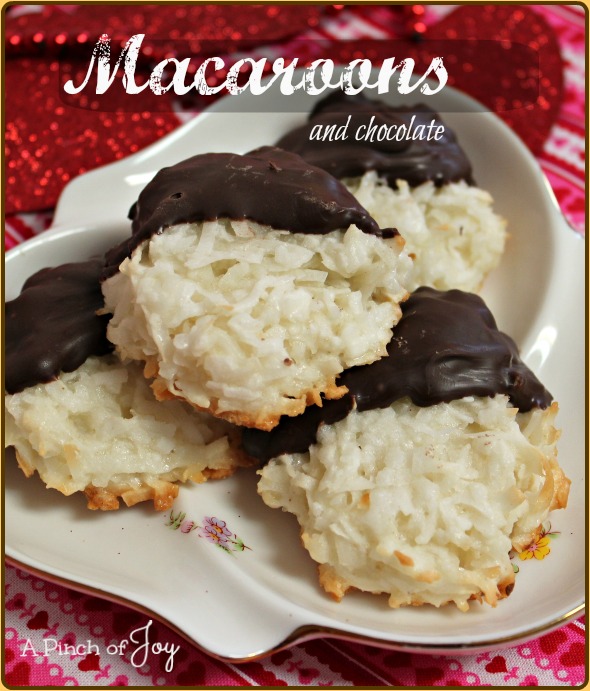 I love coconut.  And chocolate.  Put the two together – heavenly!  Coconut Macaroons with Chocolate would be a perfect Valentine gift.  Or an any time treat! 
My brother Jaycee was also a big coconut fan and between the two of us we could consume a bag of coconut in an afternoon.  Much to Mom's consternation.  And to the younger kids loss.  Because no matter where Mom hid the coconut for her planned culinary endeavors, Jaycee and I would find it.  Eventually she quit buying it.  The four other siblings missed the clandestine consumption of coconut!   They had to wait until later to find the joy!   I've learned to discipline myself and leave the bag unopened until time to use it.  This recipe is great because it uses the entire bag because opened bags with "leftover" coconut – gone!  
The coconut macaroon recipe is quite straightforward and very easy to make. Parchment paper can be used to line the baking sheet instead of spraying with baking spray.  Use a slightly heaping tablespoon of coconut mixture for each cookie and place them about an inch and a half to two inches apart on the cookie sheet. Use the spoon (and fingers if necessary) to shape the cookie.  If cookie is mounded, gently press the center down so the cookie is slightly flat.  Note the oven temperature of 325 F and do not skimp on the baking time allotted unless the bottom begins to darken from golden brown.  This allows the coconut egg mixture to develop maximum flavor and chewiness.  Let set for a few minutes to cool before trying to remove the cookies from the pan.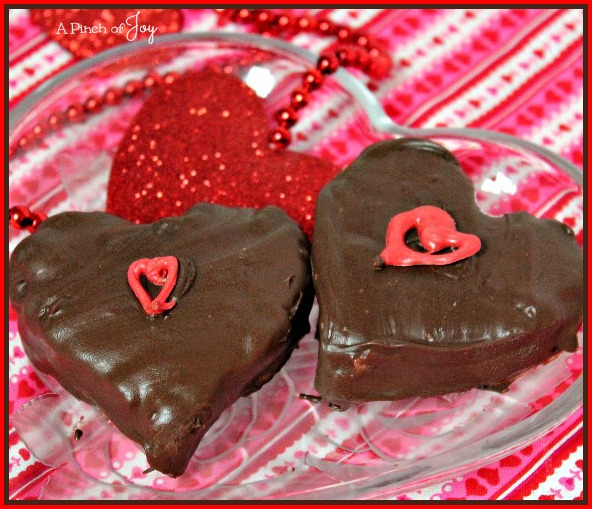 Normally this recipe yields 3 dozen small/medium macaroons.   For Valentine's Day I used a silicon heart shaped baking mold.  The hearts are 2 ½ inches across at the widest point.  I patted the macaroon mixture into the mold being careful to keep it uniform and about ½ inch thick.  I baked it for the same amount of time and gently lifted one to see if bottom had begun to turn golden before setting the pan to cool.  Six hearts used about half of the mixture and allowed me to make about a dozen large  macaroons as well.
 After they were cooled,   I melted chocolate candy coating in a small dish in the microwave, following directions and then dipped the hearts into the melted chocolate topside down and covering the sides.  I did not try to cover the bottom, but lifted the heart out of the chocolate and let it drip for a few seconds before putting it on a rack and smoothing out the sides with a small spatula.  For the regular macaroons, I spooned the chocolate over one half the cookie, letting the excess drip off.  You could also dip the cookie and cover both sides of the chocolated half.  (Chocolated – totally a word!  You knew what I meant,  didn't you?)
[Read more...]